Our goal is to help online retailers ship as efficiently and quickly as possible. By following this simple guide and installing the Sendcloud print app, your labels will print automatically from your label or laser-jet printer as soon as you press the create label button, saving you time fiddling with downloadable pdfs or adjusting your printer settings per every printer you use.
---
What (label) printer can I use for this?
You can use a normal (laser)printer or a label printer. For a regular (laser)printer you can use A4 sticker sheets, which you will find, for example, at Rajapack.
The label printer that we recommend is the Dymo 4XL. You can install multiple drivers for this, to print labels properly. With the code "SendCloud-494107" you get a 5% discount at Euro label.
---
Connect your printer to SendCloud
You can connect your printer to Sendcloud via downloading our dedicated print client app so your labels will automatically print with one click as soon as you opt to create the labels for orders which enter Sendcloud through your webshop integration.
Our app is easy to install and compatible with Chrome and Firefox. Follow the instructions below to configure your printer settings.
---
Step 1: Download the print client app
Navigate to Settings > Printing and click "Download the print client" to begin downloading and installing the app.
---
Step 2: Follow the installation wizard
Install the Sendcloud app by opening the downloaded file. The installation wizard will start and will guide you through the process. Don't worry, this will only take one minute of your time.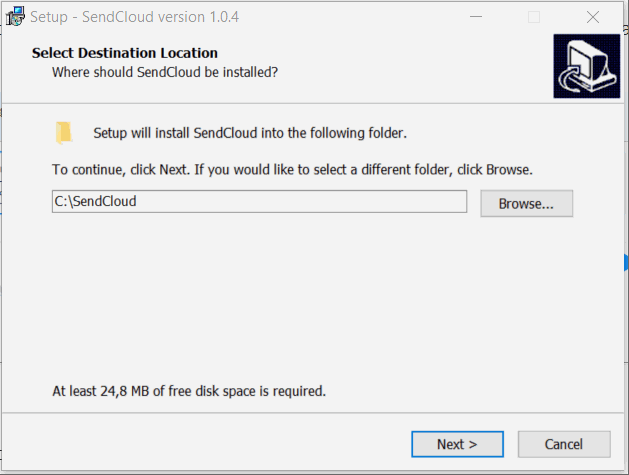 The app will open and run in the background of your laptop or computer. Its purpose is to provide the connection between your device and your Sendcloud account. It's safe to use and unobtrusive; there's no need to open the application after installation, or before printing.
After installing the client, make sure that the program is running on your computer. If that's the case, return to your SendCloud account.


---
Step 3: Select your printer options
Once the app is installed, navigate back to Print settings in your Sendcloud account and select the printer and format you want to use when printing your shipping labels.
From now on, your labels will automatically be printed when you hit the print button in your 'incoming order' overview. Easy!
---
Old version is still active?
Do you get the message that an old version of the app is already active? To remove the SendCloud Print Client you can go through the steps on this page. You can easily open the program by pressing the blue button "Delete a program via Settings".
Click here for the Apple instructions for how to delete an app for OS X.
---