Purpose: This article is a guide on how you can use Pack & Go to download and print packing slips to include in your parcels, or picking lists to allow your pickers and packers to easily process orders by hand or with a barcode scanner.

---
How do I print a picking list or a packing slip?
Step 1. Select your orders
To download a packing slip or picking list, select the order or multiple orders you want to create the document for using the tick boxes on the left hand-side of the Incoming orders overview in your Shipping tab.
Step 2. Print your document
Click on the blue dropdown menu Create labels and select Print packing slip or Print picking list.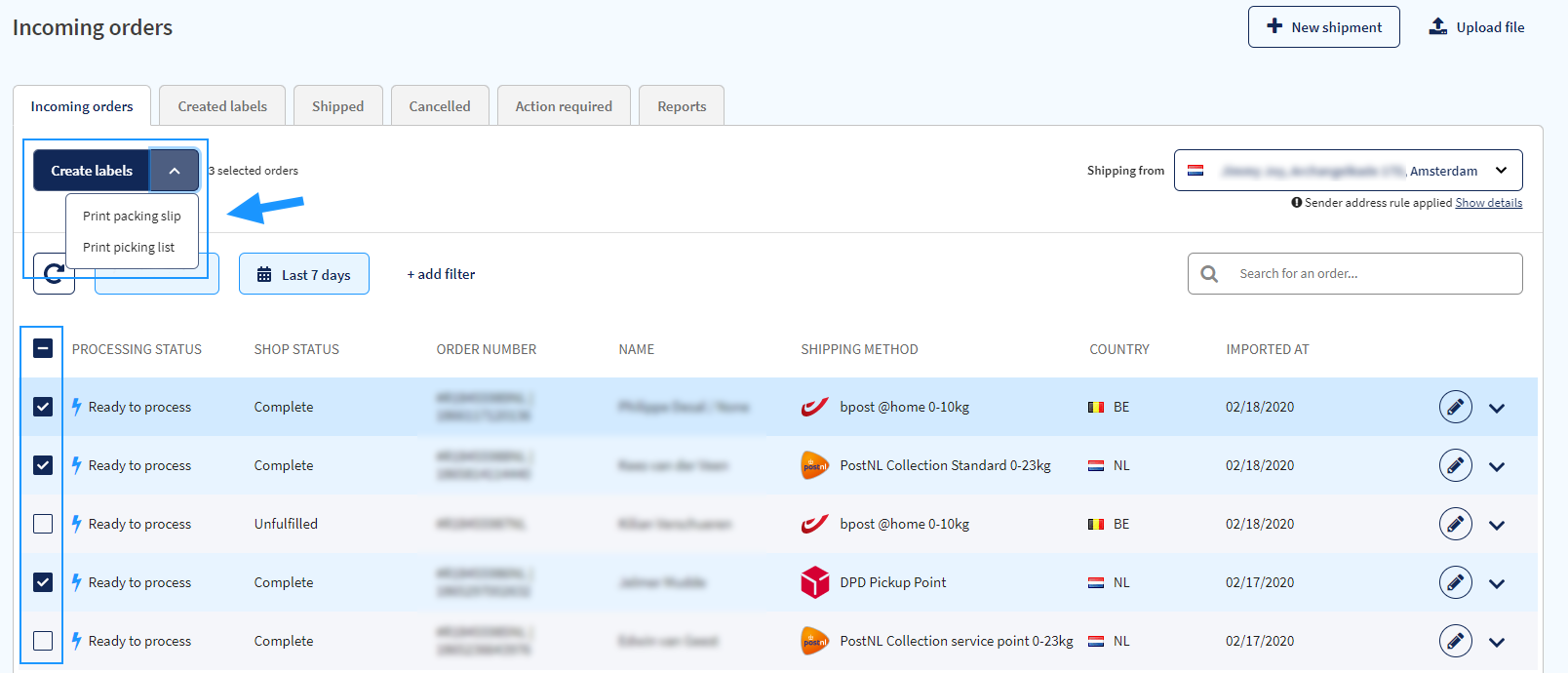 ---
Packing slips
A packing slip is a document you can include in the box when you pack an order that lists the products, SKUs (Stock keeping units) and quantities of a single order. Packing slips will also show your Brand logo if you have configured one, and the sender address.
If you select multiple orders, the packing slips will be printed on A4 (click here to see how to select your printing preferences) for each order selected, or downloaded on individual pages of a combined PDF page.
The example below shows a packing slip as printed for a single order, including: your brand logo; barcode; sender address; ship to address; the selected shipping method; the SKU and product names included in the order, and the quantities.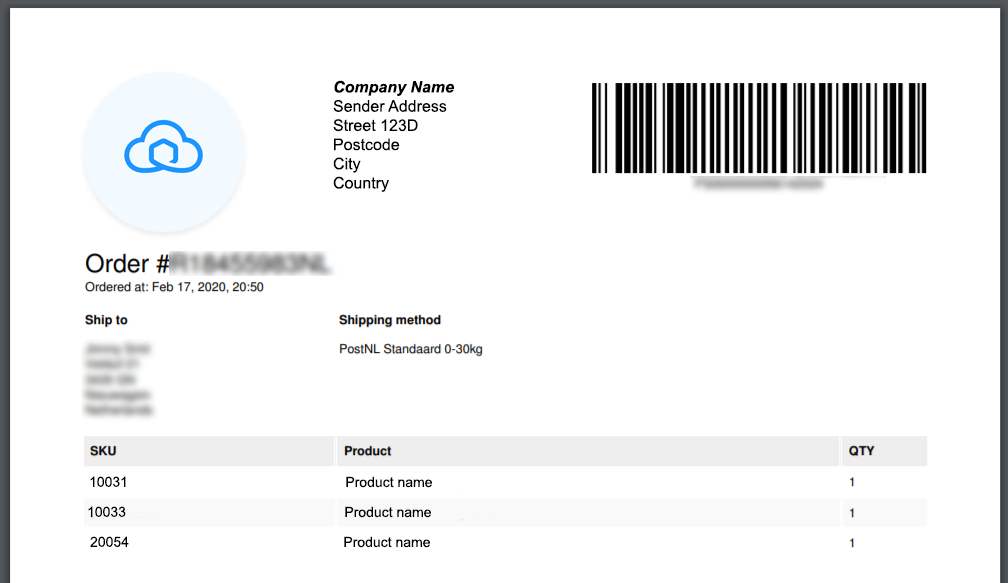 ---
Picking lists
A picking list is an internal document which shows the products, quantities and SKUs of items included in multiple orders. They are particularly useful if you have a large storeroom or a warehouse, and one or more dedicated picker and packers who need to efficiently and time effectively process multiple orders a day.
The picker/packer can print the picking list and use it to collect the required products and quantities for multiple orders at once. Once collected, the products can be taken to your packing area and divided into individual orders, ready for shipping.
The below example shows a picking list where three orders were selected: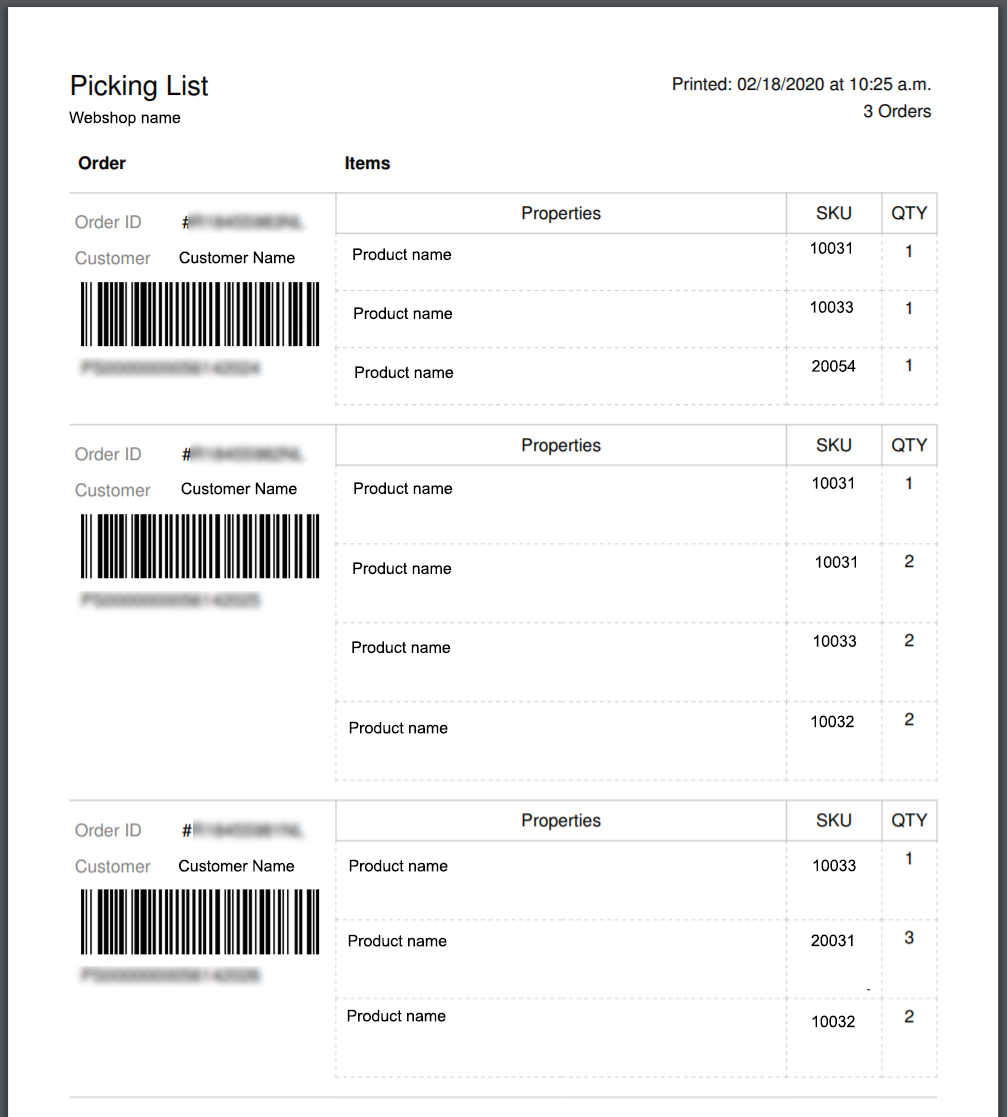 Whether you choose to pack individual orders based on packing slips, or process multiple orders at once with a picking list, both of these documents contain a barcode which can be used in conjunction with a barcode scanner.
---
To learn more about how to automate your shipping process with Sendcloud, check our article on Pack & Go Automatic and Scanner mode and Shipping Rules.

Need more help? Feel free to contact us by email at support@sendcloud.com or use the contact form
Enjoy shipping with Sendcloud!