Purpose: International shipping is a hurdle most e-commerce businesses face, and knowing which documentation you need and how to properly prepare your package for shipment outside of the EU can be a headache. In this article we list some tips and tricks to get you on your way with sending your first international shipment.

---
Jump to:
Choose a shipping method
Packaging requirements
Address and shipping label
Delivery times
Restricted items
Insurance
Customs documents
Incoterms
---
Tip 1: Choose your shipping method
In your Sendcloud account the shipping Price calculator is a handy tool for quick and easy comparison of different available carriers and their rates. Note that only the carriers that are enabled and active in your account will appear in the calculator. To activate your carriers, go to Settings > Shipping > Carriers & Pricing. Click here for more information on how to enable your carriers.
Enter the country you are shipping from (based on your sender addresses) and the destination country you are shipping to. Input the weight and the dimensions and the price calculator will find the available shipping methods, price and whether standard insurance is available.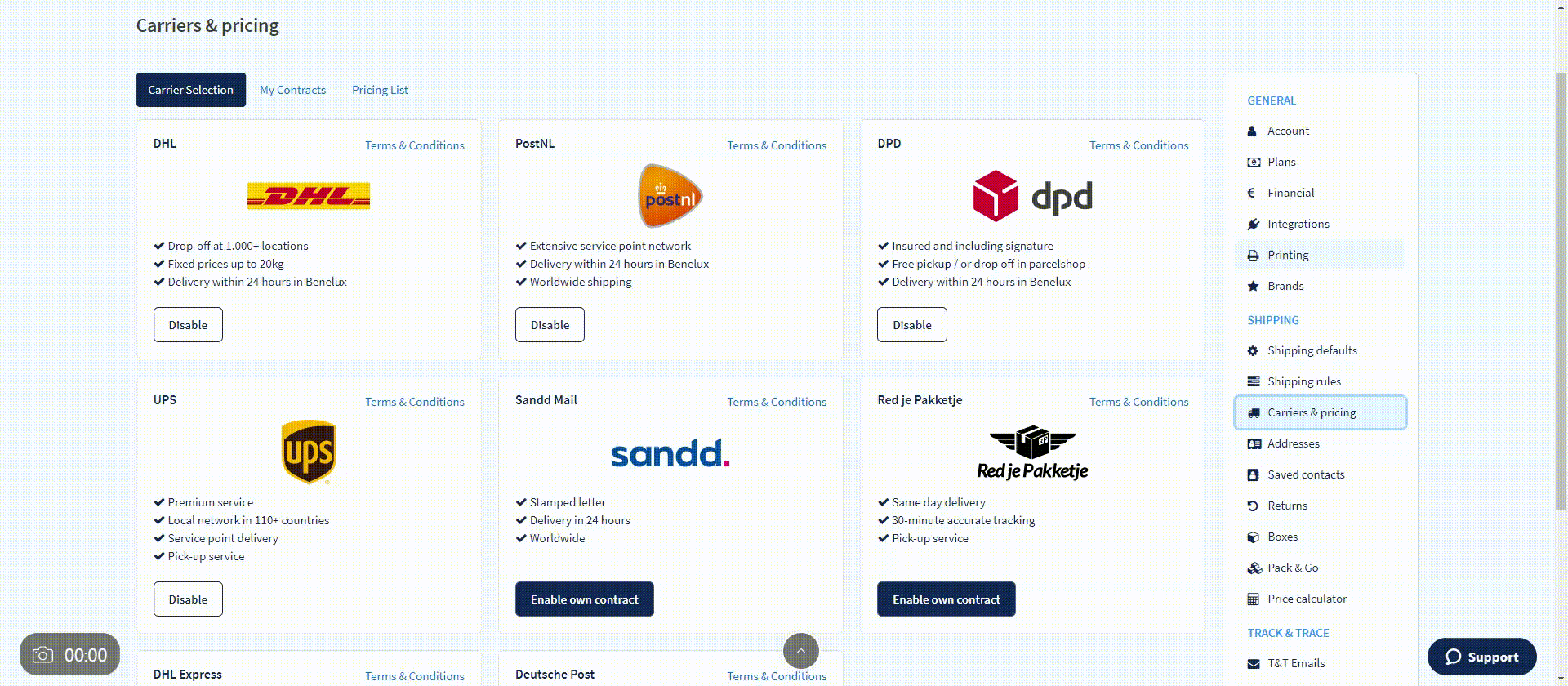 Tip: Different carriers will have different transit times, so be sure to weigh up the cost of shipping against the time frame you need your package to arrive within.
---
Tip 2: Prepare and package your shipment properly
When shipping a package internationally, bear in mind that the package will travel many thousands of miles across various shipping and postal networks and needs to withstand the kind of wear and tear inevitable when shipping via road, sea or air. You can read our in-depth packaging guidelines here.
Tips to package your products for international shipping:
Don't skimp on your packaging material. Use a brand new, double corrugated box specifically produced for shipping. Never reuse manufacturer boxes. If a box shows signs of wear and tear, opt for a new one. Your box must be able to withstand a fall of 1.5 meters
Stuff the box with additional packaging material such as bubble wrap or polystyrene. Make sure your products do not shift or move position inside the box during transport.
Don't use newspaper as protective material - not only is it not designed to absorb shocks and movement during transport, but if the country you are shipping to has certain censorship rules, it may delay your package from reaching its destination.
Put additional tape on the outer corners of the shipping box - tape in a 'H' shape so that all seams of the box are securely sealed with specifically designed packaging tape. Do not use string, twine or sellotape to seal the box.
---
Tip 3: Address your label carefully
Every country has its own particular address system. For example, in the U.S., Canada and Australia, there is an abbreviation of the state name with an area code behind the place name. In some countries, house names are more common than house numbers, and in Ireland some areas do not have a postcode. In the Netherlands, the house number comes after the street name. In the UK, the house number comes before the street name. With so many small differences between countries, always carefully address your shipping label in line with the address standards of the shipping destination. This way you reduce the chance that your shipment may be lost or delayed.
Don't forget to include the recipient's contact telephone number on the shipping label and on the CN22/CN23 form. This can be very helpful if your package becomes stuck at customs, or if the delivery information is not correct.
Applying your shipping label
Make sure that the label does not cover any of the package seams
The label should be wholly visible, with no additional labels, tape or documents covering any part of the shipping label. If you have to apply additional labels, place them on a different side of the box to the shipping label
Use a clear, specially designed shipping documents wallet/envelope to attach your customs documents and commercial invoices to the outside of the package.
Attach your documents wallet to the same side as the shipping label
---
Tip 4: Delivery time - Express or regular?
Be conscious of the fact that different carriers have different standard transit times for international deliveries. While one carrier may have cheaper rates than another, the transit time may be significantly longer than a slightly more expensive option. Find the right balance for your customer between lower shipping costs and a timely delivery.
Postal networks, such as PostNL and Royal Mail, are often slower than the Express networks of commercial carriers such as DHL or UPS. It's always a good idea to offer your customers flexible delivery options on your checkout page so that they can make the choice whether to receive their order faster, at additional cost, or opt for a regular shipment with standard delivery times.
Here you can see a list of the shipping conditions for every carrier available in your Sendcloud platform, so you can check the individual transit times. And don't forget to use the Price Calculator to find the best rates for your package per shipping method.
---
Tip 5: Know what is, and what is not allowed to send
Every country and carrier has different rules on what products are restricted or banned from shipping. If you're not sure, always consult the website of your chosen carrier. As a general guidelines, note that the products below are not allowed to be shipped:
Aerosols
Alcoholic beverages
Fresh fruit and fresh vegetables
Petrol or oil
Nail polish
Perfume
Poison
Lighters
Fire extinguishers
Gas masks
Lottery tickets
Raw diamonds
Damaged batteries
---
Tip 6: Insure your packages
Are you shipping high value products? Do you want to protect your shipments against the possibility of damage during transport or loss? Foreign shipments are lost more often than shipments within your own country or within the EU. Consider insuring your packages for additional peace of mind. Some shipping methods, such as PostNL Global Post, include a standard insurance up to a certain amount. Other shipping methods have no insurance included as standard.
If the standard insurance included in your shipping method is not not enough to cover the cost of the products, or if no insurance is included at all, consider opting for Sendcloud Insurance.
Starting from 100 euros at a price of 0.47 EUR per label, you can insure your package against damage and loss and prevent the chance that you may be out of pocket if your shipment does not reach your customer in good order. To add Sendcloud Insurance to your shipment, simply enter your desired insurance amount by going to your Incoming Orders tab and clicking the pen icon to edit the order details.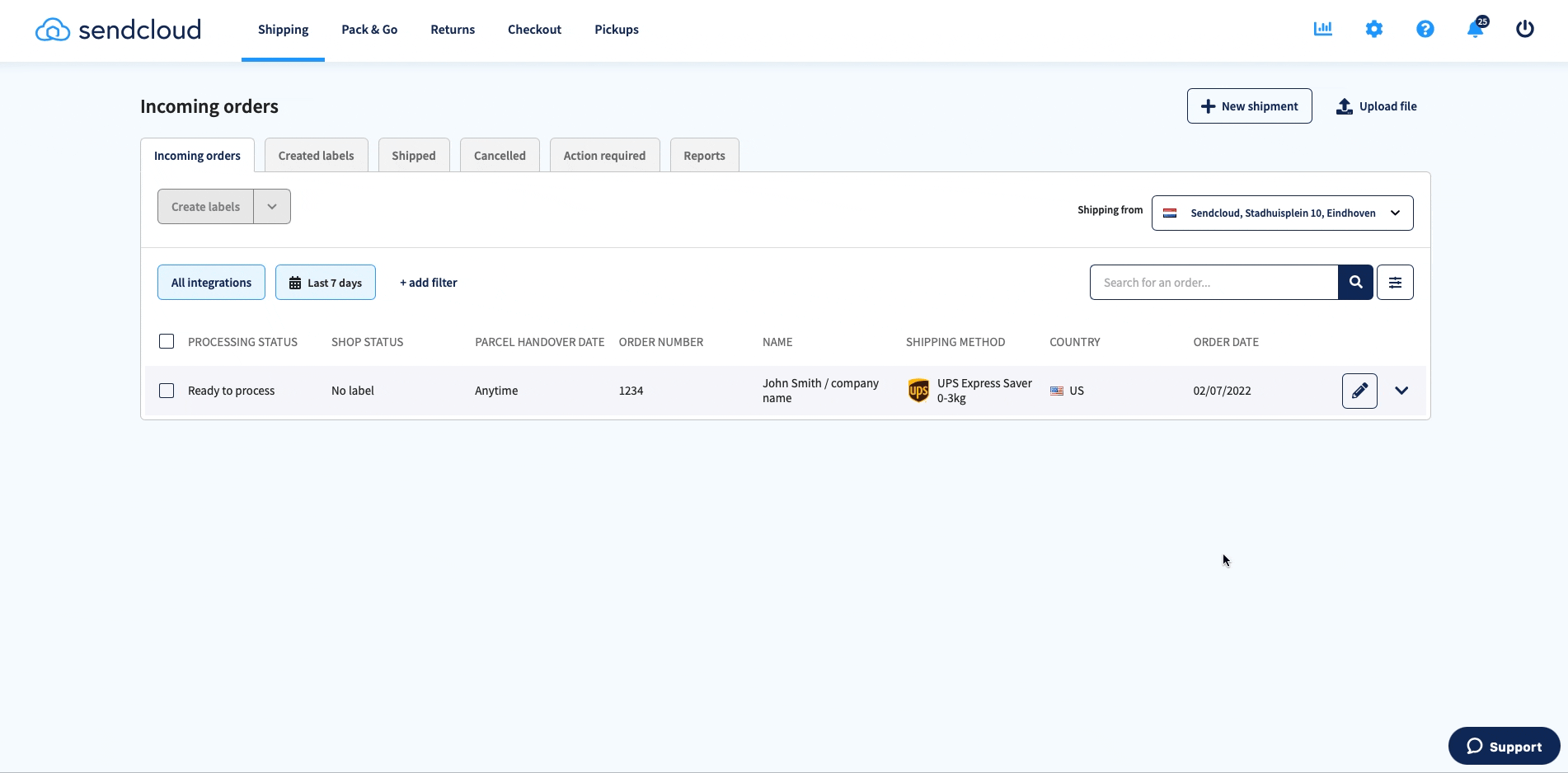 Note:
Some countries and products are excluded from insurance. Be sure to read the
terms and conditions
to ensure that your package qualifies.
---
Tip 7: Complete your customs documents
As a general rule, for postal carriers such as PostNL a CN22 or CN23 plus CP71 form is required for international shipping. For commercial carriers such as DHL and UPS, three to five copies of the commercial invoice is required. Some carriers require the commercial invoice and the CN22 or CN23.
Knowing which documents you need to attach to your shipment can be a bit of a challenge, but we've broke it down into some easy steps below. Remember, if you're not sure, always double check with your specific carrier - it's your responsibility to fill out and attach the mandatory documents.
Customs declarations
CN22 - this is required for all goods with a weight up to 2 kg and a value up to 425 EUR. This is a sticker which can be pasted to the outside of the package
CN23 + CP71 - this is required for all goods with a weight from 2kg-20kg and/or a value of more than 425 EUR. Three copies of this should be included in a clear documents wallet. The CP71 form which is included with the CN23 should be shown on the outside of the wallet as an address card.
Click here for our full article regarding customs documents.
Commercial invoice
This is the proof of sale which documents the agreement between you and your customer. Always include two of these in the documents wallet, plus a copy inside the package for your customer.
Click here for our full article regarding commercial invoices. For DHL customers - if you ship with DHL, you can use this tool to create your commercial invoice.
Certificate of Origin (CO)
Some countries and certain products require a CO to certify the country in which the product was produced or manufactured in. You can request a CO from the Chamber of Commerce website.
What should you take into account when completing these documents?
Describe each article separately and as accurately as possible
Always fill the form out in English or at the very least, in the language of the destination country
Enter the number, weight (in gram) and value (in €)
Also state the total weight and total value of the content
Specify each item with a 8-digit HS Goods Code of the World Customs Union and state the country of origin / production. You can look up these here.
Always put your signature on the customs form. In the absence of the signature, this may lead to delays
Please make sure to always add an item value - even if you are sending gifts or product samples. Leaving item values on 0€ will result in delays and, in some cases, in returns to you.
Don't forget: Always have your own copy of all documents for your own records. If problems arise, you can still submit a modified invoice to customs.
Tip 8: Know your Incoterms
Incoterms are standardised international delivery terms which act as a contract between the seller and the buyer. They determine the transport contract, insurance and who pays what costs associated with the delivery of a shipment. The type of Incoterm you use answers questions such as, "Which party is responsible for the shipping/insurance/imports costs?" and "Who is responsible for customs clearance?"
For international e-commerce sellers, DAP (Delivered At Place) is the most commonly used Incoterm. It means that the sellers is responsible for the shipping costs, insurance and the preparation of export documents, while the recipient will pay any import duties.
For more information on 2020 Incoterms, read our blog post here.
---