Purpose: Learn how to automatically generate your customs documents* directly in the Sendcloud panel. 
*In addition to the commercial invoice and/or the CN22/CN23 forms, some international shipments outside the EU also require a CP71 dispatch note, and possibly a Certificate of Origin (CO). This article will mainly discuss the commercial invoice for international shipping and the CN22 or CN23 forms, and how they can be generated in Sendcloud. 
This article is only a guide and Sendcloud can in no way be held responsible for any issues with your export documents. Always verify the shipping conditions of the carrier and the customs regulations before shipping to a destination that requires customs documents.
---
CN22 and CN23 forms vs. commercial invoice
When you are shipping internationally (outside the European Union), a commercial invoice is always required for customs clearance purposes, and only parcels sent via postal services need the additional CN22 or CN23 document. Always fill out these documents in English.
Whether you need the CN22 or CN23 document will depend on the weight and value of your package:
CN22 customs declaration: packages weighing up to 2 kilograms with a value of up to €425.
CN23 customs form: packages weighing more than 2 kilograms and/or valued at more than €425. The CP71 dispatch form must be included as a supplement to the CN23.
*Shipping from the UK: If the value of your goods exceeds £270, then a CN23 is needed instead of a CN22.
More detailed information and examples of CN22 and CN23 forms here




CN22 and CN23 custom declarations and are required customs documents for international shipping with postal carriers. They contain information about the goods you are shipping: content, value, who the shipper and receiver are, and which parties are involved in the shipping. They are required documents that customs authorities use to keep track of which goods are entering and exiting their countries, and to determine whether import duties must be paid for the goods you are shipping. 


CN22 form

CN23 form
More detailed information and an example of commercial invoice here




The commercial invoice is a binding customs document issued by the merchant (exporter) to the buyer (importer) that serves as a contract and a proof of sale between the buyer and seller. It mainly contains information about the contents of the package and the Incoterms. Based on the commercial invoice, the customs authorities determine whether import duties have to be paid on the goods.
For instructions on how to fill the export documents in and how to attach them to your package, read our Step-by-step Guide to CN22 and CN23 Customs Declarations for International Shipping and our guide Commercial Invoices: Everything You Need To Know.
---
How to download or print customs documents
With Sendcloud, you can directly download and print your pre-filled customs documents.
Step 1. Configure your printer settings
To automatically download your pre-filled customs documents when you create a label, in the Sendcloud panel go to Settings > Printing > Customs documents > Check the option Print customs documents with labels. Select the printer, the format and the number of copies. 
If no printer is selected, customs documents will be downloaded in PDF format.
Please note that your print settings are saved locally, which means that if you use a different computer the printer needs to be set up again.
---
Step 2. Describe the items in your international order
When shipping internationally, it is important to fill out the details of the different products. To do this, go to the Items section of an incoming order or in the manual shipment creation form in your Sendcloud account and fill out the product details for each product:
Shipment type
Item description
Origin country
Unit value, unit weight and amount of units
HS Code (6-8 digits)
SKU (optional)
To add a new item, clic the + Add item button and enter the details. 
If you do not enter the product details, your international order will show an error and you will not be able to create your shipping label. 
How many items can an international shipment include?
The amount of items you can include differs depending on the type of shipping carrier you have selected.
Postal carriers (e.g. PostNL, Correos, Royal Mail, bpost, Deutsche Post) allow a maximum of 5 items per commercial invoice.
Commercial carriers (e.g. DPD, DHL, UPS) allow a maximum of 99 items per commercial invoice. To create more than 99 items, you must create a new shipment. 
For CN23 documents, a maximum of 5 items is in place for both postal and commercial carriers.
Note: If you have exceeded the items permitted by the carrier you will receive an error. Please remove the additional items or change your carrier.
---
Step 3. Create the label
When you have correctly entered all the product details required, go to your Incoming orders view and find the order. Click the eye icon to open the order and click Create label when ready.
Your customs documents will now be printed directly. If the printer is not available, they will be downloaded instead.
Once it's created you can view the order by clicking the eye icon in the Created labels tab.
---
Step 4. Your document is still available in the label details view
If you want to download the customs forms again, or at a later time, you can do so in the Created labels overview. Find your order, click the eye icon to open it and click the Actions button. Then select Download customs declarations from the dropdown menu.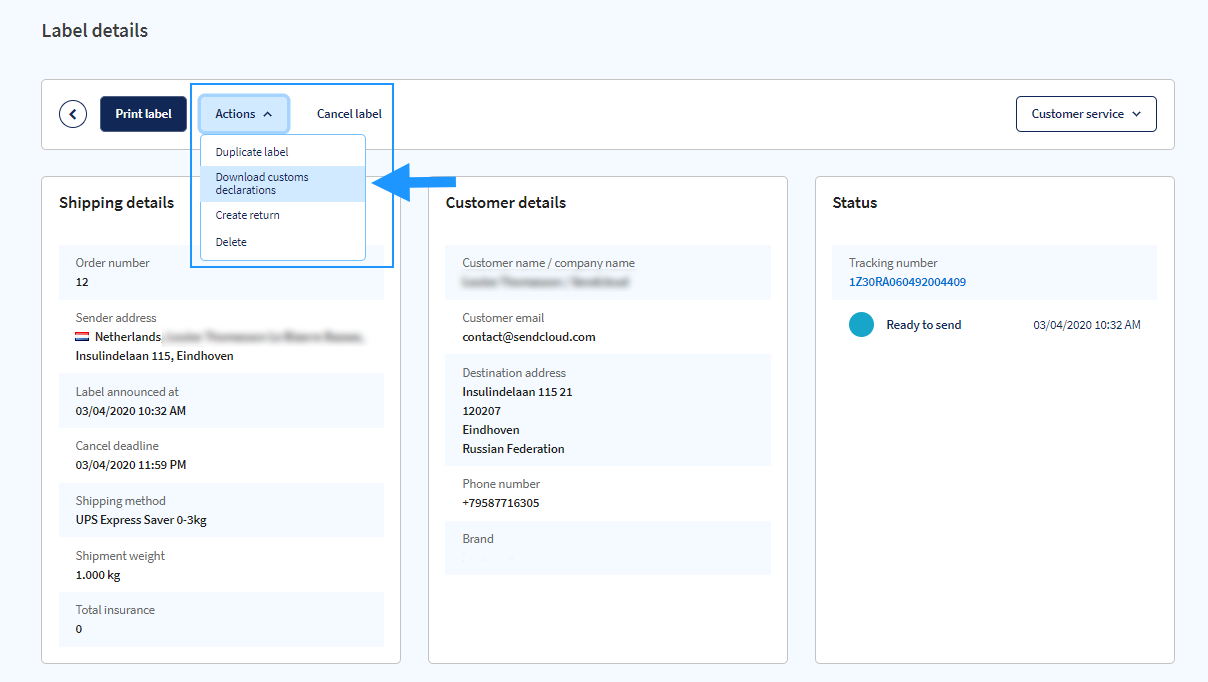 ---
Paperless Trade
Some carriers support Paperless Trade. For those cases, no document will be printed, as it will automatically be sent to the carrier.
Read more about Paperless Trade in our article Send your customs documents digitally via Paperless Trade.
---
Related articles
→ How to ship internationally with Sendcloud