Purpose: When you have successfully connected your webshop and selected your preferred carriers, it's time to start processing your orders and creating labels ready for shipment. In this article we will explain how your orders are processed in the Sendcloud Platform, and how you can view, edit and print your labels. 

---
Step 1. View your orders
The landing page of your Sendcloud platform is the Incoming orders overview in the Shipping section. This is where your orders are automatically imported into your account from your webshop integration. The system retrieves new orders every 4 minutes. 
Tip: You can also bulk import your orders via a .CSV file - click here to see how.
---
Step 2. Filter or search your incoming orders
By pressing the +add filter button, you can choose which orders you want to view. The filters available depend on the kind of integration you have. For example, you could choose to filter your orders based on destination country, carrier, announcement failed, shop status, and payment status. Click here to learn more about  + add filters. 

Tips for viewing incoming orders 
You also choose the time-frame in which to view incoming orders by clicking the date range button.

You have the option to view your incoming orders based on all of your shop integrations, or just one. Click on the

All integrations

button to select which integration you want to display.

In the search bar, you can search through your orders based on name or address.

You can also select which columns to show or not show by using the column filter option. 
---
Step 3a. Edit your orders
You can either click the dropdown arrow to unfold an order to view address details and make changes to the shipping method, or you can click the pen icon next to an order to go into the edit order view.

Tip: To delete an order, click the trash can icon

next to the order you want to delete:
Using the drop down arrow, you can edit the weight, number of parcels for multicollo shipments, shipping method, and add Sendcloud Insurance to an order.
By clicking the
pen
icon, you can make more changes or corrections to an order. In the
order edit
view you can amend the address and contact details of the recipient and change the
shipping from
(sender address) location.
Step 3b: Edit your orders  
In the order edit view you can view information about the order, and make changes including: 
Under Shipment, you can also find Applied shipping rules. If a shipping rule is applied to this order, it will be visible here. If this section is empty, it means that no shipping rules have been applied. Click here to read our Shipping rules overview and application article.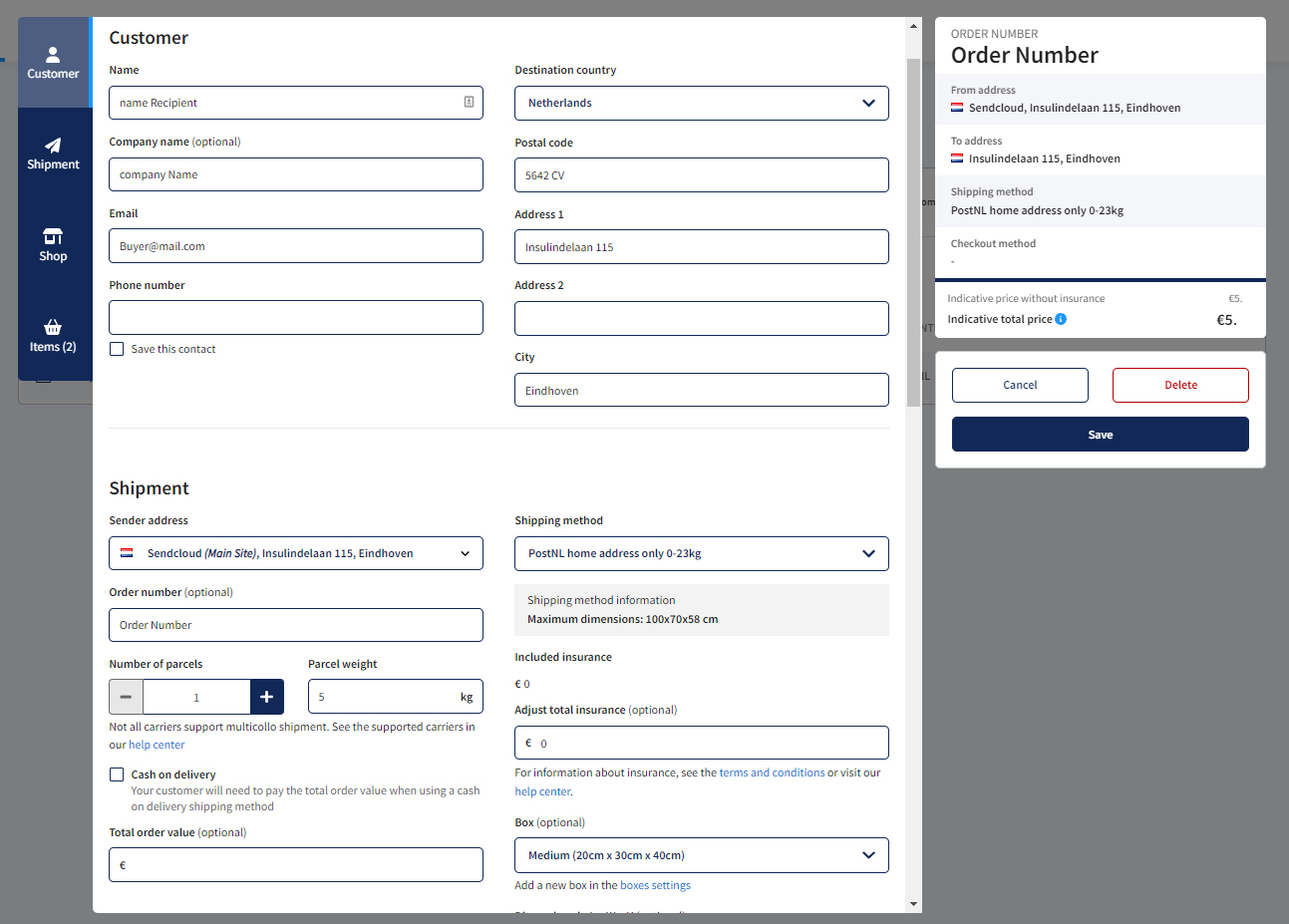 If you're shipping outside of the EU, you will be prompted to fill in some information about the products in your order, such as the item description, value, country of origin and HS Code. This will then be used to generate your customs documentation. 
---
Step 4. Select your sender address
If you have multiple webshop integrations or shipping locations, you can switch between sender addresses by clicking the Shipping from button in the top right of the platform.

---
Step 5. Set up your printer settings
If you want Sendcloud to save and automatically apply printer settings specific to your laser-jet or label printer, we have created a Print app that you can download by following the steps in this article. 
---
Step 6. Select your orders to process
Orders which are ready to have shipping labels created will have the processing status Ready to process. If a label cannot be created, the order will have the processing status Contains errors. To correct the errors, click the pen icon and add or correct the customer's address information. 
You can either select an individual order to create a label, or select all the orders by clicking the checkbox on the left side of the Incoming orders overview.

---
Step 7. Create your labels
When you have selected the orders you want to create labels for, simply press the Create labels button in the top left corner. 
If you have followed the instructions in Step 5 and configured your printer settings, your labels will automatically print when you click the Create labels button. 
If you have not yet configured your printer and downloaded the print app, your labels will be downloaded to your computer as a .pdf document. If you selected multiple orders, you will receive a multi-page .pdf document that contains all of the labels you chose to create.
---
 Congratulations! You have just made your first label with Sendcloud. To learn more on how to filter your orders click here. Want to get more out of your Sendcloud account? Click here to see how to set up your Tracking page and emails, and how to set up your Return portal to offer more value to your customers and streamline your logistics process.