It might occur that you made a shipment and eventually decided not to send this shipment. With Sendcloud, it is easy to cancel this shipment.
Please bear in mind that the only condition is that the shipment needs to be canceled before 23:59 on the day that you made the shipment. If you do not cancel the shipment before 23:59 the same day, the costs for this shipment will be put on your next invoice.
You are able to delete shipments directly from your shipments overview. To do this, follow the instructions below.

1. Select the shipment(s) that you want to delete from your Created Labels overview. When selecting the shipments you will see the option to cancel your shipment as shown in the image below.

2. Instead of printing the label you are able to Cancel the label that you created from the incoming order. Your shipment will now be transferred to the Canceled tab.


Optional:
You are also able to delete a shipment from the 'Shipment details'. You will then see the button 'Cancel shipment'. Clicking this button also leads to the shipment being cancelled.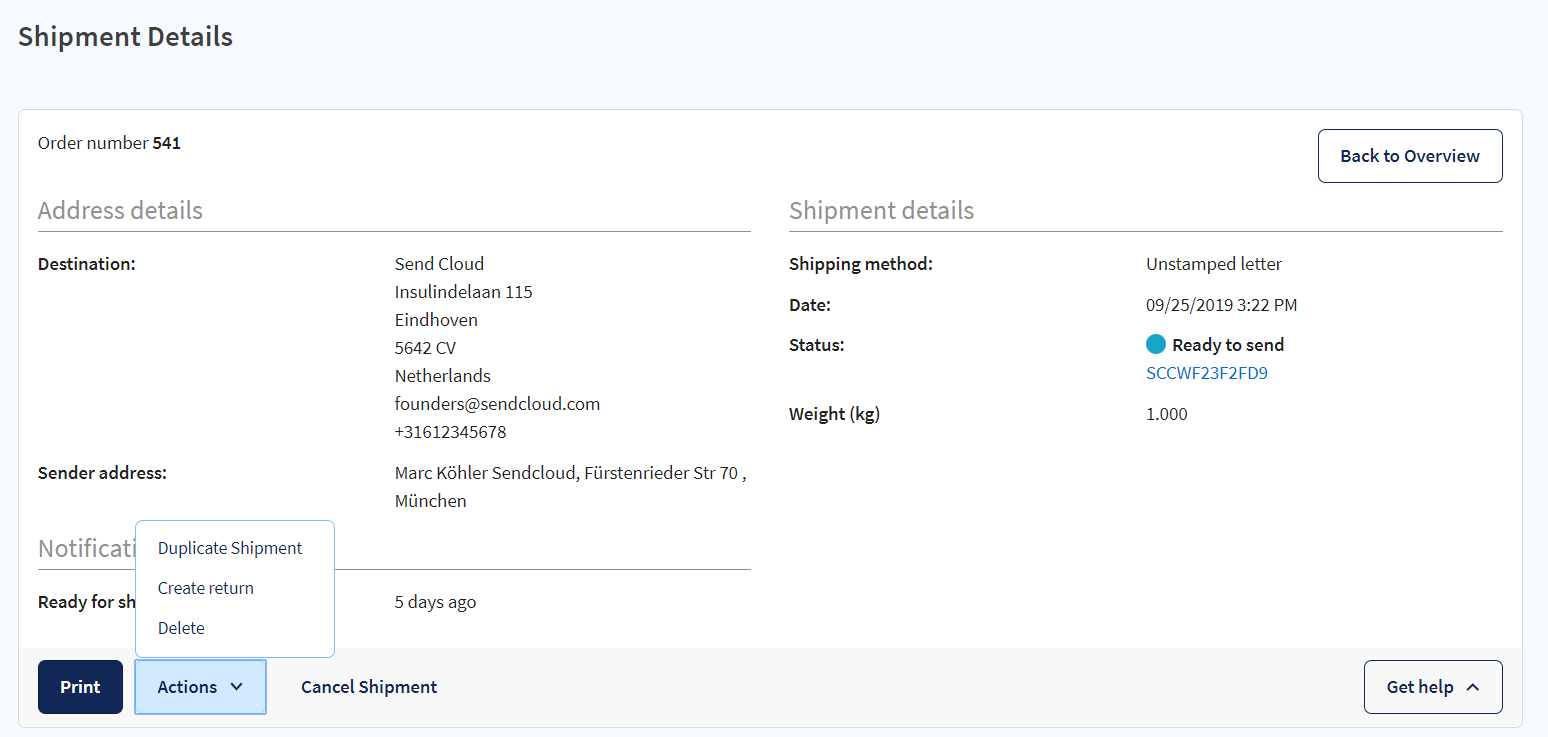 Please pay attention to the different cancellation-deadlines carriers use. Below is an overview of the cancellation-deadlines from the different carriers.
| | |
| --- | --- |
| Carrier | Cancellation Deadline |
| DHL | 23:59 |
| PostNL | 23:59 |
| DPD | 23:59 |

What happens when I miss the cancellation deadline?
Do not worry, you will still be able to cancel your shipment within 42 days after creating the shipment. The costs for this shipment will be corrected on your next invoice. If you do not manage to cancel your shipment within those 42 days the costs of the shipment can no longer be credited.