Purpose: Learn how to automatically generate your customs documents and commercial invoices through the Sendcloud platform.
---
Step 1. International order label/document creation
When a shipment to an international destination arrives in your Incoming Orders Overview, or when you create a manual shipment in the Sendcloud Platform using the Create a new shipment button, you will be prompted to enter product information necessary for the creation of the customs documents and commercial invoice before creating the label. The order will appear with an error which tells you to fill in the missing information needed to create your customs form.
Enter the product details - For each individual type of product in the order, you can enter the description, quantity, weight, value, HS code and Origin country. Press Add item

to add a new line for each type of product.
When the correct information is filled in, the error will be removed and you will be able to print your customs document directly alongside your shipping label. Before printing your document, proceed to the next step.
---
Step 2. Change your printer settings
In the print settings: Settings > Printing, you will find a new option called Customs Documents. Check the box if you would like this document to be part of the printflow and select a A4 printer. Press Update Settings before leaving the page.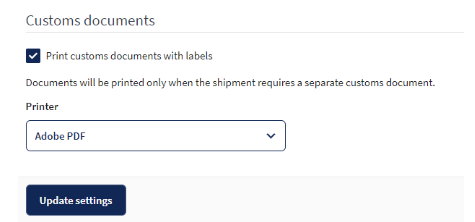 Please note that your print settings are saved per computer, meaning that if you are using a different computer the printer needs to be set up again.
---
Step 3. Select an international order in the incoming order overview
The order you select should have the correct customs information, as filled in during Step 1. When you have correctly entered all the product data required for the shipment, press Create label to process the label for the shipment as usual, and to print the customs document directly. If the printer is not available at the time you try to print the documents the documents will be downloaded instead
Once created, the label will appear in your Created labels tab. Click the eye icon to enter the label details.
---
Step 4. Your document is still available in the label detail view
If you want to download the forms again, or at a later time, you can do so in the Created labels overview. In the Label details view, click the Actions button and select "Download customs declarations" from the dropdown menu.
---
You can now easily generate and print all of the documents required for your international shipments. Want to know more about how easy international shipping can be with Sendcloud? Read our tips, hints and checklist on international shipping.