Purpose: many carriers will apply surcharges to your invoice if a parcel you ship does not meet the criteria laid out in their shipping conditions. We have created the article below, in addition to listing the shipping criteria of all of our partner carriers so you can take all necessary action to prevent having to pay unwanted surcharge fees on your invoice.

Want to know more about why you received a surcharge on your invoice? Check our article here.
---
Almost every ecommerce business owner who regularly ships parcels will have, at some point or other, received an unexpected and unwanted shipping surcharge on their invoice. Surcharges are an unpleasant and sometimes unavoidable aspect of of shipping, but by carefully studying the shipping conditions of your selected carrier and keeping a mindful eye on some of the most common shipping surcharges as listed below, you can learn how to prevent them for the most part.
Common surcharge reasons
Every carrier will have their own conditions under which they can levy a surcharge against a shipment, but some of the most common surcharges include:
Package too light or too heavy
Package falls outside the minimum or maximum dimensions
The shape of the parcel means it cannot be processed automatically (such as tubes, L-shaped boxes, boxes stuck together, etc.)
Package has a "fragile" or "breakable" sticker on it to imply extra handling is required
The delivery address is in a non-residential, remote or rural area
The label cannot be read or must be relabeled due to incorrect address details
Delivery time frame falls within peak season (Christmas period)
Parcel is returned to sender
---
How can I avoid them?
Tip 1: Package your product properly
Packaging your product properly for shipment does not only refer to correctly weighing and measuring the box. You should also ensure that the parcel is not packaged in an odd-shape (think cylindrical or multiple boxes attached together) because it will ultimately have to fit onto and travel upon an automatic processing belt when it reaches a sorting area. If a parcel does not fit or travel on the belt, it will be removed for manual sorting, and this is why you will receive a surcharge.
Make sure you use robust packaging materials and that the contents of the box don't leak or slide around and that you don't ship any restricted products. Click here for our general packaging guidelines.
Tip 2: Address and place your label correctly
One of the benefits of shipping with Sendcloud is that the platform will detect missing address information. If an order in your Sendcloud platform is missing, for example, the postcode, then you will have to correct the issue before printing the label. Don't forget to stick the label horizontally on the longest side of the parcel so the barcode can be correctly picked up by the automatic barcode scanners.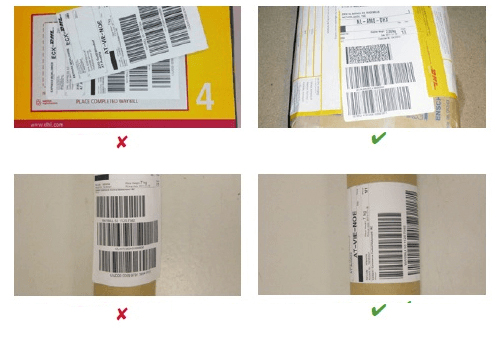 Tip 3: Select the correct shipping method
You can receive a surcharge for using the wrong shipping method to delivery your parcel. For example, shipping with DHL Europlus (business network) instead of DHLForYou when the delivery address is to a private/residential location, or shipping a 25kg product with DHLForYou when the maximum weight is 20kg.
Be aware when shipping postal mail too - most carriers have specific methods for shipping postal mail or packages that are small enough to fit inside a letterbox. such as DHLForYou Letterbox.
Tip 4: Return to sender surcharges
If a parcel is refused by a customer, not picked up from a drop-off location in time, or cannot be delivered due to a missing or incorrect address, you will be liable for paying the return fee when the parcel is sent back to the sender address. This is one of the most difficult surcharges to avoid, but you can install an address verification plugin to your webshop to prevent missing or incorrect address data.
Additionally, integrating Sendcloud with your online checkout means you can offer varied and flexible delivery options including service point delivery to your customers. The more options they have for flexible shipping, such as Saturday and evening deliveries, the more likely that they will be home or available to receive their package.
Tip 5: Use the Sendcloud price calculator to determine shipping methods
When you use our shipping price calculator you can see a range of available methods to ship your parcel with depending on the dimensions, weight and shipping destination country you enter into the calculator. This serves as a guide to not only let you know the rates of the label, but also which methods are suitable for shipping the size/weight of the parcel.
Note: while the price calculator is a handy tool for determining which method to ship with, it can only provide suggestions based on weight and dimensions and cannot take volumetric weight into account. Once you have selected a potential shipping method we strongly recommend that you then go on to read the carrier's shipping conditions in our help center for further clarification.
Tip 6: Use shipping rules to avoid volumetric weight surcharges
Most carriers charge a surcharge if the shipment surpasses the allowed volumetric weight.
Example:
(I) If the order weight in kg is lower than the volumetric weight (for example volumetric weight is 6) then apply the first or a similar rule.
(ii) If the order's real weight is higher than the volumetric weight then apply the second or a similar rule.
---
Carrier shipping conditions
Always carefully check the individual shipping conditions of your chosen carrier before packaging and labeling your orders to help prevent receiving a surprise surcharge
You can find our full list of shipping conditions and surcharges below in our Helpcenter:
---
Not sure why you received a surcharge? This article explains how and where you can see surcharges on your Sendcloud invoice, and how to recognise them. It can also be the case that you do not believe the reason for a surcharge is legitimate. In both cases, you can always contact us for additional support by logging a Finance related ticket from the Support tab of the Sendcloud platform.