Purpose: The way of printing shipping labels with DHL DE will change. In this article, we explain the new process for printing your DHL DE labels through Sendcloud. 
---
The Sendcloud subscription plans have been updated. If the subscriptions shown in the banner above don't match your current subscription plan and you'd like to know more, please click here
Related articles
---
DHL DE labels must be batch created separately to labels from other shipping carriers. This is because DHL DE have a specific format to their shipping labels which must be automatically applied to each order. It's therefore not possible to print a batch of shipping labels which contain DHL DE labels alongside other carriers. Please apply the workflow below when printing your labels.
How to print shipping labels with DHL DE
Login to your Sendcloud account
In your incoming order overview, select the orders you want to print that have a DHL DE shipping method by ticking the box next to status "Ready to process"
Click Create labels 
Your shipping labels can be downloaded in PDF format, or will be automatically printed on your standard printer or label printer if you have applied the steps in this article.
Error message when trying to print multi-carrier shipping labels 
If you select multiple orders which contain shipping methods which are not DHL DE shipping methods, you will see the following error message:
"It's not possible to print DHL DE labels alongside labels from other carriers."
It's therefore not possible to print a batch of shipping labels which contain DHL DE labels alongside other carriers. This only applies to shipping labels from carrier DHL DE - you can batch create other types of labels simultaneously in the usual way (e.g, PostNL + DPD). 
---
Printing preferences for DHL DE shipping labels 
For every other carrier, you can apply your own printing preferences to how you want your labels to appear by going to Settings > Printing and selecting from the various options for label formatting.

For DHL DE this is not the case - you will not be able to adjust printing preferences for this carrier and any associated shipping methods. For these labels, Sendcloud will override your specified print settings and automatically format labels based on the format indicated in your carrier contract settings. 
You can find these settings by going to Settings > Carriers & Pricing > My contracts > DHL DE. At the bottom of the page you will see a drop down menu named Label format.
Select your preferred label format from the dropdown menu.
Click the Save button when done.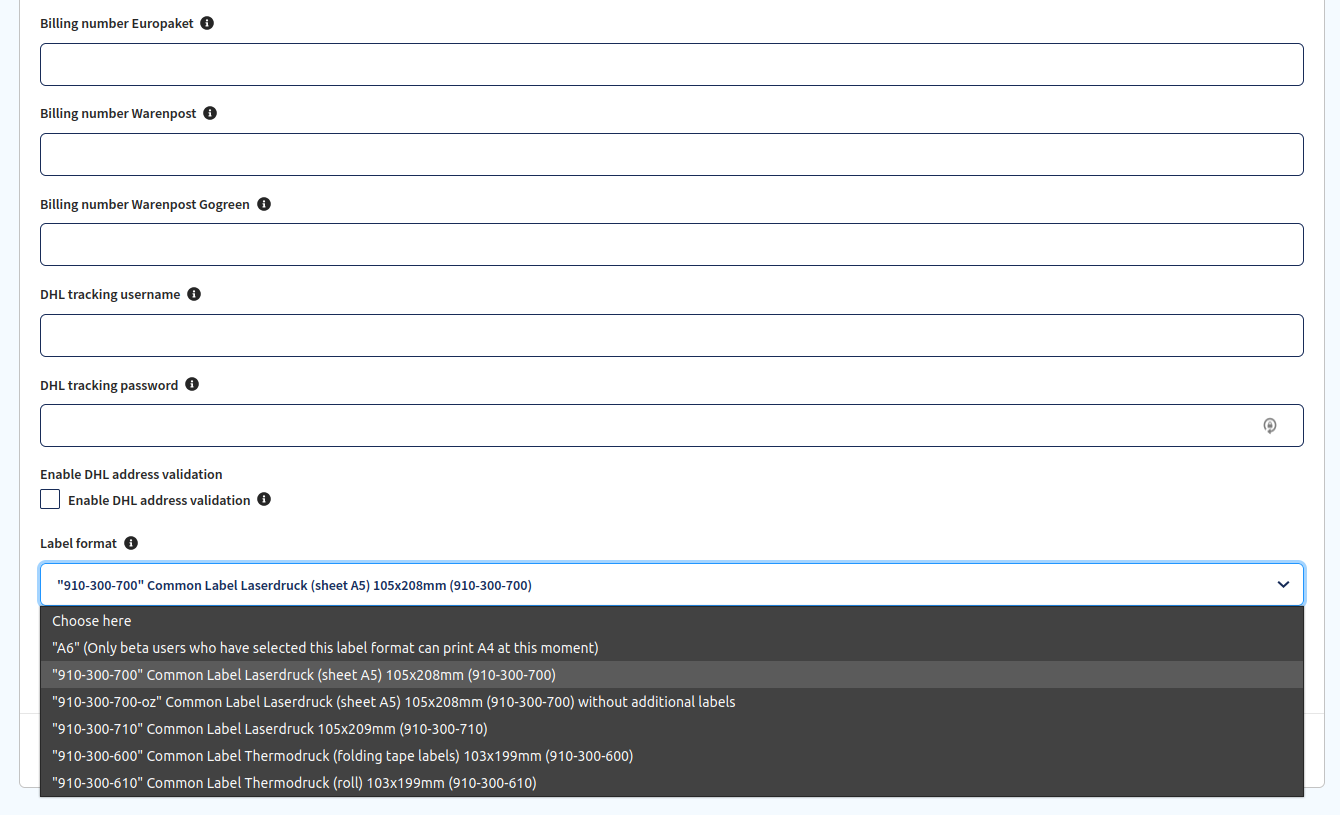 ---
Print formats for DHL DE shipping labels 
In order to change your printer settings in your Geschäftskundenportal, you go to Parcel & Goods > Settings > General settings > Set-up of printer.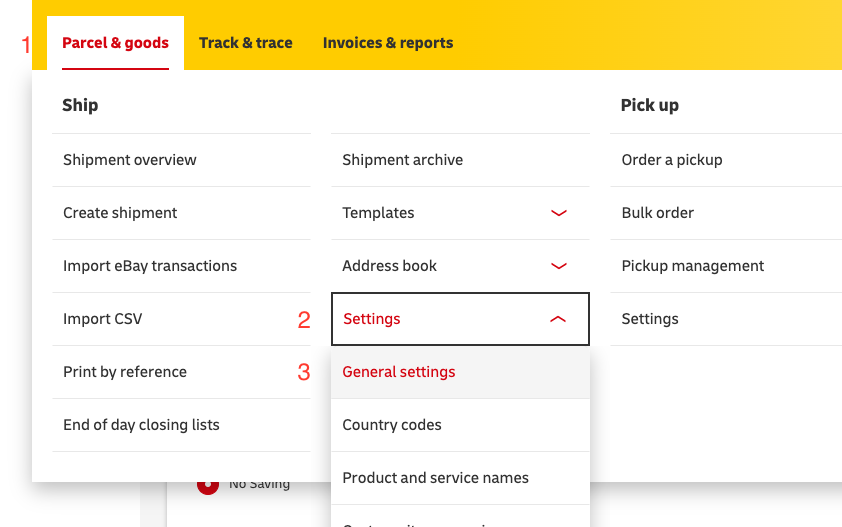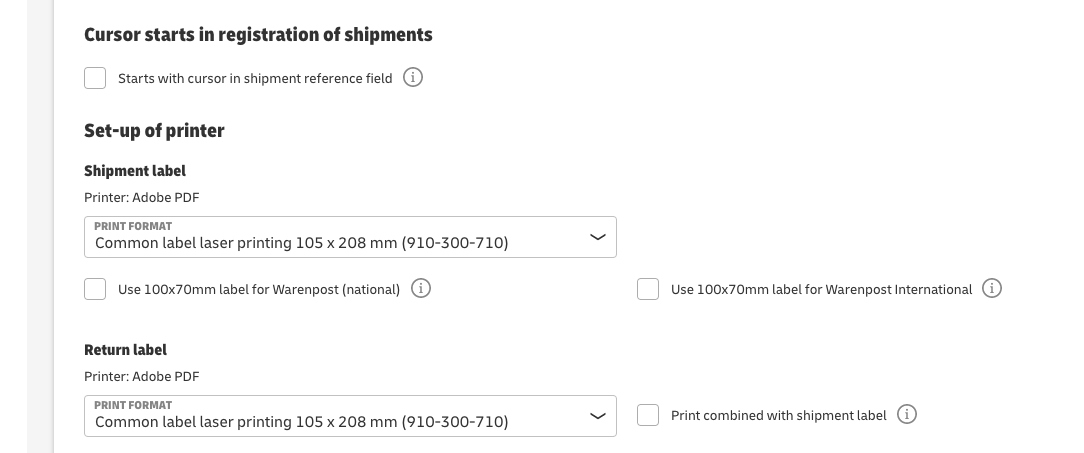 These are the formats that are provided by DHL DE:
| | |
| --- | --- |
| A4 | Common Label Laserdruck A4 Normalpapier |
| 910-300-700 | Common Label Laserdruck (sheet A5) 105x208mm (910-300-700) |
| 910-300-700-oz | Common Label Laserdruck (sheet A5) 105x208mm (910-300-700) without additional labels |
| 910-300-710 | Common Label Laserdruck 105x209mm (910-300-710) |
| 910-300-600 | Common Label Thermodruck (folding tape labels) 103x199mm (910-300-600) |
| 910-300-610 | Common Label Thermodruck (roll) 103x199mm (910-300-610) |