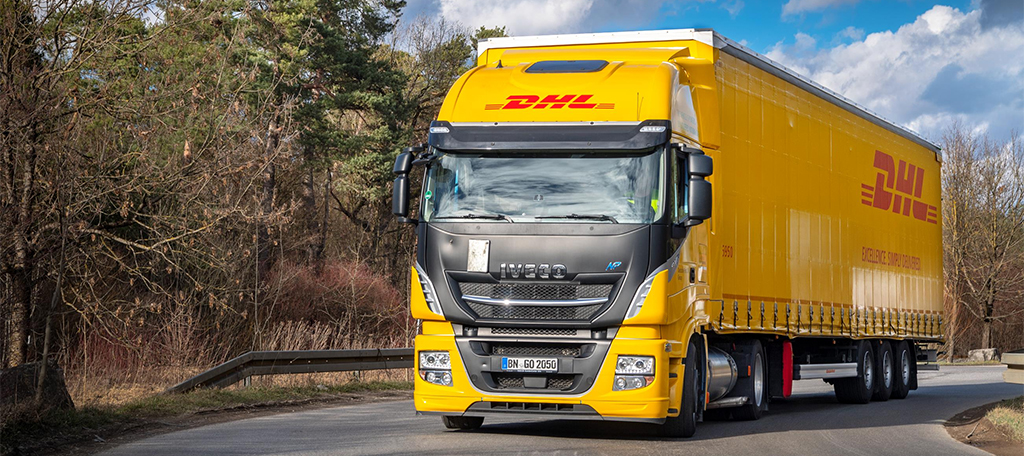 Purpose: Learn how to connect your DHL carrier contract with your Sendcloud account in three easy steps.
If you don't already have a contract with DHL DE, you can click
here
to sign up.
---
Step 1: Activate your Sendcloud subscription
Sendcloud offers three subscriptions with which you are able to use your own transport contract: Small shop, Large shop and the Business plan.

For more information regarding which plan is best for you and the needs of your business, you can always contact us via the support section of your Sendcloud account or click here.
---
Step 2: Enable your carrier contract
Once you have activated a Sendcloud subscription, you can connect your carrier contract.
In your Sendcloud panel navigate to

Settings > Carriers & Pricing.
Go to the My contracts

tab and find DHL from the list.

Click

Add contract

. Here you can add the credentials needed to validate the connection to DHL.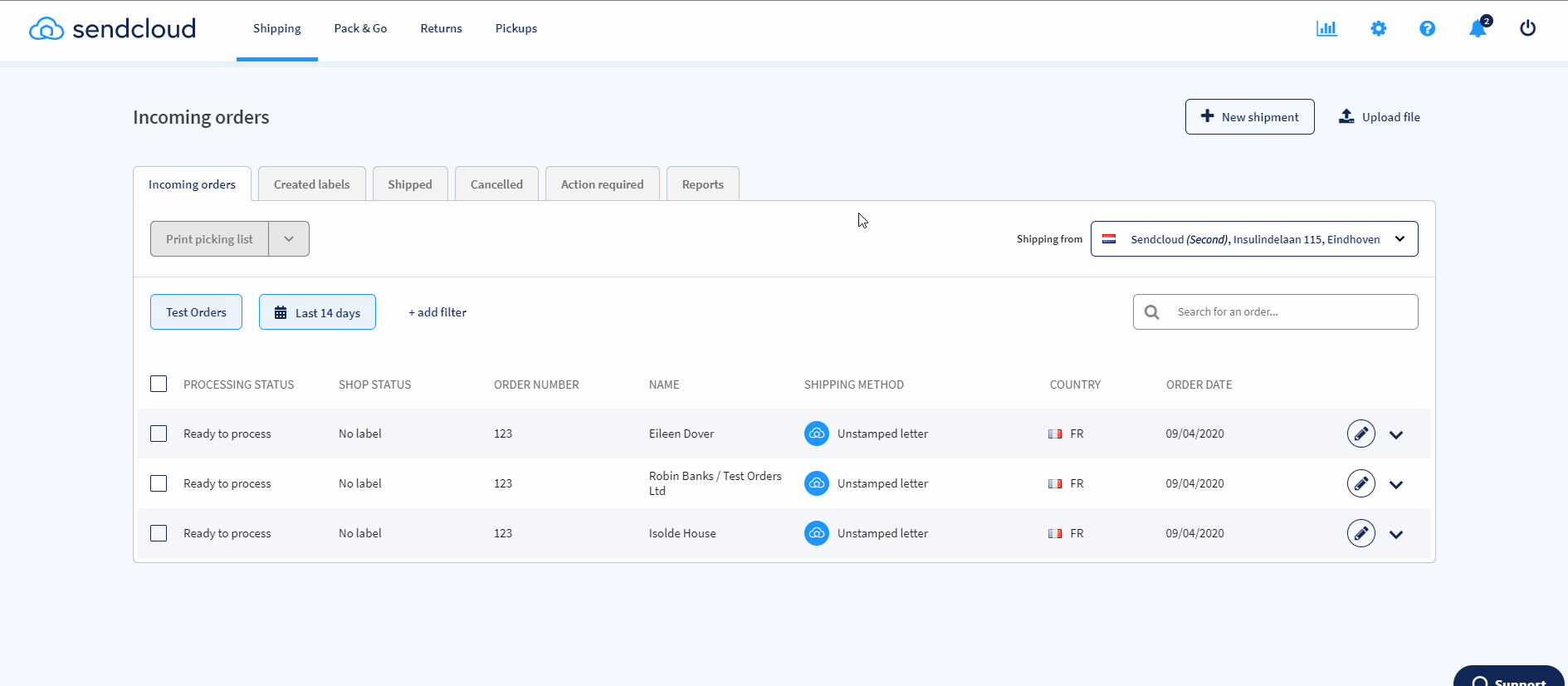 ---
Step 3: Enter your DHL contract details
Complete the form with the information below and click Save when you are done.
DHL Business Customer Portal Username
DHL Business Customer Portal Password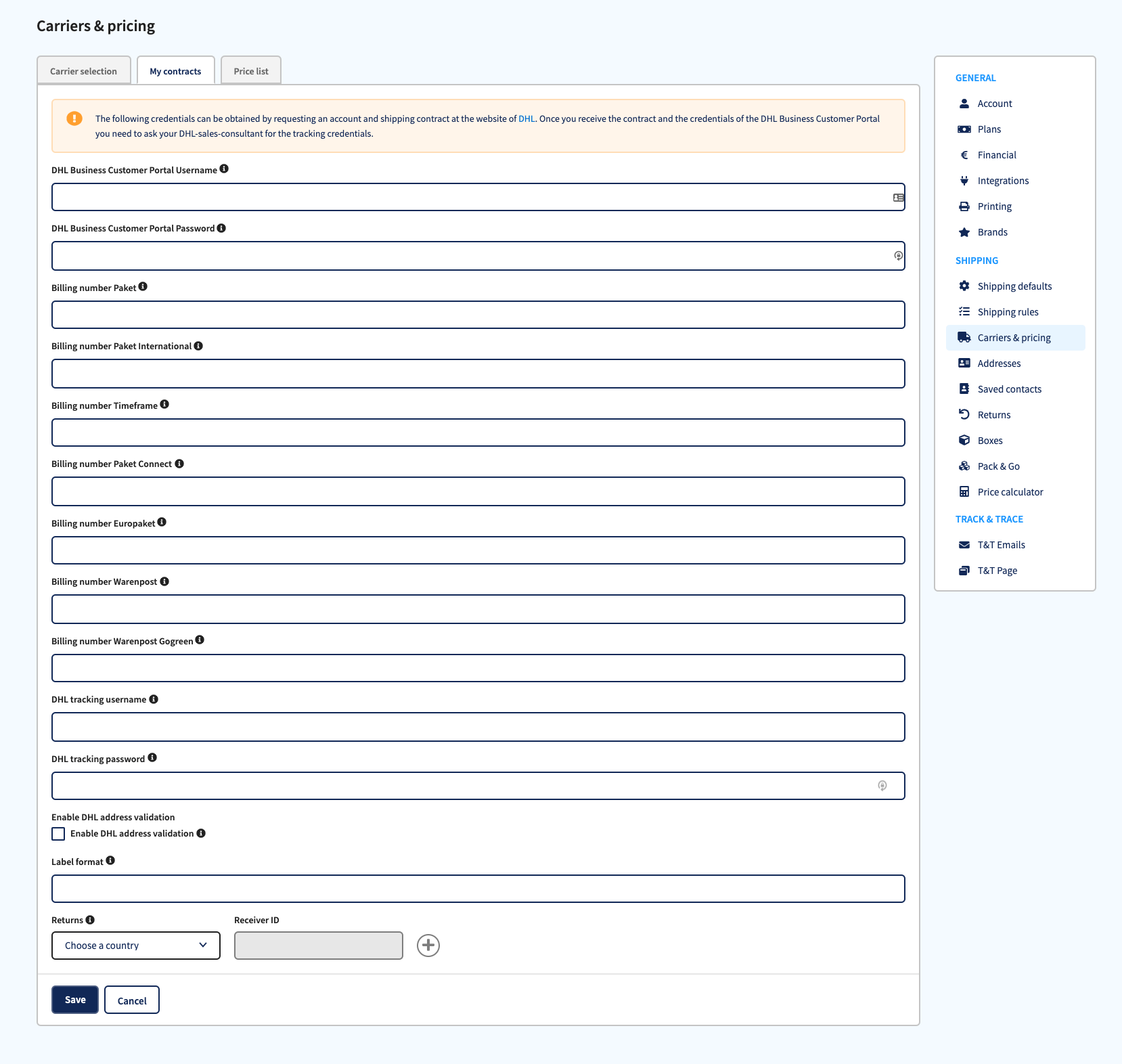 Please pay attention to the following points:
The password and username that you use to log into the DHL Business Customer Portal.
Billing numbers can be found in the DHL Business Customer Portal (Name of your account > Masterdata > Contract Positions).
DHL Tracking credentials contain a username and password. The username starts with ZT and a six digit number. Please note that the password may contain a maximum of 1 "!" (exclamation mark) as a special character. To find out these credentials, contact your DHL representative.
Enable DHL address validation to avoid having to pay surcharges for relabeling if a customer's address is invalid.
Important:
Since your contract and the relevant shipping methods are individual,
please make sure
that the shipping methods you have agreed upon are activated with us. Please note that this
does not happen automatically.
If you do not see the shipping methods, please contact our support / Live Chat.
---
Step 4: Enable domestic and international returns
In order to be able to receive returns from different countries, please retrieve the country Receiver ID which can be found in the DHL business customer portal.
Go to

DHL business customer portal > Returns

.

In the

Receiver and country overview,

your account manager will define all countries from which you want to receive returns (per country = one line).

Copy the Receiver ID to the Sendcloud contract settings for each country that you want to enable returns for. In the example below, under the outlined yellow box you can see the Receiver ID is here named as "BE" for returns to Belgium.


In your Sendcloud account, navigate to Settings > Carriers & Pricing > My contracts > DHL DE
Scroll down the page until you see the Returns section on the DHL DE contract settings page
Select your return country from the dropdown menu and then enter the Receiver ID exactly as it appears in your DHL portal


To add additional countries, click ± and repeat the process
Press the Save button when all countries are added
Once you have filled in the receiver ID's per country in the Sendcloud contract settings the following methods are supported on the Sendcloud platform: DHL Retoure (formally DHL Paket Return) and DHL Mobile Retoure (formally DHL Retoure Online).
Once you've followed the steps above, your DHL contract should now be successfully linked to your Sendcloud platform and you can begin shipping on your DHL rates. When you create a label with a DHL shipping method, the label price will now show as 0.00 EUR in your account.
---
Related articles:
→ How do I set up a default shipping method?