Purpose: Learn how you can create a brand in your Sendcloud account. After creating a brand, you can use it to personalise some of our key features, such as your shipping labels, Track & Trace emails, and the return portal.
---
Watch our video tutorial:
---
Creating a brand
Creating a brand in the Sendcloud platform allows you to apply your unique logo, brand colours and URL to shipping labels, the return portal, and Track & Trace emails.
If you are on our Small Shop plan or higher, you can use your brand to create a personalised Track & Trace page which replaces the carrier website tracking page with your own delivery status portal. This is a great solution for marketing new products or promoting campaigns to your customers, while offering timely delivery updates.
---
How to create a brand
Go to Brands via Settings in your Sendcloud panel and click on Create new brand. You can now begin to enter the information needed to customise your brand.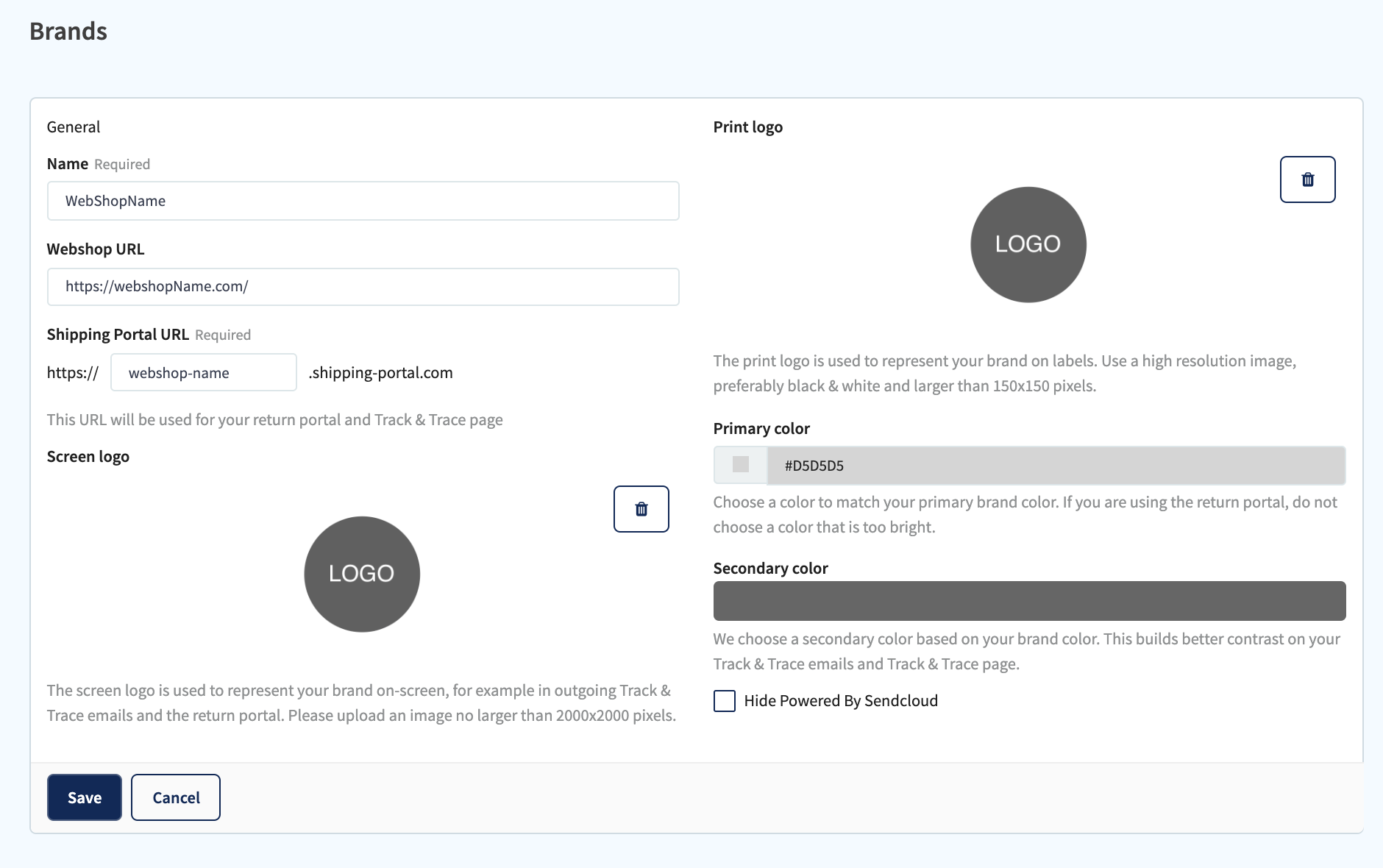 At Webshop URL

enter the link that leads to your webshop. When clicking on your brand logo in the return portal header, your customers will be sent to your shop homepage

At Shipping Portal URL

, enter the name of your shop. Based on this, a personal return link for your portal is created. You can share this link with your customers to open up the return portal. The Shipping Portal URL is also used to generate the Track & Trace pages.

Learn here how to set up your branded track & trace pages.
Upload in .png or .jpg format your logo in Screen logo, which will be used in the header of the return portal. It's advised to use a landscape format.
Upload a Print logo which will appear on your shipping labels.
Set a

primary colour

for your brand. This primary colour will be used in the return portal to fill the main buttons. You can either directly paste the HEX code of your brand colour or use the colour picker.
Remember to save

when you are happy with your changes.
---
How do I add multiple brands if I have more than one webshop?
You can add multiple brands by going to Settings > Brands and clicking on Add new brand. When a brand is created, it can be assigned to a sender address. Once assigned to a specific address, the brand will be applied to the shipping labels, return portal and Track & Trace emails/page for that sender address.
To assign a brand to a sender address, go to Addresses.
Either create a new sender address by clicking on Create new or click the pen icon to edit an already existing address.
Then, scroll down to the bottom of the page and, under Brands, select the correct brand to assign to this address from the dropdown menu.