Customize the content, logo and colors of your personal Track & Trace page! Are you managing multiple web shops? You can create multiple brands and Track & Trace pages per each of your web shops. Your customers won't be sent to the Track & Trace page of the carrier, but instead will see your Track & Trace page. It's the ideal way to provide a fully brand immersive experience to your customers and promote your latest campaigns. The steps below explain the options and configuration of the Track & Trace page.
---
Watch our video tutorial on how to create your brand and set up your Track & Trace page:
---
Step 1: Personalize your Track & Trace pages by adding your brand
It all starts with setting up your brand. Click here to read our article on how to create a brand in your Sendcloud platform. In your brand settings you also have the option to select a brand color. The brand color will be used as the color scheme on your Track & Trace page.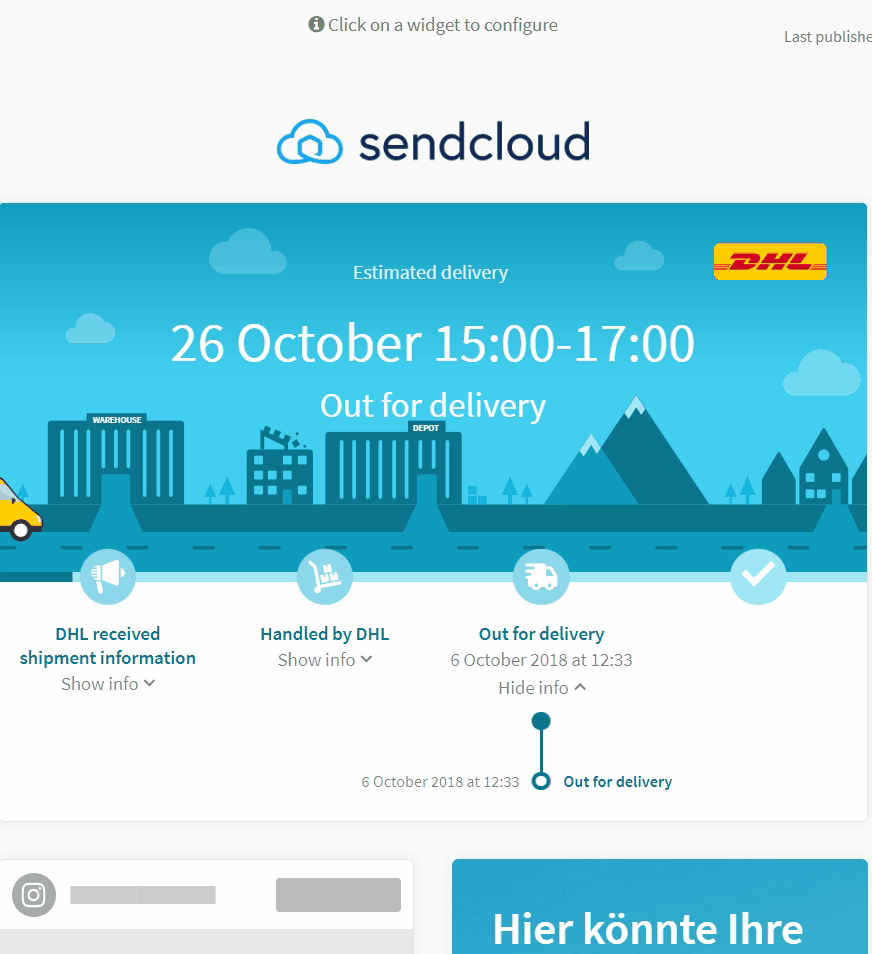 ---
Step 2: Select a design
You can create a Track & Trace page per each individual brand you have created. Select the brand you want to create a page for from the drop down menu.

We've created two design options for the look and feel of your Track & Trace page.
Both apply your brand color in the color scheme on the page. The image above shows the default design. The logo on the top right is based on the carrier handling the parcel, along with the carrier van.
If you wish not to use the animation, you can deactivate this. To do so, click the timeline widget and deactivate the illustration. Upon deactivation your page will look as follows:
---
Step 3. Change the layout and add extra options
You can determine the design of the Track & Trace page by choosing one of the various options we offer.

Standard:
Timeline of your parcel + parcel information.
Instagram post + branding banner:
Besides the Track & Trace information you have the option to add an Instagram post and to add a branding banner (with, for example, a discount code).
Instagram post:
Add only an Instagram post besides the Track & Trace information
.

Branding banner:
Add only a branding banner besides the Track & Trace information.
---
Step 4: Preview your Track & Trace page
Are you curious to see how the page will look for your customers? Use preview! Click the 'preview'-button located top left in the menu bar. This will show a live preview of how your page will look. Customers will be able to see more details of the shipment by clicking on show info'.

---
Step 5: Publish your page
Before you publish your page, we recommend previewing the page by clicking on the 'Preview'-button. If you're not fully satisfied with the page, you can save it as a draft and finish it later.
When you're fully satisfied you can publish the page by clicking 'Publish'. This way the page will be live for your customers.
---
Tip: Add a branding banner to stimulate future purchases:
You want to do whatever is possible to make sure customers return to your web shop for future purchases.
Using a banner ad on your Track & Trace page is a effective method for brand building and/or launching new products and/or services. The banner can also be used to offer a discount code for future purchases.
What are the options of customizing your branding banner?
Setting the background color or background image
Add a banner ad link
Write a title
Write a short text underneath the title
Button with a call to action
Text position
Recommended size:
Banner only (horizontal): 700 px (w) x 360 px (h)
Banner + Instagram (vertical): 360 px (h) x 700 (w)
---
Involve your customers with your branding using our Instagram widget:
If you have an active social media presence and want to encourage customers to follow your pages, you can add our Instagram widget to your Track & Trace page. Not only is this feature very suitable for brand building, but you can highlight a particular campaign, promotion or new product introduction via your Instagram feed.
Make sure your post is set to public so that non-followers can see the post. Slideshows and videos aren't supported, and only a single post can be featured.
Please note: Only Instagram accounts set as Public are authorized to connect to the Instagram widget.
---
How to update the Instagram widget
If you have already connected your Instagram account to the Instagram widget in your Sendcloud platform, we have recently released an updated version of the widget which we suggest you enable. The old version of the Instagram widget will be removed by the end of the year (2020.)
To update to the new latest version, simply click the "switch now" button in Settings > Track & Trace page. You will then be prompted to login to your Instagram account to authorize the connection. When you have logged in using your Instagram username and password, you can select which photo in your feed you wish to highlight. You will be shown a preview, where you can choose a post to feature and press select post to confirm.
FAQs:
If I switch to the new widget, can I go back using the old widget?

No. Once you have switched to the new widget it won't be possible to regress to the old version.

I can't connect Instagram, what can I do?

You might be using an ad blocker. If an ad blocker is active, we won't be able to load posts in your widget and to connect your Instagram account. Remember to always disable your ad blocker when you want to edit the content of your widget and when you would like to connect an (new) account.

Until when the old widget will stay active?

We advise you to switch to the new version as soon as possible. We will deprecate the old version by the end of the year.

Are videos and multiple photos posts available in this version of the widget?

Unfortunately, the API does not support these features.
---
If you have further questions, please contact us via the contact form within the Sendcloud panel.