Purpose: Learn how to create your own branded Tracking page for your customers to land on when they click the tracking number in your Tracking email notifications. 
The Sendcloud subscription plans have been updated. If the subscriptions shown in the banner above don't match your current subscription plan and you'd like to know more, please click here.
---
Step 1: Personalize your Tracking pages by adding your brand 
It all starts with setting up your brand. Click here to read our article on how to create a brand in the Sendcloud platform. Once you've created a brand, the logo and brand colours associated with it will be displayed on your Tracking page. 
If you have multiple webshops, you can assign different brands and Tracking pages to each of them to ensure a fully brand-immersed customer journey across your product range. 
Desktop version: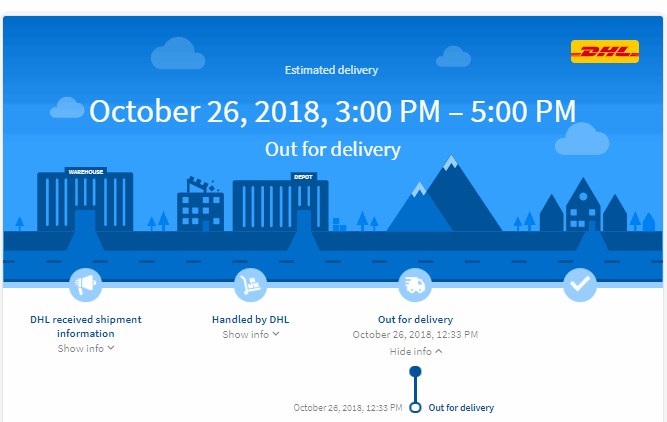 Mobile version: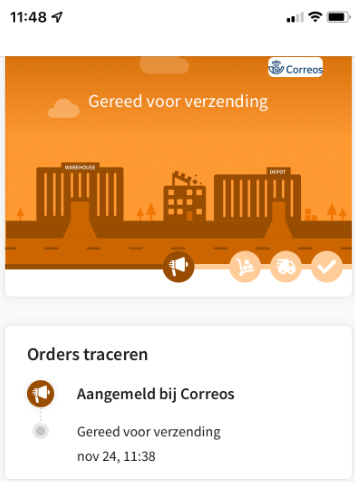 ---
Step 2: Select a design and theme
You can create a Tracking page per each individual brand you have created, and customize it to match the style for each brand.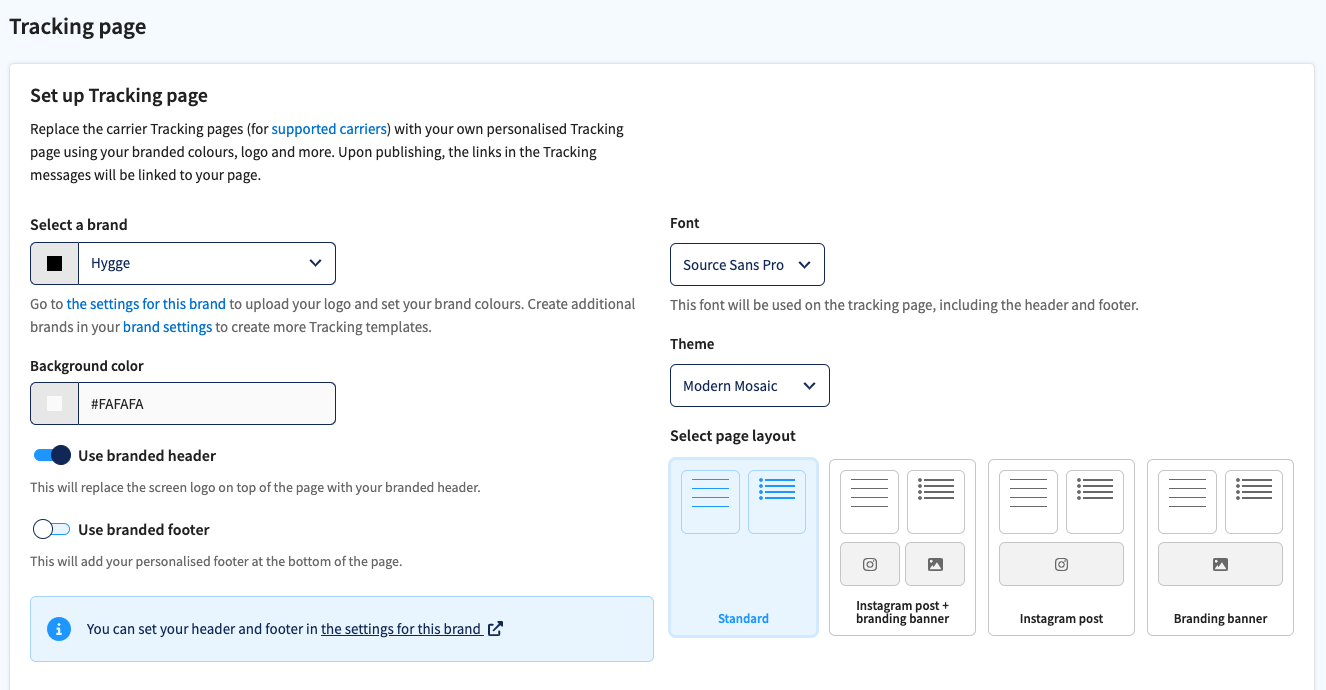 Select a brand for which you want to create a Tracking page from the dropdown menu. 
Enable or disable a branded header and footer. You can edit the colour, logo and text of your footer and header in your brand settings. 
Enter a background colour for your page 
Use the font selector to choose a font 
The Tracking page will display the logo of the carrier handling the parcel and an animation indicating where the parcel is during the delivery journey. You can optionally turn the animation on or off depending on your preference by selecting a theme.
Customise

 4 elements (the road, the landscape, the sky and the details) and the header of your Tracking page, with your own colours. You can pick your 

brand colours

 to enhance your customer experience.
---
Step 3. Change the layout and add extra options
You can determine the design of the Tracking page by selecting from one of four options: 

Standard: Timeline of your parcel and parcel information.

Instagram post + branding banner: Parcel information, plus you can feature an Instagram post to drive social media engagement, alongside a promotional banner highlighting your current campaign. 

Instagram post: Highlight an Instagram post alongside Tracking information.

Branding banner: Add a promotional branding banner alongside the Tracking information.
---
Step 4: Preview your Tracking page
Satisfied with the design of your page? Click the Preview button to see how your page will appear to your customers. 

---
Step 5: Publish your page
Don't forget to click Save draft to save your progress while designing your page layout. Your page won't be visible to your customers until you click on Publish to activate it. 
Note: Parcel data for tracking page purposes is retained for a maximum of 30 days. After this time, users who try to access the tracking page will see the message 'no parcel found'.
---
Tip: Promotional banners
If you chose a page layout which allows adding a promotional banner, you can either create one using our branding banner designer or upload your own. 
Using a banner ad on your Tracking page is an effective method for brand building and/or launching new products and/or services. The banner can also be used to offer a discount code for future purchases. 
What are the options of customizing your branding banner? 
Setting the background color or background image
Add a banner ad link 
Write a title
Write a short text underneath the title
Button with a call to action
Text position
Please note: we do not support special characters used in Dynamic tags. For example "D&A" will be shown in the emails (subject but also in content) as "D*&*A".
Recommended size: 
Banner only (horizontal): 950 px (w) x 360 px (h)
Banner + Instagram (vertical): 460 px (w) x 660 (h)
Mobile-friendly banner dimensions
If you choose for the Instagram post + branding banner design or for the Branding banner design, you have the option to keep image dimensions of the banner so that your tracking page is more mobile-friendly. This means that the image and the information on the page will not get cropped when opened on a mobile phone.
To activate the Keep image dimensions option, follow the next steps: 
Go to Settings > Tracking page
Select either the Instagram post + banner layout or the Branding banner layout
Click on the branding banner 
Click on the image icon, set the background image to active and upload the image
Click on the text icon (A). If you do not have any text added to the heading, subheading or button, the Keep image dimensions option will be active by default.
If you add text to those fields, you can choose to activate or deactivate the Keep image dimensions option
See below the differences between having the Keep image dimensions active or inactive for each layout:
Instagram post + branding banner

| | | |
| --- | --- | --- |
| Desktop version | Mobile version (Keep image dimensions OFF) | Mobile version (Keep image dimensions ON) |
| | | |
Branding banner

| | | |
| --- | --- | --- |
| Desktop version | Mobile version (Keep image dimensions OFF) | Mobile version (Keep image dimensions ON) |
| | | |
---
Tip: Instagram widget 
If you have an active social media presence and want to encourage customers to follow your pages, you can add our Instagram widget to your Tracking page. Not only is this feature very suitable for brand building, but you can highlight a campaign, promotion or new product range via your Instagram feed.
Make sure your post is set to public so non-followers can see the post. Slideshows and videos aren't supported, and only a single post can be featured. 
Please note: Only Instagram accounts set as Public are authorized to connect to the Instagram widget.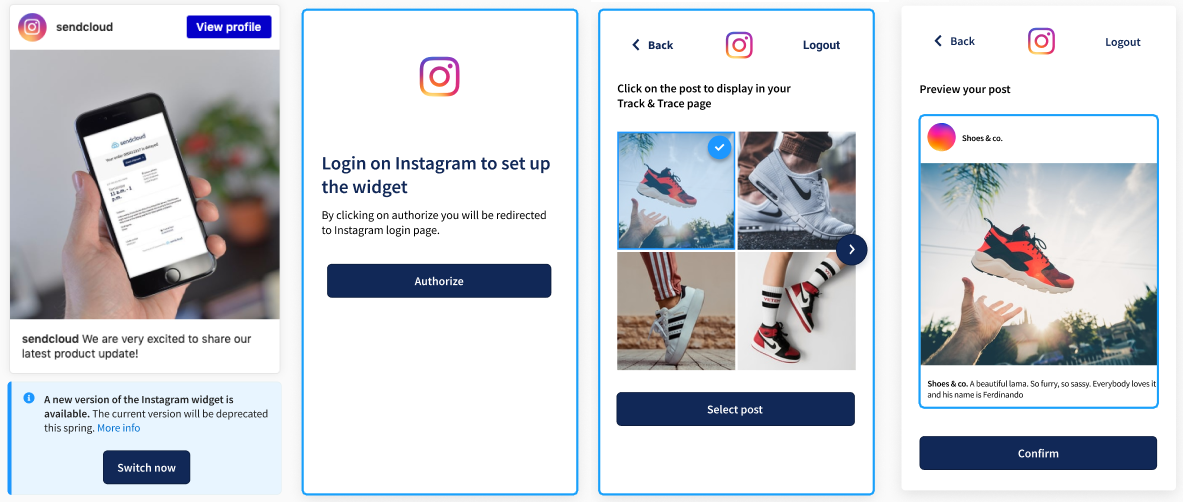 ---
How to remove your data or disconnect from the Instagram widget
If you need to remove your data or disconnect your Instagram account from the widget, you can do so by following these steps:
In your Sendcloud account, go to Settings > Tracking Page
Click the Edit button in the Instagram widget 
Click Disconnect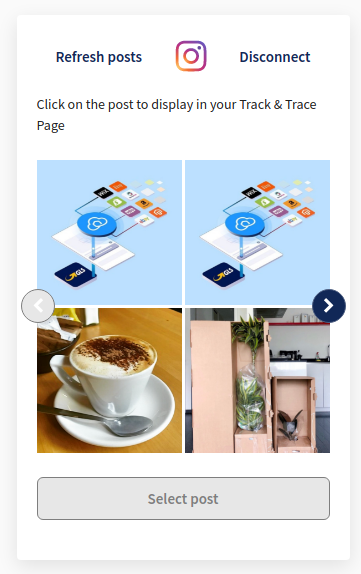 ---
Instagram widget FAQs
I can't connect Instagram. What can I do?

You might be using an ad blocker. If an ad blocker is active, we won't be able to load posts in your widget and to connect your Instagram account. Remember to always disable your ad blocker when you want to edit the content of your widget and when you would like to connect a (new) account. 
Are videos and multiple photos posts available in this version of the widget?

Unfortunately, the API does not support these features.
I get the error message "Sorry, something went wrong: Please try closing and reopening your browser window" when trying to change my Instagram post or when re-authorizing the Sendcloud app on Instagram. How can I solve this?

Try the following troubleshooting instructions:

Open a new incognito window and log in to Instagram
Log out and log back in to Instagram
In your Instagram account, go to the section Websites and Apps > Remove Sendcloud > Re-authorize the connection to Sendcloud.