The Sendcloud subscription plans have been updated. If the subscriptions shown in the banner above don't match your current subscription plan and you'd like to know more, please click here
Purpose: learn how from your Pack & Go overview, you print pick lists and/or packing slips together with shipping labels to immediately prepare your order for shipment.
---
What is Pack & Go?
Pack & Go is designed to facilitate easier picking and packing when you have a warehouse, stock room or packing location. It's available to users on our Growth and Premium plan and allows you to print packing slips and/or picking lists to process your orders faster, either in conjunction with a bar-code scanner (Scanner mode) or without (Automatic mode). In this article, we will explain how Pack & Go Automatic mode can streamline your workflow for an efficient picking and packing process. 
---
Automatic or Scanner mode? 
If you have a limited range of products and/or do not require a warehouse walk through to pick items, Automatic is the ideal Pack & Go mode. Orders are displayed on screen one at a time with a list of products to be included. This saves time in looking for specific orders or having to manually type details into the search bar in order to locate a label so the associated products can be packed. 
You can simply pack the box based on the products in the order as they appear on the screen, print the label and/or packing slip to be included, and then the next order in the queue will appear automatically on screen. Orders can be processed using a keyboard or mouse, and will appear in order from newest to oldest/oldest to newest, based on your settings. 
Note:
If two or more users are logged in to the same account, e
ach user will 'claim'
the current order that they are working on. This way no duplicate shipments are created by accident, but multiple packers can still simultaneously use Pack & Go under the same account.
Read on to see how to configure Pack & Go Automatic mode and create the ideal picking/packing workflow. 
---
Step 1: Select Automatic mode 
Pack & Go offers the possibility to process orders with or without a scanner. To set-up processing without a scanner, visit "Settings" > "Pack & Go". Next, select the "Automatic". 
Within Settings > Pack & Go, you can also filter based on the type of orders you want to process, and whether you want orders to appear in the queue based on Newest or Oldest first. For instance, you can choose to have only orders with the payment status "paid" appear in the queue for picking and packing:  

---
Step 2: Item packing
If preferred, you can select the Enable item packing check box. By selecting this option, you're activating the ability to scan off items as you go. Meaning that you have an extra packing check before creating the label. 
You can choose to create labels when:
The item scanning is related to the EAN code. Therefore, this option is only available for integration where we import the EAN code. 
Compatible integrations:

ccvshop

Shopify
Prestashop
Lightspeed
Bol.com
Etsy
Amazon
---
Step 3: Install the Print App
If you have not already configured your print settings, now's the time to do so by downloading our Print Client. This will allow you to automatically print labels and packing slips/picking lists as you process them within Pack & Go. Click on the Pack & Go tab, and you will be prompted to download the app and configure your printing defaults. For more help setting up your printer, click here.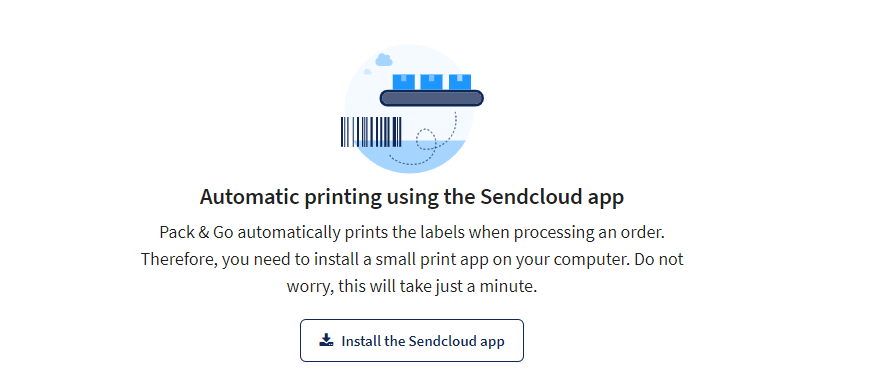 ---
Step 4: Set up smart Shipping Rules 
Once your printer settings are configured, we recommend you set some Shipping Rules to fully automate your packing process. Click here for a guide on how you can use Shipping Rules to automatically allocate specific shipping methods to certain types of orders, or insure parcels of a certain value by a set amount, and many more options.

Setting up shipping rules reduces or removes completely the need to individually edit orders as they appear in the queue. This saves you valuable picking and packing time and creates the ideal workflow to maximize your time saving and cost-efficiency! 
---
Step 5: Print options
In the Pack & Go tab, you can select whether or not you want to automatically print packing slips alongside your labels. Select "print Packing Slips" from the dropdown menu in Print Options and select the A4 printer you wish to use. 
---
Step 6: Start processing your orders
Once your printer settings and Shipping Rules are set up, it's time to get packing! Click on Pack & Go and you will see that the orders received from your webshop integration will appear one-by-one on your screen: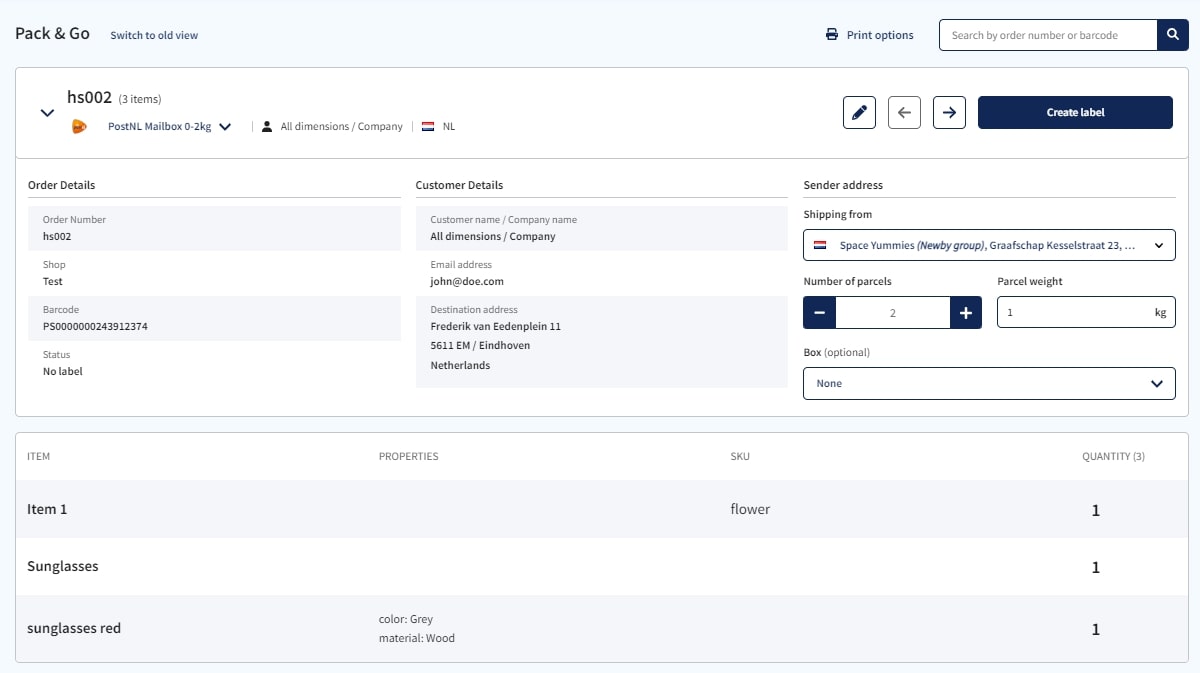 The items included in the order are listed on the page. If you have a limited range of products and/or do not require a warehouse walk-through to pick and pack items, Automatic is the ideal Pack & Go mode to simply pack the box based on the products in the order as they appear on the screen. 
If an order has errors such as a missing house number or incorrect postcode, you will be prompted to correct the order by clicking the pen icon + Edit button before proceeding. 
If a shipping rule has been applied to the order based on the rules you have already configured, the blue lightning bolt icon will appear, as in the example above. 
Filter your orders
You can filter your orders to help packers process and pack only the correct orders. This way, the packer will not have to search manually for the relevant orders, as they will all show up in the screen together with the items. E.g.: The packer needs to focus only on the urgent orders that will be shipped with a specific carrier.
You can use the following filters:
Integration
Date range
Carrier
Click the relevant filter and select your preference from the drop-down menu, then click Apply selection.
---
Step 7: Edit your order
In the menu on the right hand-side, you can adjust the sender address and/or the shipping method and weight.
This is why it's handy to set up your Shipping Rules - for example, if you have set up a Shipping Rule to indicate that all orders shipping to a specific country should be shipped with a specific shipping method, you won't need to manually edit the order in this menu because the rule will be automatically applied. You can simply process orders one by one as they appear, knowing that the correct rules are automatically applied without any manual editing!
---
Step 8: Process and print
When the order is picked, press Process to print your label and/or packing slip. Once processed, you will automatically proceed to the next order in the queue. Don't forget to include your packing slip in the box if you chose to print one - click here to read more about how packing slips and picking lists work. 
If you want to skip an order in the queue for now, just press the next button. The order you skipped will still be in the queue for when you want to go back to it later. Simple! 
---
Boxes
In Settings > Boxes, you can even add some details related to your standard packaging materials and combine these with Shipping Rules. For example, you can set a rule that all orders above a weight of 5kg should be packed using "Box 2- Double Strength". When the order appears on the screen, the person packing the order will be prompted to use Box 2 for orders weighing 5kg+. 

---
What's next?
Want to use Pack & Go with a barcode scanner and/or picking lists? Click here to see how to use Scanner mode. 
Related articles:
→ Pack & Go with a barcode scanner and/or picking lists 
→ How can I prevent surcharges