With the help of the return portal, you can process returns easily and quickly and receive them directly in an overview in your SendCloud account. Below we explain how you can set up and activate the portal in a few simple steps.
Step 1: Set-up your brand
Go to '
Brands
' via the settings in your SendCloud panel and click on the brand you want to create a return portal for. The customisation of your brand will be represented in the return portal.
At 'Webshop URL', you enter the link that leads to your webshop
At 'Shipping Portal URL', you enter the name of your shop in small letters. Based on this, a personal return link for your portal is created. You can share this link with your customers to open up the return portal.
Set a primary colour and render a secondary colour to guarantee readability. Add your logo to Screen logo, which will be used in the header of the return portal.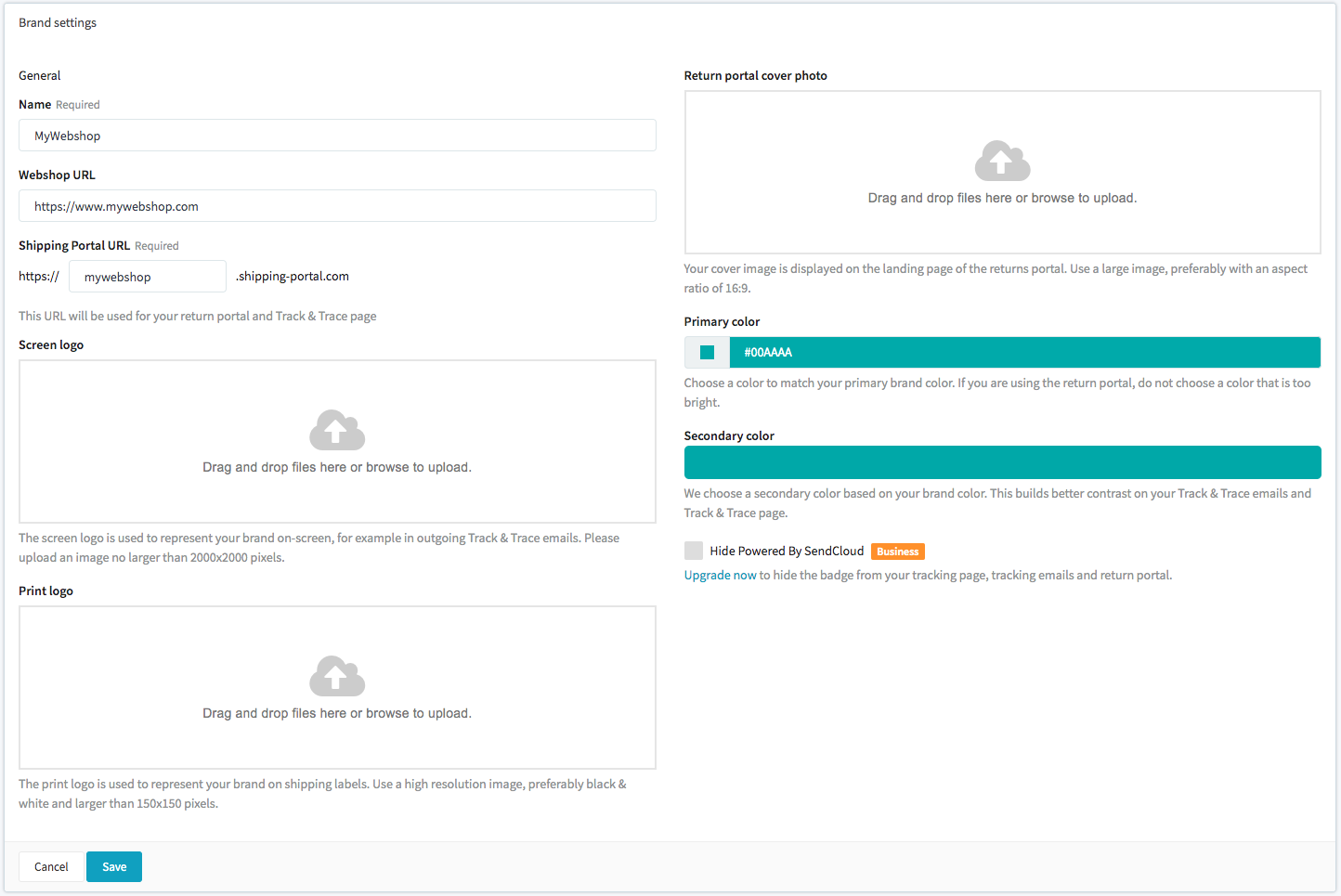 Step 2: Add a return address
Now we need to add a return address, which is the address you will receive the returns on. You can directly Add a new return address or find it yourself via Settings -> Addresses -> Return Address and click on the "Create new" button.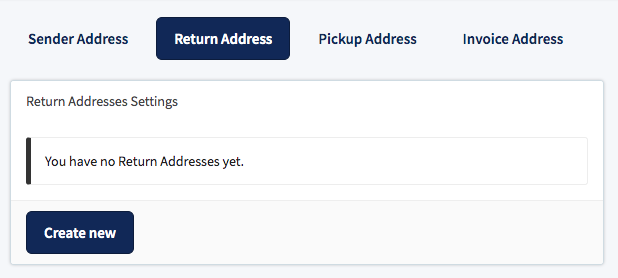 Fill in all your return address details
You can set a label for easier recognition of your return address within the SendCloud panel
Click on Save and your first return address is set
Attention: currently you can only have one active return address, this is the address that is marked as default. Other address will be ignored along with linking a sender address to a return address. We hope this will be resolved by the end of 2019.
Step 3: Configure your portal
Go to 'Returns' via the settings in your SendCloud panel. Here you can set up the portal.
Specify the maximum number of days after a shipment has been delivered in which the customer can create a return. According to EU law, this has to be a minimum of 14 days.
Return fee informs customers in the confirmation step of the return portal about the fee involved for the return label. If you specify '0', it will show the return is free. Within the details of the return, we do a quick calculation and subtract the return fee from the to be refunded amount to the customer.
Return Policy is a link to your own policy about returns, this helps customers know what they can expect during the process of a return.
Portal languages, allows you to specify specific languages for the portal. On default, we use the language of the customers country and have a fallback to English.
Enable certain return reasons that your customer can specify to return something by clicking the checkboxes. We recommend to not use more than 7 reasons. 
Chose which carriers you allow returns for, be aware that these carriers are country-specific.
Step 4: Activate and Save
If everything is satisfactory, you can activate the portal. To do this, go to your portal settings and choose to activate and save. Your customised return portal is now UP AND RUNNING. 🏃You can view your portal by clicking the "View portal" under the activate button. 

Step 5: Return emails (optional)
When a user creates a return, there are multiple T&T emails we send to him. You can also customise these emails in the T&T email settings. Learn more about how you do this in the article Track & Trace page & emails 📧