Topic: View how you can manage your login credentials for your Sendcloud account.
---
Manage your account
You can manage your Sendcloud login credentials by going to Settings > Account
Scroll down to the section Account overview to see the email addresses currently associated with this account
To manage your login preferences and/or change your password, click Manage your account
You will be redirected to the account management page: https://account.sendcloud.com/ 
Email Address
If you have more than one email address you want to use to access your Sendcloud account, you can add them here. One email must be marked as the primary email address by toggling the switch

on or off. Email addresses which have been verified by email, or not yet verified, will be noted here. Only verified addresses can be marked as the primary email address. 
Password 
In this tab, you can change your current password. 
Social Accounts
Here you can connect or disconnect your Sendcloud account with your social media accounts (Facebook or Google) so that you can login to Sendcloud using the respective social media credentials. 
---
Sendcloud 2-Factor Authentication
We have worked on a new security feature for Sendcloud called Customers - 2-Factor-Authentication. We want to explain, in easy steps, how you can activate the feature and how important it is to save the recovery codes.
Activating the 2-Factor Authentication

You can activate the two-factor authentication by clicking here 

For the next Step, you need to use an app like Google authenticator to scan the QR Code, type in the 6-digit code showing up in your app in the "Verification code" input, and tap on ''Verify'' to confirm that you really hook up 2FA correctly on your mobile device



After your confirmation, you should see the following screen


The authentication is now successfully enabled
How to log in
Once you log in with a 2FA enabled account, you will see the following screen (after you put your email/password credentials):




You need to input your 6-digit code, showing up in your authenticator app. You can also, alternatively, input an unused recovery code.
How to regenerate recovery codes
If you have used up all the recovery codes (or lost them), you can always press the "Regenerate recovery codes" button here.
Please note: this renders previously generated codes invalid, even if they were not used yet.
How to disable 2FA 
You can disable the 2FA authenticator by clicking here. You will see now the following screen: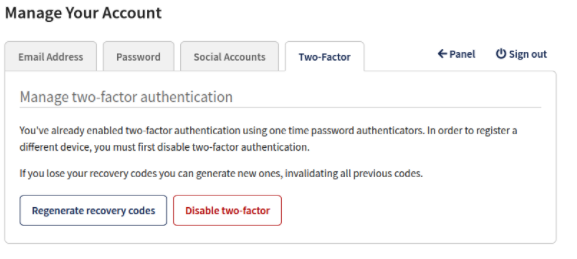 After clicking on the  "Disable two-factor" Button, you will be asked a question whether or not you really want to confirm the disabling.
Please note
: the 2FA can be linked to an
account
or a
sub-user
. You can't have a 2FA per email address if you don't have sub-users. If multiple employees are using the same account, we advise to create sub users, so they can all have their own 2FA. Click
here
to read more about sub users.
---
How do I reset my password?
If you've forgotten your password and can't access your account, click here to reset your password.