Purpose: This article provides an explanation of the default functionality Easy Returns Solution (ERS).
---
Related articles:
➝ Before proceeding please ensure that you have set up a Return method.
---
What is the Easy Return Solution ERS?
ERS abbreviates Easy Returns Solution; with ERS default functionality, customers can drop off the parcel at any branch from a national carrier. You will need to have enabled the Return method "At a Drop off point" to avail of this default functionality. If you need more information on how to set up your Return method click here.

---
How does the ERS work?
Given that the enabled carrier supports the Easy Returns Solution and there is a shipping method available, your customer can return internationally at a national carrier branch. The drop-off point shown in the return portal will be the national carrier, provided that the enabled carrier service points are further than 10km.
ERS example:
If a German customer returns a package to the Netherlands, when PostNL Easy Return Solution is available, then the drop-off point will be at the German national carrier service - Deutsche Post.
---
How is your customer notified that ERS is available?
In the Return portal, your customer will receive a notification informing them that there is no drop-off point in their country for the given carrier.
The button "find the drop-off point" is just to facilitate the customers with information. This does not affect the return label.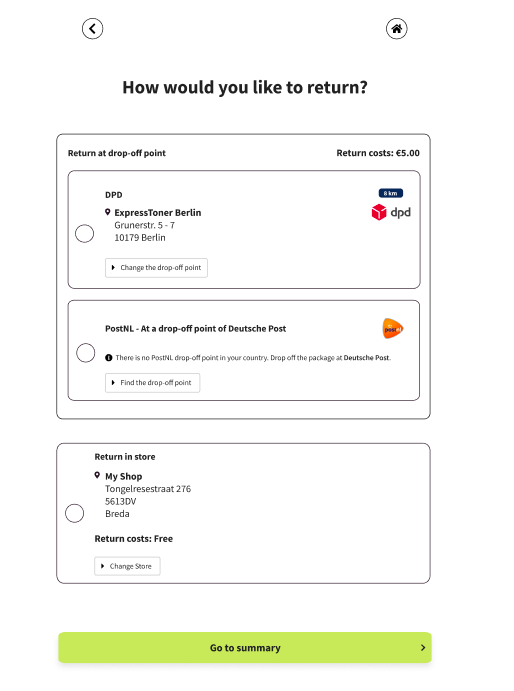 ---
What carriers currently support ERS?
The following list subject to change. Always check with your carrier for the most up-to-date information about their service:
Colissimo: International Returns

PostAT: Easy Return International
bpack: World Easy Retour
PostNL: Easy Return
Please note: Each carrier also supports returns from different amounts of countries; some support more countries than others.
---
National Carriers in the EU
If the enabled carrier supports ERS, your customer will be able to return their packages at any of the following service points.
What happens if ERS is not available in the customer's country?
If your customer wants to create a new return when no drop-off point is available within 10km and there is no available enabled national carrier service for this country, the customer is asked to contact your shop.
---
Related articles
➝ Do you want to allow your customers to create a return, that does not require them to print
labels? Check out the paperless returns feature.
➝ Do you have a return that did not come from an integrated store? Check this article to learn
how to manually create a return.