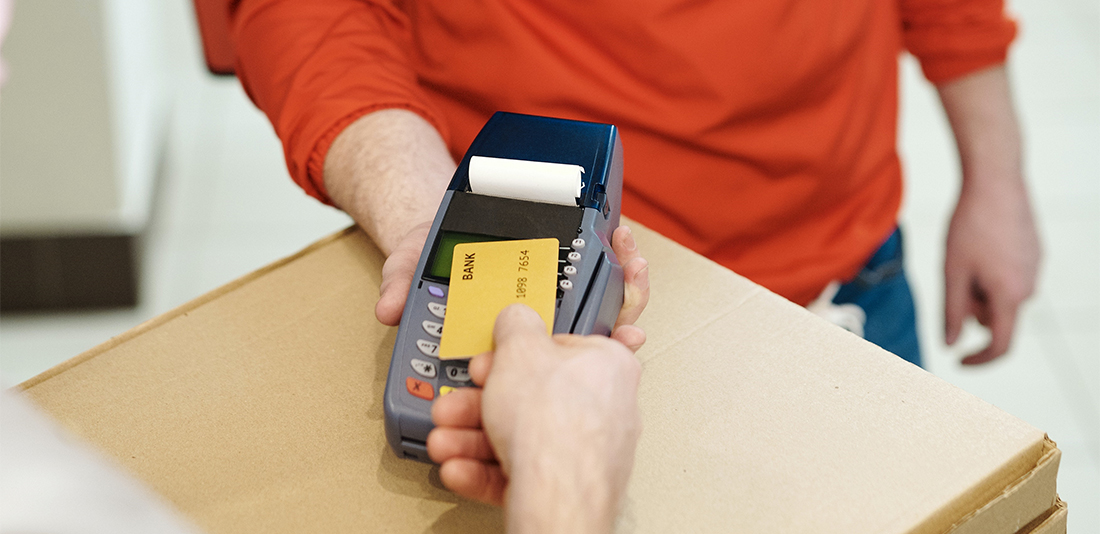 Purpose: We support cash on delivery as a payment method for domestic shipments in Italy (GLS and BRT) or Spain (Mainland and Baleares with Correos Express, GLS and MRW). This feature is only available when you have a direct carrier contract enabled with a supporting carrier.

---
Please note: we do not currently support using multicollo in combination with Cash on Delivery shipping methods for Spain and Italy.
What is cash on delivery?
Cash on delivery is a payment method typically used in Southern European countries where the end customer will pay the full order amount upon delivery of the goods. We have enabled this as an option in the Sendcloud platform for domestic shipments within Italy and Spain.
When payment is collected from the customer by the delivery driver, this amount will be transferred to the bank account associated with your direct carrier contract. For this reason, cash on delivery is only available if you have a direct contract with a shipping carrier who supports cash on delivery as a delivery method, and if you have connected your contract with your Sendcloud account.
Only users on our Small Shop subscription plan and above can enable a direct carrier contract. Click here for more information.
IMPORTANT INFORMATION REGARDING COD IN SPAIN:
As of 11 July 2021, a new law has been instated as a measure against fraud and tax evasion which states that the maximum amount which can be accepted via cash on delivery is 999 EUR (previously 2.499 EUR).
---
Enable the cash on delivery feature in the edit order view
Step 1: Offer cash on delivery as a payment method at checkout
In your webshop integration, enable Cash on delivery as a payment method in your checkout page. How you will enable this feature depends on your type of webshop integration.
Make sure that you correctly name the payment method using one of the accepted terms below, as this will enable the Sendcloud platform to automatically recognise the type of payment selected. Additional strings which incorporate these terms will also be recognised. For example, if you name your shipping method "Contra reembolso +2€" at checkout, it will still be accepted.
The following terms are accepted:
EN:
Cash on delivery
Pay on delivery
ES:
Contra reembolso
Contrareembolso
IT:
Contrassegno
Paga alla consegna
Pagamento alla consegna
Pagamento in contanti alla consegna
Pagamento contra entrega
Pagamento in contrassegno
FR:
Onder rembours
Paiement à la livraison
DE:
Barzahlung bei lieferung
PT:
Dinheiro na entrega
Your online buyer can then select Cash on delivery as a payment method at the checkout page.
Step 2: Orders are marked as cash on delivery in the Sendcloud platform
Once the order is processed, it will be retrieved and appear in your Incoming Order Overview in the Sendcloud platform. Click the pen icon to edit the order.
Provided the payment method name is correctly set up, the order will automatically be marked for Cash on delivery and will appear as shown below.

Step 3: Changing shipping method or total order value
When the cash on delivery checkbox is marked, you will be able to make adjustments to the total order value. This is the price your online customer will pay before the parcel is handed over.
Please note that for cash on delivery orders, you will only be able to select from supported carriers. This is to ensure that you can easily see which shipping methods are available for this payment method. If you want to see all available shipping methods, untick the "Cash on delivery" tick box. Note that cash on delivery will now be unselected and unavailable until you enable it again and select an appropriate shipping method.
Step 4: Create your label
Once the label is created, Sendcloud sends all of the relevant data, such as the total order amount and the payment method, to the carrier.
The parcel will be delivered as usual and the payment will be taken by the carrier. If payment is not completed at the point of delivery, the parcel will not be delivered. The terms and conditions for cash on delivery are dependant on the specific shipping carrier. For more information we encourage you to clarify with your carrier sales executive or account manager.
Please note that Sendcloud is not responsible for the transaction of payments, and we will not trigger multiple delivery attempts if payment is not received.
---
Enable cash on delivery for manual shipments
If you are manually creating a shipment, on the manual shipment form you will need to go to 'Shipping method', enter the 'Total order value' and select the 'Cash on the delivery' checkbox. If you need help creating a manual shipment please check our article on 'How to manually create a new shipment'.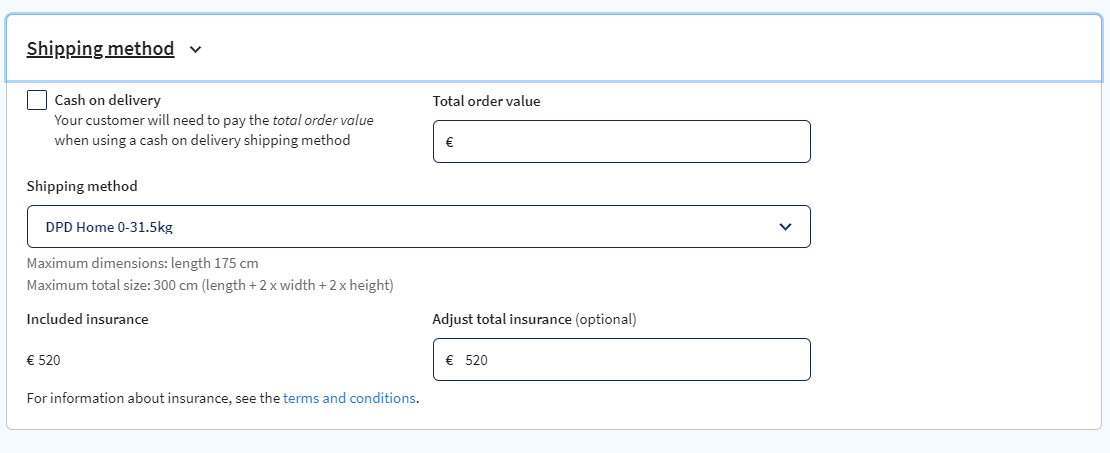 Please note that If you do not enter the total order value, you will receive an error when selecting cash on delivery.
---
FAQ
Q: For which type of order can I use this payment method?
A: You can only offer this payment method for domestic shipments in Spain and Italy. Domestic shipments refer to shipments which have both a sender address and a delivery address in the same country.
Q: I am currently using cash on delivery type payment methods to place orders on account. Will I need to manually change these orders to non-cash on delivery orders in my Sendcloud account?
A: No. This is because Sendcloud will only automatically mark orders which have a payment method containing the words "Cash on delivery". If the payment method chosen does not contain this phrase, then they will not be marked as cash on delivery orders.
Q: Will any other payment methods that I have created in my checkout page by imported into Sendcloud? Can I filter my orders based on payment method?
A: At the current time we are only importing cash on delivery as a payment method through your webshop integration. It is therefore not yet possible to filter your incoming orders based on payment method.