Purpose: This article is a guide on how to read and how to download the invoices you receive from Sendcloud, which can be in two different formats: PDF (summarized invoice) and CSV (detailed invoice). We also explain how to arrange the CSV file in a clear way.
---
How to download invoices
If you want more insight into your invoices you can view them in your Sendcloud account in Settings > Financial > Invoicing. Find the invoice that you want to view and click View details. Here you can view the invoice details and download your invoice in PDF or CSV format. Click the relevant button.

---
How to read your invoice in CSV format
If you want to see the different items of your invoice in detail, we recommend that you download the invoice in CSV format.
Arrange your CSV file in a clear way
Microsoft Excel 
When you download the file (comma delimited) and open it for the first time with Excel, the content may not be organized by columns. To arrange the content in a clear and visual way, follow these steps: 
Once you have downloaded the CSV file, open it in your computer
Select the first column
Click Data and then Text to Columns
When the Convert Text to Columns Wizard opens, select Delimited and click Next
Under Delimiters, unselect tab and select Comma, and click Next
Click Finish to save the preferences
You can also add filters to sort the information easily. To do this, select the first row and click Filter. Click the arrow to view the drop-down menu with all search filters available for each column. Select the values that you want to view and click OK to confirm.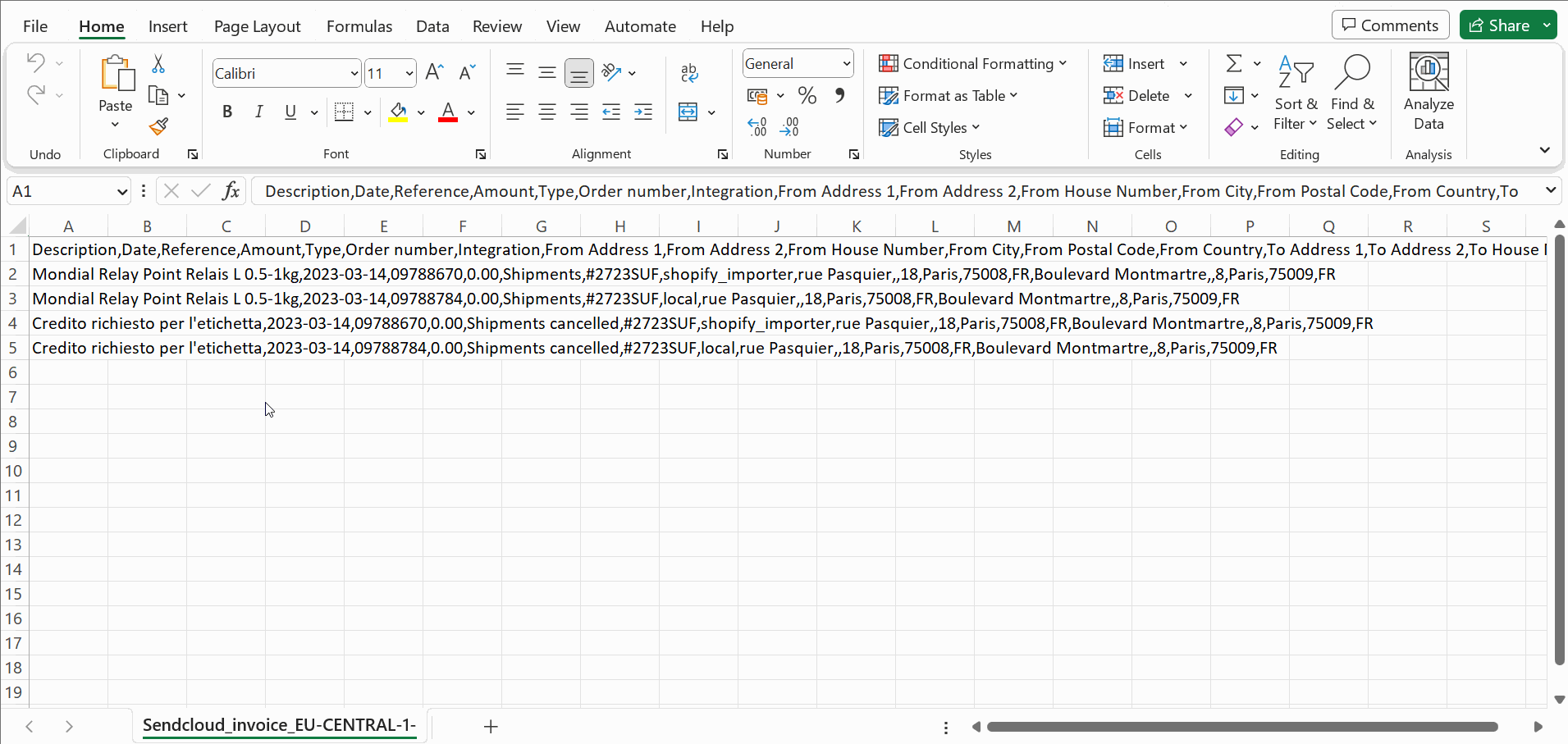 Numbers on Mac
If you use Numbers, when you download the CSV file and open it, it will already be organized in columns.
All items will be mixed. To make it more clear, you can sort by type or by reference (tracking number). To do this, click the name of the column that you want to sort > click the arrow to show the menu > click "Sort ascending" or "Sort descending".

Read your CSV file
Our CSV files have the following columns: 
Description: The name of the item: subscription; shipping method (label created); surcharge; insurance purchased; refunded credit for cancelled labels; etc.
Date
Reference: Tracking number of the shipment
Amount: Price of the item: shipping costs, surcharge, etc.
Type: Type of item: surcharge, shipment, insurance...
Order number: The number of the order for which you created a label
Merchant's information: The merchant's sender address, which includes several FROM columns: From Address, From House Number, From City, From Postcode, From Country
Customer's (recipient) information: The recipient's delivery address, which includes several TO columns: To Address, To House Number, To City, To Postcode, To country
---
How to read your invoice in PDF
Sendcloud sends you a summarized PDF invoice by email.
1. Information about the merchant, and invoice reference details
Merchant's details
Company name and address: These are the details that you have entered in Settings > Addresses > Invoice address.
Customer number: This is your Sendcloud user ID. This unique number allows us to identify you.
Customer VAT number: This is your company's VAT number. You can enter your VAT number in Settings > Addresses > Invoice address.
Invoice reference information
Invoice date: The date that the invoice was issued.
Invoice number: Unique, sequential record number assigned to each invoice that Sendcloud uses.
2. Services purchased
Invoices for shipments and other additional shipping-related costs
Shipments: Labels created.
Cancelled shipments: Labels cancelled.
Insurance: Sendcloud insurance purcharsed for a specific shipment.
Tracking SMS: Tracking SMS sent for a specific shipment. Read more here: Send tracking updates with SMS text messaging.
Surcharges: Extra costs that carriers can apply to a shipment. More details here: Surcharges FAQ.
Invoices for subscriptions and label fees
Subscription: Fixed (monthly or yearly) fee that you pay only if you have one of our paid plans.
Label price (label processing fee): These are not the shipping costs but the price for the creation of the label with our software. Only applicable for Lite, Growth and Premium users.
For each invoice item, you will see the description, the VAT percentage applied, the price per unit, the quantity and the total price.
You will also see the Amount (total without VAT) and the total amount with VAT included at the end, if applicable.
💡Tip: You can click on the quantity of an item to be redirected to the invoicing section in your Sendcloud account. Here you will view the details of that invoice.
3. Sendcloud's contact details
At the end of the invoice you will find Sendcloud's company details, including financial information and how to contact us.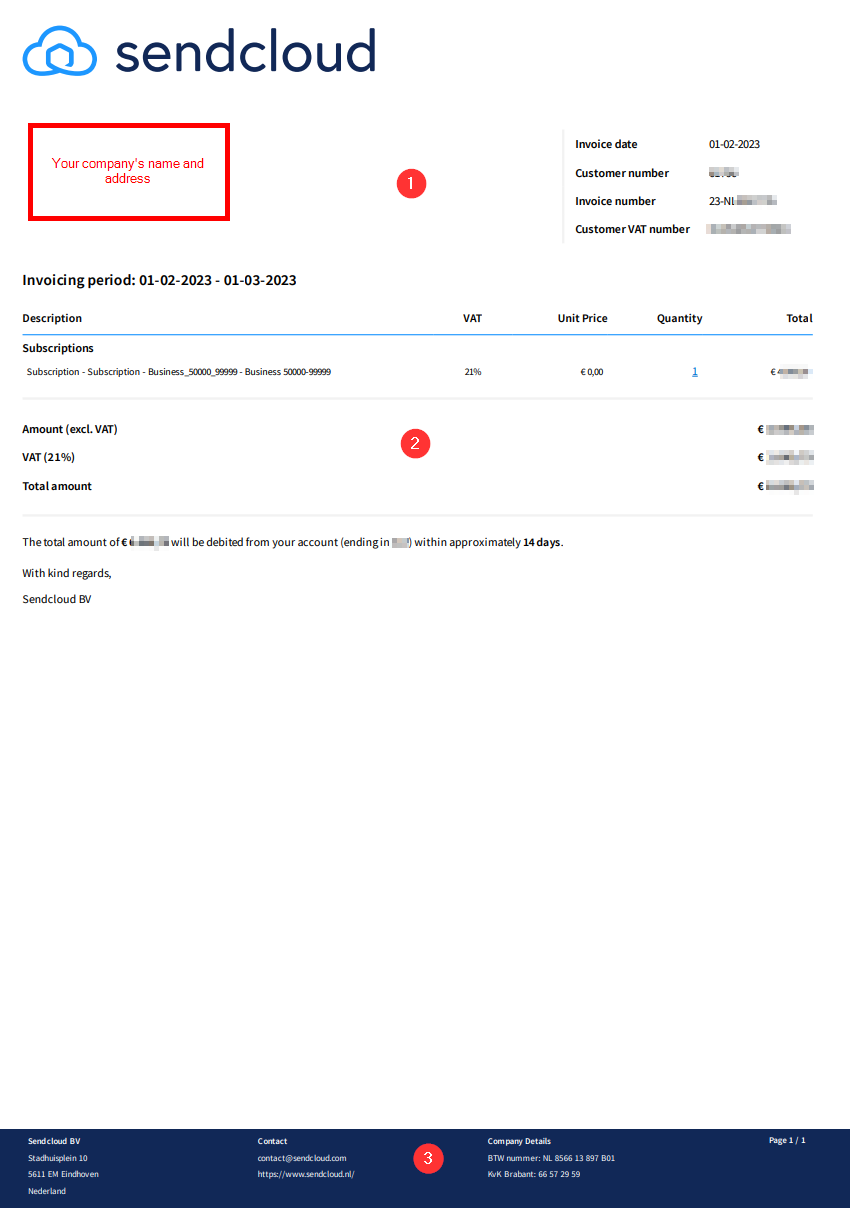 ---
How to identify refunds in Sendcloud invoices
If you cancel a label within 42 days, you can receive a refund from Sendcloud. The description of refund items is "credit requested for shipment". Next to it, you will see the tracking number (reference) of the shipment it refers to.
---
Related articles:
→ How do we charge and invoice your shipments?
→ FAQ about subscription invoicing
→ How can I change my invoice address?