The Sendcloud subscription plans have been updated. If the subscriptions shown in the banner above don't match your current subscription plan and you'd like to know more, please click here
---
Step 1: Activate your Sendcloud subscription 
Sendcloud offers three subscriptions with which you are able to use your own transport contract: Lite, Growth and Premium plan. 
---
Step 2: Connect your Poste Delivery Business account
Once you have activated a Sendcloud subscription, you can connect your carrier contract. 
Login to your Sendcloud account and navigate to Settings > Carriers and Pricing > My contracts
Find Poste Italiane Delivery in the list of carriers and click Add contract
---
Step 3: Enter your Poste Italiane account details
Complete the form with the information below and click Save when you're done.
Client Id/Username*
Password/Secret*
Cut off Time
Invoicing Facility/costCenterCode*

You can obtain your costCenterCode from your Poste Italiane account manager

Only one costCenterCode can be inserted at a time

If you have multiple costCenterCodes that you need to use, you can contact your Sendcloud Customer Success Manager or create a Support request from your account to discuss possibilites. 
*Mandatory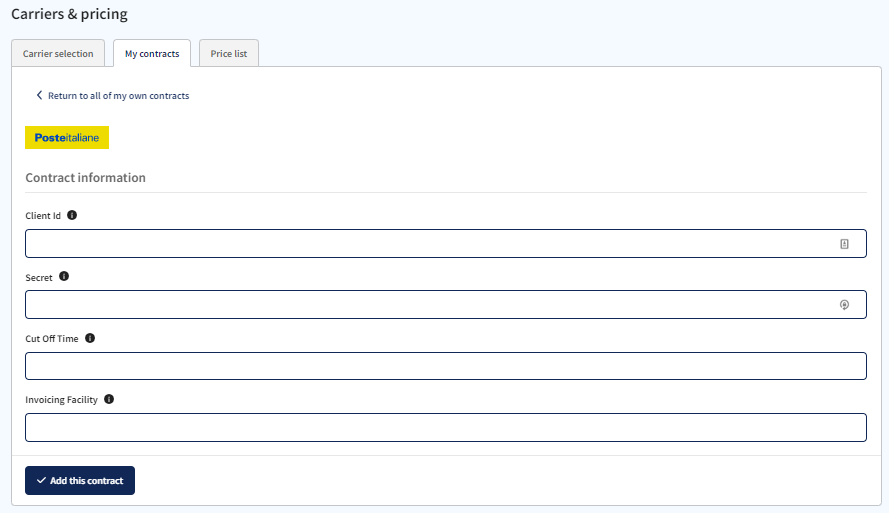 ---
Done! Once you've followed the steps above, your contract should now be successfully linked to your Sendcloud platform, and you can begin shipping on your Poste Delivery Business rates. When you create a label using a Poste Delivery Business shipping method, the label price will now show as 0.00 EUR in your account.