Purpose: Once you've configured Dynamic Checkout, you can offer nominated day delivery to your customers on your checkout page. Follow the steps below to create your nominated day shipping methods and learn how Sendcloud helps you process them in time for the chosen delivery day.
The Dynamic Checkout is deprecated for WooCommerce and Magento. As a current Dynamic Checkout plugin user, you can continue using the feature, but it will no longer be maintained or updated. Moving forward, you can continue using this feature through our Dynamic Checkout API. It's currently in open Beta, meaning that it's still under development. During this phase, we will continually monitor and test the API to improve its performance, review the returned data, and uncover potential bugs. For more information, consult our
Dynamic Checkout API documentation
.
The Sendcloud subscription plans have been updated. If the subscriptions shown in the banner above don't match your current subscription plan and you'd like to know more, please click here
---
Nominated day deliveries through Dynamic Checkout
Nominated day delivery lets your customers decide on which day they want to receive their orders. You can configure this checkout method for both domestic and international orders.
If you plan to ship parcels to destinations which require customs declarations (e.g., outside the EU and to the UK), we recommend that you first check with your account manager

about how best to set up nominated day methods with your chosen shipping carrier.
How does it look?
Once you've added nominated day shipping methods, a date picker will appear on your checkout page. Your customer can then select a delivery day up to 14 days in the future.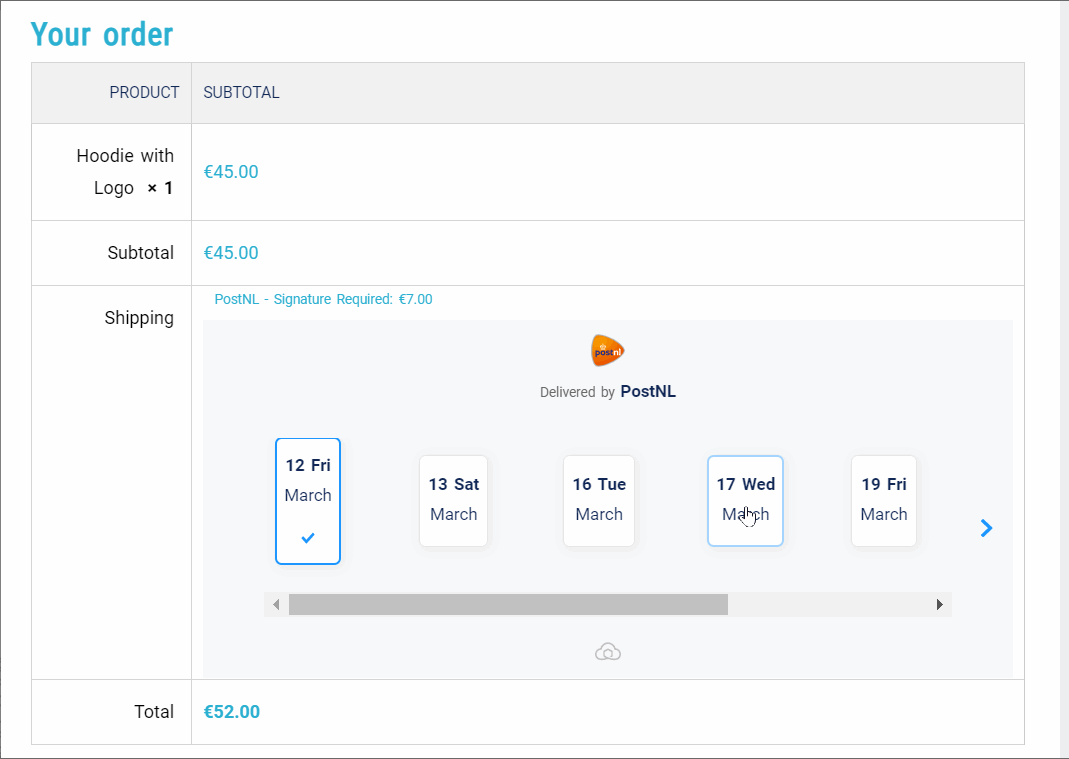 The default style of the date picker is a horizontal layout. If your webshop has a theme or layout which creates a checkout section less than 560px wide, the date picker automatically switches to a mobile friendly, vertical layout. You can see how it will appear in the preview section when you configure your Dynamic Checkout method.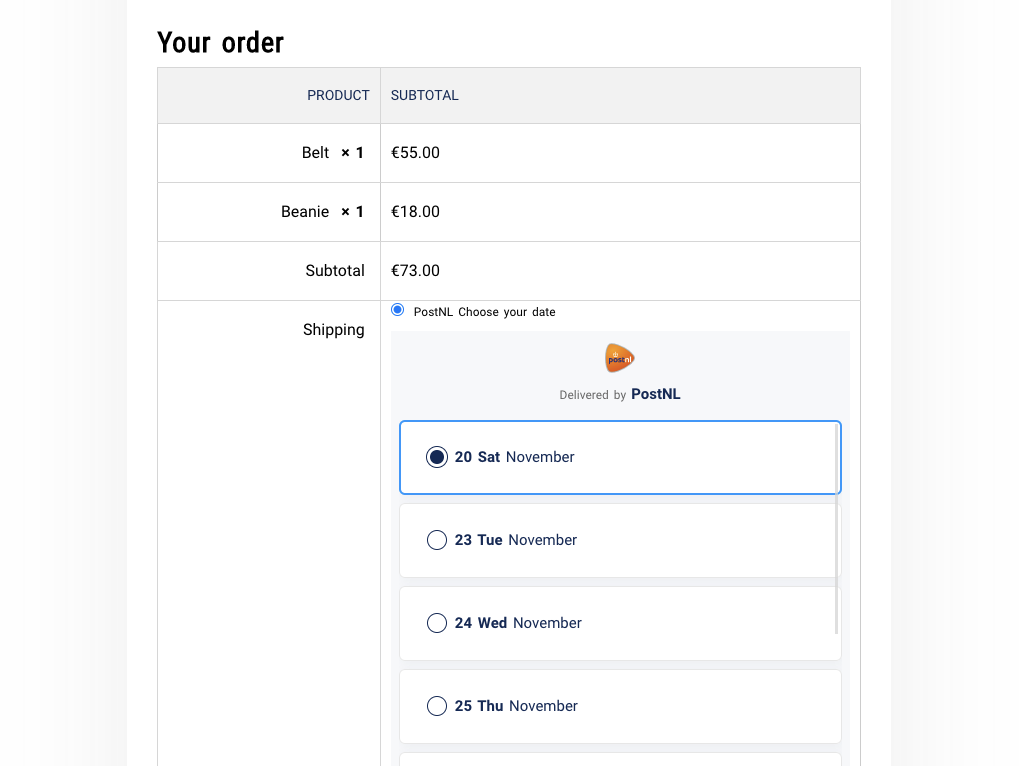 ---
Step 1: Set up nominated day delivery
First, make sure you've installed Dynamic Checkout for your integration and configured your delivery zones. Then proceed as follows:
In the Dynamic Checkout tab, next to your integration click Edit
Next, click on New delivery method next to the delivery zone where you want to offer nominated day delivery.


Select Nominated day delivery from the list of delivery methods
---
Step 2: Select your shipping service
This section of the configuration menu allows you to select which carrier and options you want to offer on your checkout page.
Q: What is a shipping service?

A shipping service is a group of similar shipping methods offered by a carrier. The specific shipping method will be chosen automatically (when the order is imported) based on the weight of the products, the chosen delivery day and the additional options you want to offer (e.g. signature required, age check).

For example, the shipping service PostNL Standard includes several shipping methods, such as:

PostNLStandard 0-23kg

PostNL Standard 23-31.5kg

PostNL Standard with signature 0-23kg

PostNL evening delivery + home address only 0-23kg

...etc.

Sendcloud will automatically apply the correct shipping method based on the additional options you want to offer (such as evening delivery, or signature required) and the weight of the order.
By default, all of the carriers which you've enabled in your Sendcloud account will be shown here for you to choose from. Under column Transit time, the estimated time it takes for a parcel to arrive with the end-customer is noted. This is an indication only and is used to determine when customers will be able to select a delivery date at checkout.
How to select your shipping service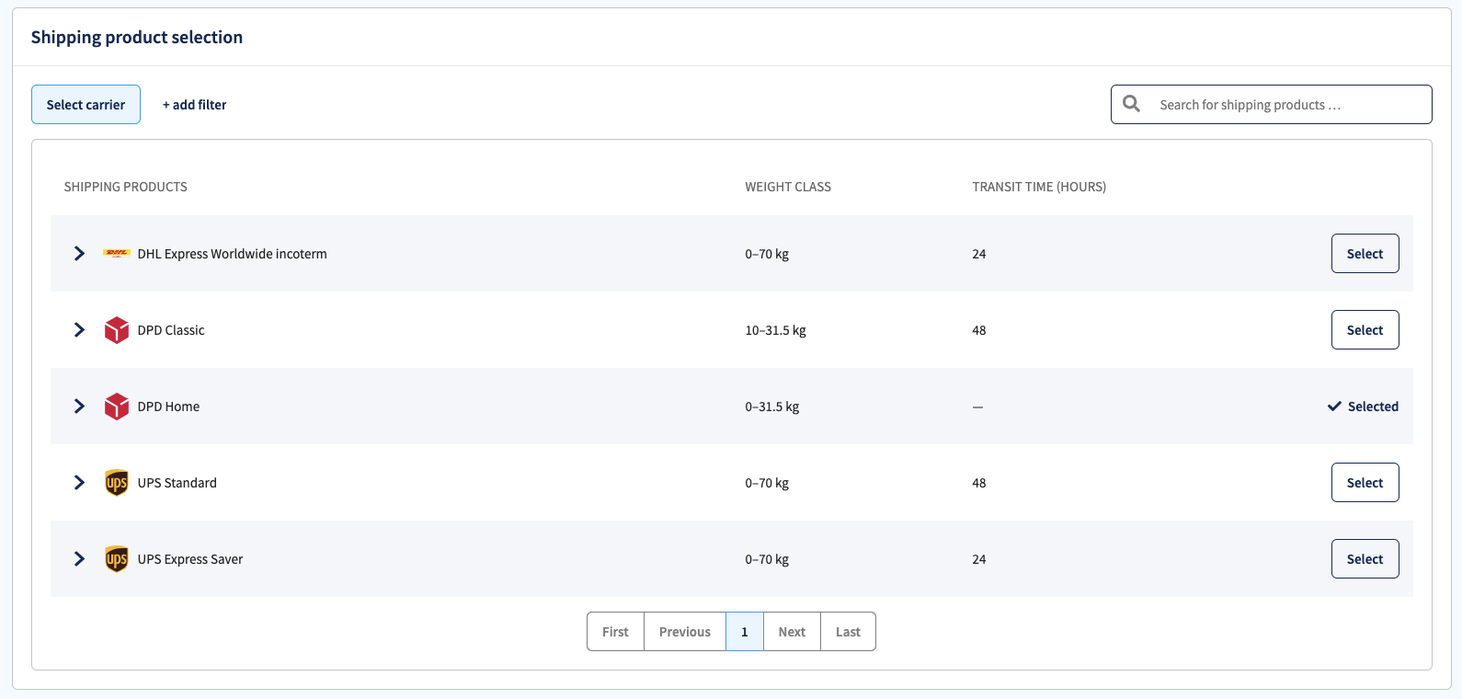 Click Select next to the shipping service you want to offer.
You can use the +add filter

button

to filter the list based on which additional shipping options are available*.

Continue to

Step 3
---
Step 3: Choose your shipping options
Once you've selected your shipping service, it's time to add on the extra delivery options you want to offer.
Make your choices based on the available options

. For example, under

Signature required you can select Yes

or

No depending on your preference.

The options you choose will then be used to calculate which shipping methods will be applied to your incoming orders. The applicable shipping methods will be listed under

Shipping methods used to process orders.
Q: Why can't I select a shipping functionality?

If the shipping service you select only contains one shipping method, it could be that this method does not offer any additional functionalities such as Age Check, Signature Required, etc. You will therefore not be able to select any shipping functionalities for this shipping service.

Alternatively, if the shipping method you select always includes a specific functionality (for example, UPS Express Saver always requires a signature) then this option will already be selected. You can click the dropdown menu ▼View applied functionalities to check which options are already included.
---
Step 4: Configure shipping rates
Before your delivery method can be displayed, you need to add pricing.
Click on

Use shipping rates to add pricing for your shipping method. Here can use default weight classes or define your own custom weight classes. If you choose the default weight classes, you will be using the weight classes predefined by the shipping service that you have activated. If you choose to customize your weight classes, you can create your own by clicking +New weight class. Select the option that suits you best.
Find out more about shipping rates and how to enable free shipping and discount coupons in this article.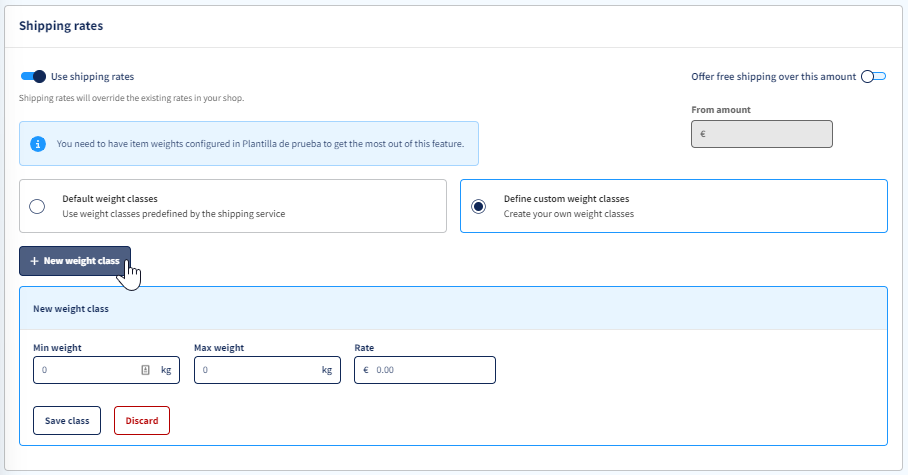 ---
Step 5: Holidays
In this section you can enter the days during the year in which you or the carrier won't be able to process or deliver parcels. For example, you can create a holiday for national holidays, workshops, training events, etc. You can select either a single day or a range of dates as a holiday, and you can mark a holiday as yearly recurring or as a one time event
For nominated day shipping methods, any holidays you add here will be used to calculate which dates are available as delivery day options to your customers at checkout. We calculate the delivery days based on:
The parcel handover days and cut-off time you enter (step 5)

Carrier working days

Transit time of a shipping method

Holiday days of a shipping method.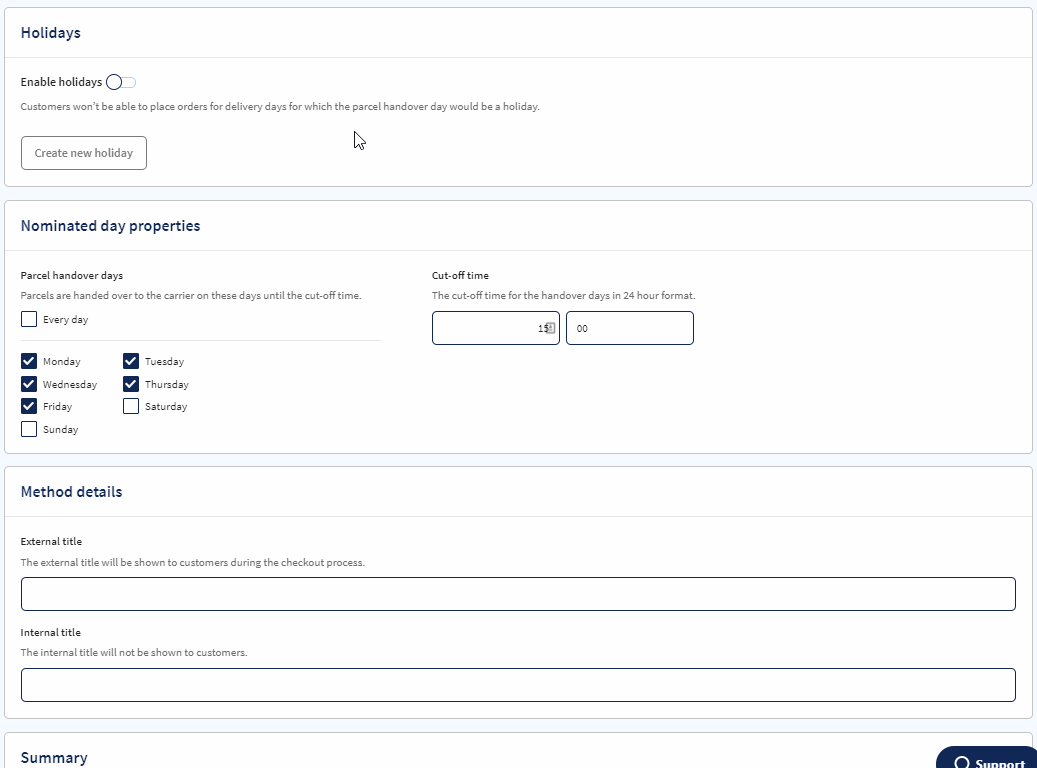 ---
Step 6: Parcel handover
days, cut-off times & transit times

Parcel handover days
Select the days you hand your parcels over for delivery, either directly to a service point or via a carrier collection. Leave the days you don't hand your parcels over unselected.
Cut-off time
Enter the time from which this shipping method will no longer be available in your checkout for your customers to select. For example, if you don't plan to process, pack and handover parcels from 15:00 onwards, this would be your cut-off time. From 15:00 onwards, this method won't appear in your checkout. Don't forget to include the time it takes to process orders and hand them over to the carrier when calculating your cut-off time for next day deliveries.

Transit time


This is automatically pre-filled based on the estimated transit time provided to us by the shipping carrier. Any time indicated here will have an effect on the available delivery dates shown to your customers at checkout.

If the transit time for a particular shipping method is not available, you can enter the time manually into this field. For example, the transit time for DPD France is not indicated, however your account manager or your carrier contract states a transit time of 48 hours, therefore you can enter this into the Transit time field.
If you believe the actual transit time to be longer than is indicated by Sendcloud, you can edit this field and enter your own transit time.

For example, the time indicated is 24 hours, but you know through experience that deliveries with this shipping method always take at least 48 hours, therefore you can overwrite 24 hours with 48 hours.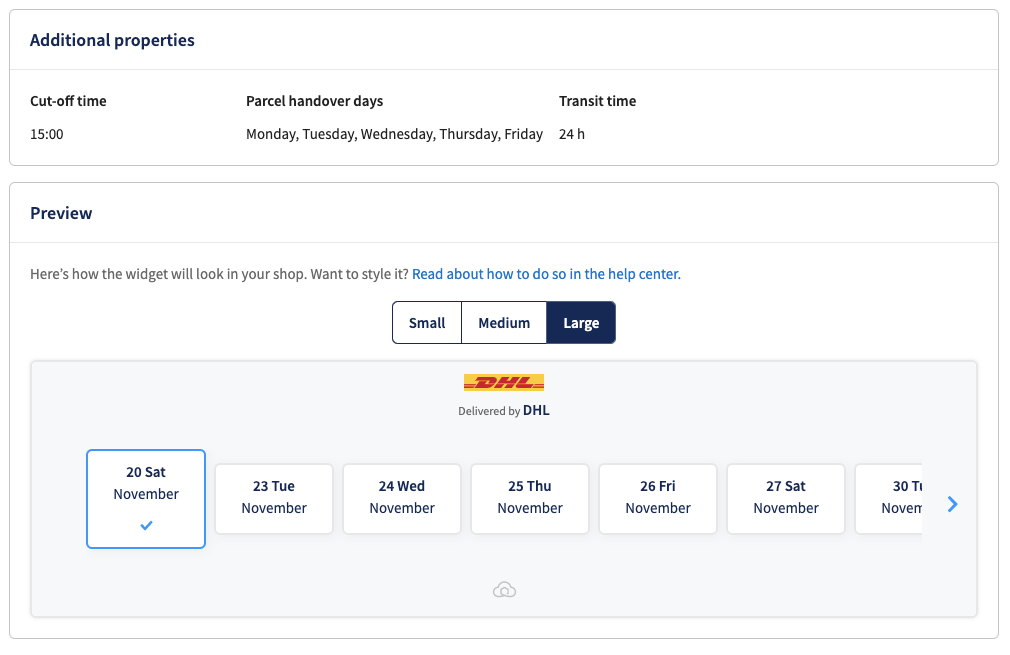 ---
Step 7. Add further details about the delivery method
Under the section Method details, give your shipping method an external and internal title, as well as a public description that will appear under the public title in your checkout.
---
Step 8: Save and publish
Click the Save delivery method button at the bottom of the page to save.


To publish your delivery method to your webshop, click the Publish button in the Dynamic Checkout configuration

Style the date picker
You can change the appearance of the date picker to reflect your brand and website theme. Click here to see how.
Troubleshooting & FAQ's
If you're having difficulties setting up your nominated day delivery methods, click here to read our troubleshooting article.
---
Step 9: Process your nominated day deliveries in time
Orders will be imported into your incoming order overview in the Sendcloud panel as normal, however you will now be able to see an additional column in your overview called Parcel handover date. This column tells you when to process your orders so they reach your customer on time.

Orders which must be processed and handed over to the carrier today will appear with this icon:


Orders which are overdue will appear as follows:


Filter by parcel handover date
You can also filter your orders using the +add filter button. For example, you can filter your view to show all the orders which must be processed today:

Tip: Filtering by
Anytime
will show all orders which
do not
have a handover date and are therefore
not
nominated day orders.
Q: I don't want to see the Parcel handover date because I'm not using Dynamic Checkout. What do I do?

A:

You can filter your

column view by clicking the column selector button

≡

, located next to the search bar in the incoming order overview. For more information about filtering your orders, see the following article: How to use the +add filter function.


Q: Can I change the shipping method for a nominated day order with shipping rules?

A: The new Dynamic Checkout feature is currently available for a few integrations and will expand in the future. If you have configured the checkout, yes, shipping rules can also be applied to Dynamic Checkout orders, with a few important notes for rule actions.

You have configured the correct sender address, shipping service, and shipping method that should be automatically used for these orders in the Dynamic Checkout panel.

You can still manually change the shipping method and sender address for a checkout order from the Edit Order View.

If you want to override the automatically assigned shipping methods for Dynamic Checkout orders you can use the new rule condition Is Dynamic Checkout order.

Example: You set up a nominated day delivery method with PostNL Standard. You have some items which you prefer to ship with the Mailbox method.

Shipping with letterbox: To country is NL and If item SKU contains LTR and Dynamic checkout method is nominated day > Ship with PostNL Letterbox
Shipping with letterbox: Checkout delivery method is XX and Item quantity less than 2 and Dynamic Checkout method is nominated day > Ship with PostNL Letterbox

Please note

: when you change shipping methods for Nominated day or Same day Dynamic Checkout orders, be mindful of the transit time or the buyer's expected delivery date may be affected.

Example: You set up a nominated day delivery method with method A which has a transit time of 12 hours. You change the shipping method used to one with 48 hour transit time. Your customer will get the package a day or two later depending on the day of the week.