Purpose: learn how to avoid unwanted DPD surcharges when your package does not meet the carrier shipping conditions. 
---
Please note: the carrier may change the shipping prices and/or surcharges mentioned below, therefore these prices may be subject to change. Even though we aim to inform you to the best of our abilities, no rights can be derived from the information provided below.
---
A
fuel surcharge
applies to parcels shipped with DPD UK. Click
here
for more information.
Surcharge oversize and oversize weight - £21.20 per parcel
This surcharge is applied when your parcel exceeds the maximum weight and dimensions as described in DPD's shipping conditions. If a parcel is too heavy or too large, it must be taken off the automated sorting belt and manually processed, resulting in the additional fee. 
If you are shipping overseas, also consider the volumetric dimensions of your package.  If the L x W x H / 5000 is higher than 31.5kg, you can also expect to receive this surcharge.
Dimensions
Longer than 100cm length
Above 30kg weight
Width greater than 70cm
Height greater than 60cm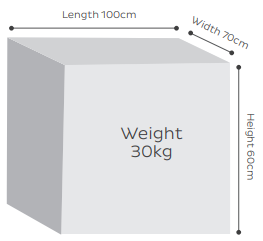 How can I prevent this surcharge?
To avoid this surcharge, we advise you to stay broad in terms of parcel dimensions and weights. Packages are measured and weighed by specially calibrated equipment, however measurement differences can occur. Always allow yourself some additional room to ensure you won't exceed the dimensions. 
---
Surcharge package return to sender - price of the forward shipment + £ 2.70
If a parcel cannot be delivered, it will be returned to you at the next day delivery rate, in addition to a surcharge. This surcharge is applied if the parcel is refused by the recipient. 
How can I prevent this surcharge?
Make sure your customer's address is correct before creating your label. Activate tracking email notifications, so your customer is aware that the parcel is due to be delivered. 
---
Manual handling- £22.20 per parcel
A non-standard package allowance is applied for parcels that exceed 175cm in length and/or 300cm in girth. There can be other reasons for manual handling - always double check the DPD shipping conditions before shipping.
---
Non comms handling - £2.95 per parcel
For UK parcels which are incompatible with the DPD automated sortation equipment. 
---
Republic of Ireland Services
| | |
| --- | --- |
| Service | Price |
| Two Day | £0.65 per parcel |
---
Additional surcharges
Congestion - £0.85
London congestion charge postcodes: W1-2, W8, W10-11, EC1-4, WC1-2, SW1, SW3, SW7, SE1, SE11, NW1, EI
Fuel surcharge - see here. 
This percentage value will fluctuate monthly and may not be up-to-date. Please check this article for more information. 
EU Clearance - £4.75
For parcels shipped to Ireland
Unsuccessful EU Export - £0.85
Applies to the handling and return of parcels destined for EU/EFTA countries which cannot be exported
EU Export return - £3.75
A return surcharge per parcel when DPD return the parcel from EU/EFTA countries. Covers the additional operational and processing costs 
Nothing to collect - £10.20
If you schedule a pickup with DPD and there are no goods to collect, or the goods are not available at the specified time or location, then this surcharge will be levied.
4th Party - See rates*
For collection and deliveries made to and from addresses other than your agreed collection point.

3rd Party - See rates**
For collections made from an address other than your agreed collection point
| | |
| --- | --- |
| 4th/3rd Party rates* |   |
| UK | No surcharge |
| Offshore | £12.20 |
| Ireland | £17.20 |
| Classic | £15.20 |
| Air | £15.20 |
---
 To avoid the above mentioned surcharges, please carefully read the shipping conditions, make sure you stay well within the permitted dimensions and, of course, select the right network for your package.