Purpose: Check the surcharges that UPS applies when your package does not comply with its general shipping conditions.
---
Note
: As of 11/01/2022, the fuel surcharge will be added to shipments that have received another type of surcharge. This means that if one of your orders has already received a surcharge (remote area, weight, home address, etc.), you will also be charged a percentage for fuel costs. You can find a breakdown and update with the current percentage on the carrier's
website
. Please note that fuel surcharge costs vary depending on the price of fuel.
---
Demand surcharges
Last updated on October 1, 2023 and until further notice, UPS applies demand surcharges to packages exceeding maximum limits, large packages, and shipments requiring additional handling. This will apply to all packages meeting these specifications originating from 19 European countries and to all destinations.
Important
:
This is a flat fee per parcel in addition to existing rates, surcharges, and/or fees.
This means that the carrier may apply a demand surcharge for a parcel even if it has already received a different surcharge from the list available in this article.
See below the demand surcharges that apply:
| | | |
| --- | --- | --- |
| Surcharges | Conditions | Prices during peak season |
| Additional Handling | The same conditions as the additional handling surcharge are applicable during the rest of the year, except for the actual maximum weight allowed, which in this case is 25 kg and not 32 kg. | €6.40 |
| Large Package | The same conditions as the large package surcharge are applicable during the rest of the year. | €65.20 |
| Over Maximum Limits | The same conditions as the surcharge for exceeding the maximum limits are applicable during the rest of the year. | €400.20 |
International shipping
UPS charges a demand surcharge for shipments to international destinations. The amount of these charges depends on the actual weight of the shipment and the destination. This surcharge applies to all UPS Express and Express Saver shipments within and outside Europe.
International shipments: €0.21 / kg 
New Zealand and Australia: €1.77 / kg 
North America (US, Canada, Mexico, and Puerto Rico): €0.36 / kg
Click here for more information.
Additional resources
On the UPS Service Alerts page, you can stay on top of service disruptions that may affect your shipments, such as severe weather.
---
How to avoid weight surcharges
Which shipping method should I choose? 
The package weighs 2 kg, but has a volume weight of 34 kg, then the shipping method of 34 kg must be chosen.
The package weighs a pack of 27 kg, but is the volume weight 8 kg then the shipping method of 27 kg must be chosen.
In addition to being aware of the volume weight, good packaging is also essential.
How do I calculate the volumetric weight?
UPS uses the following formula: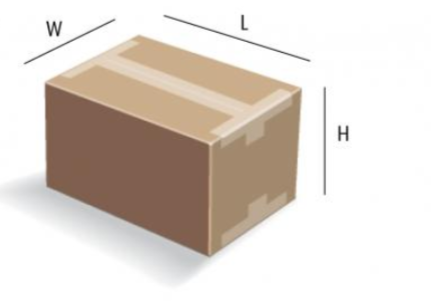 L= length in cm
W= Width in cm
H = Height in cm
(L x W x H) / 5000
---
Residential surcharge
UPS provides delivery service to residential addresses as well as business addresses. A residential delivery is one made to a home, including a business operating out of a home. For each residential delivery, an additional charge per shipment applies.
This surcharge is in addition to the base rate when sending to residential addresses.
A surcharge of €1.15 per shipment delivered at a residential address will apply. 
---
Address correction fee
If a mistake has been made in the address, UPS will make every reasonable effort to find the correct address and deliver the shipment if it is within the same destination country. An additional charge of €8.90 will be billed to the sender. 
---
Address changes (requested by the end customer)
The end customer can request to change the delivery address either by phone (calling the carrier) or directly on the UPS website. They can request the change for a delivery planned for that same day or for a future day. When a request for a change of address is submitted, UPS will apply a surcharge to the merchant.
See here the different surcharges that can be applied by the carrier depending on the situation:
Future-day deliveries
Alternative address (Future day-Phone): €1.07

Alternative address (Future day-Web): €0.85

Alternative address for UPS Returns Ground service (Future day-Phone): €1.07
Same-day deliveries
Alternative Address (Same day-Phone): €1.80

Alternative address for UPS Returns Ground service (Same day-Phone): €1.80

Alternative address (Same day-Web): €1.60
---
Remote/Extended area surcharge
An additional charge applies for each shipment that is collected or delivered in an area that is less accessible for collections and deliveries, both for domestic and international services. 
National shipments: €0.15 per kilo, with a minimum of €5.16 per national shipment, the bigger of both amounts will be charged.
International shipments: €0.50 per kilo with a minimum of €25.74 per international shipment, the bigger of both amounts will be charged. 
Check the list of the postal codes affected by the remote/extended area surcharge. 
---
UK border surcharge
Due to Brexit starting January 1st, 2021 all shipment to the UK will be applied the following of surcharge €3.45. This surcharge will be applied the moment the parcel has been handled by UPS. 
---
Additional handling costs
Additional handling surcharge of €10.90 applies to the following:
Any article that is encased in an outside shipping container made of metal or wood
Any cylindrical item, such as a barrel, drum, pail, or tire, that is not fully encased in a corrugated cardboard shipping container
Any package with the longest side exceeding 100 cm or its second-longest side exceeding 76 cm
Any package with an actual weight greater than 32 kg
Each package in a shipment where the average weight per package is greater than 32 kg and the weight for each package is not specified on the source document or the UPS automated shipping system used
UPS also reserves the right to assess the Additional handling charge for any package that, in UPS's sole discretion, requires special handling.
In consideration of the additional handling required on our part, and subsequent potential delays in processing these shipments, UPS does not provide a money-back guarantee for them. UPS does, therefore, not refund the shipping charges if shipments requiring additional handling are not delivered by the time normally scheduled for such shipment.
---
Undeliverable shipments
When UPS has taken measures to try to deliver any Worldwide shipments, but has been unsuccessful, they will process your shipment acting on your instructions. The transportation cost and a surcharge will be charged to the sender for the processing of each such un-deliverable shipment. 
For all shipments within the EU and within your Spain, we will automatically return your shipment by UPS Standard service (where available). Transportation and fuel charges will apply for the return.
The surcharge for undeliverable shipments is the same as the outbound shipping costs. 
---
Over Maximum Limits
Packages with an actual weight of more than 70 kg, or that exceed 274 cm in length or a total of 400 cm [L + (2x Width +2x Height)] in length and girth combined, as measured to determine their billable weight, are not accepted for transportation. These packages are subject to an Over Maximum Limits surcharge, in addition to all other applicable charges, if found in the UPS small package system. Packages exceeding 400 cm in length and girth combined are also subject to the Large Package Surcharge.
Surcharge over the maximum limits is €282.20.
---
Large Package surcharge
A Large Package surcharge of €51.60 will be applied to each UPS package when its length plus girth [(2 x width) + (2 x height)] combined exceeds 300 cm, but does not exceed the maximum UPS size of 400 cm.
Large Packages are subject to a minimum billable weight of 40 kg in addition to the Large Package surcharge.
An Additional Handling charge will not be assessed when a Large Package surcharge is applied.
---
Prohibited item fee
There are certain prohibited items that UPS will not ship due to laws or regulations. It is the shipper´s responsibility to comply with current government regulations or laws applicable in each country. 
The carrier applies a surcharge of €143.60 for shipping a prohibited item. 
For more detailed information, see the list of prohibited and restricted items prepared by UPS.
---
Import fees
UPS charges the following fees when a parcel is imported. Sendcloud will forward these costs to you (the merchant):
Import duties: The Import duties are determined based on the HS Code and their corresponding import duty rate x (times) value of the goods.
Import VAT: It's calculated as follows: tax rate of the importing country x (times) the value of the goods.

The import VAT charged can be deducted as input tax in your regular VAT return for the relevant period. As a result, the import VAT doesn't constitute an additional cost for you.

Provision costs: In the event that UPS pays import duties, VAT, and other government charges on behalf of the paying party in advance, then the carrier will charge you some a provision fee based on the intrinsic value of the shipped goods and the advanced amount. These are the costs: €7.65 per shipment with an intrinsic value less than or equal to €22, with a minimum of €15.90; or 4 % of the advanced amount when the intrinsic value of the goods exceeds €22.
---
For additional information about the fees, please see the document below. Always read these carefully before you ship with this carrier.