Purpose: see how to seamlessly connect your Magento 2 open source e-commerce platform with Sendcloud by following this guide.
This article describes the global connection process for Magento 2 with Sendcloud, including Multi Store View support for Dynamic Checkout.
---
Please note:
The Web Setup Wizard is deprecated as of Magento 2.3.6 and removed in Magento 2.4.0. As an alternative, use the command line to
install
or
upgrade
Magento, as well as
extensions.
For version 2.3.5 and below users can still use the web wizard.
---
Install Magento: version: 2.3.6 and 2.4.0 onwards
1. In order to install Sendcloud module in Magento version 2.3.6 and 2.4.0 onwards, you will need to execute the following commands via composer:
composer require sendcloud/sendcloud
php bin/magento module:enable SendCloud_SendCloud 
php bin/magento setup:upgrade 
2. You will notice in the command line that the module was installed or updated successfully.
---
Install the Sendcloud plugin to Magento: versions: 2.3.5 and below
Go to Magento Marketplace or search for "Sendcloud" in the search bar
Choose Open Source (CE), and select Your store version
Click on Add to Cart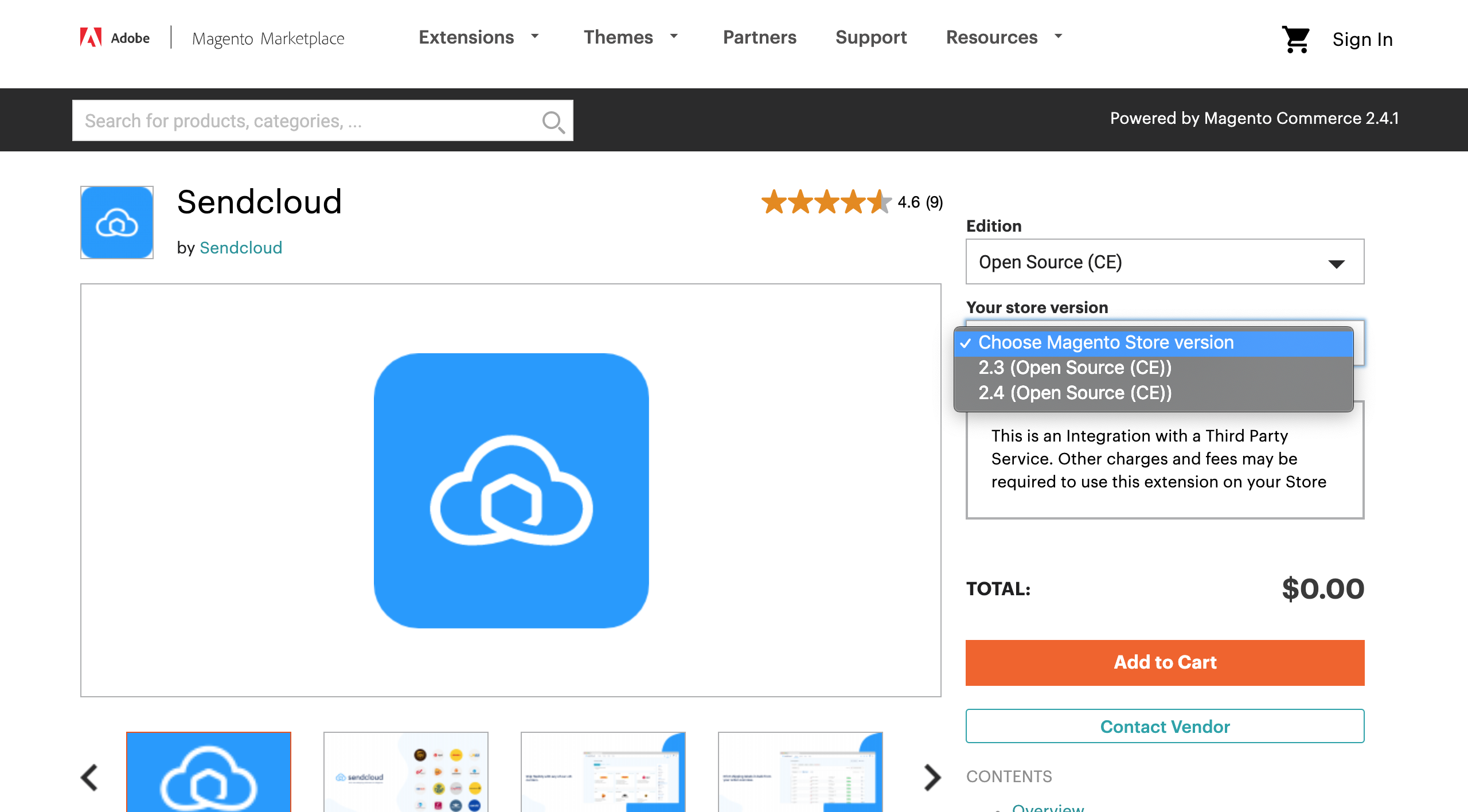 Click on the Shopping cart and then on Proceed to checkout
Log in with your Magento account, or create a new account for free
When you've placed the order, you'll be redirected to the next page. There you should click on Install

---
Complete installation
Go to your Magento backend and log in
Click on System > Web Setup Wizard > Extension manager (deprecated)
At Extensions ready to Install you need to click on Review and Install
A list of the extensions that can be installed, including the Sendcloud extension, appears. Press Install
Choose Next at step 1, step 2 and on Install at step 3
Once completed you will receive a "Success" message
---
Cache Flush and log out
Go to System > Cache management, and press on Flush Magento Cache
When you receive a message "Cache is cleaned successfully", you are required to logout from your Magento Admin interface.
Please note: This step is required to refresh all the permissions.
Now that you are logged out, you have to log in again.
---
Connect with the Sendcloud plugin
When you have logged in again, go to Stores > Configuration > Sales > Sendcloud;
Enable the module;
You are now able to press Connect with Sendcloud, which provides a referral to the Sendcloud login page.
---
Login to your Sendcloud account or create a new Sendcloud account
Login or create a new account at Sendcloud. After authenticating you should see your online store integration by going to Settings > Integrations.

In the meantime, your orders will be fetched and shown in your Sendcloud account. The orders will appear at tab Incoming orders. After completing the installation, all orders up to one month old can be collected.