Purpose: This is a guide on how to easily cancel a label, and what happens if you miss the cancellation deadline. Provided that you cancel the label before 23:59 on the day of creation, you will not be charged.
---
How to cancel a label
Select the shipment(s) that you want to delete from your Created Labels overview. Select Cancel from the dropdown menu. Confirm the cancellation. The label will now be moved to your Cancelled labels tab.
---
Optional:
You are also able to delete a shipment from the 'Shipment details'. You will then see the button 'Cancel shipment'. Clicking this button also leads to the shipment being cancelled.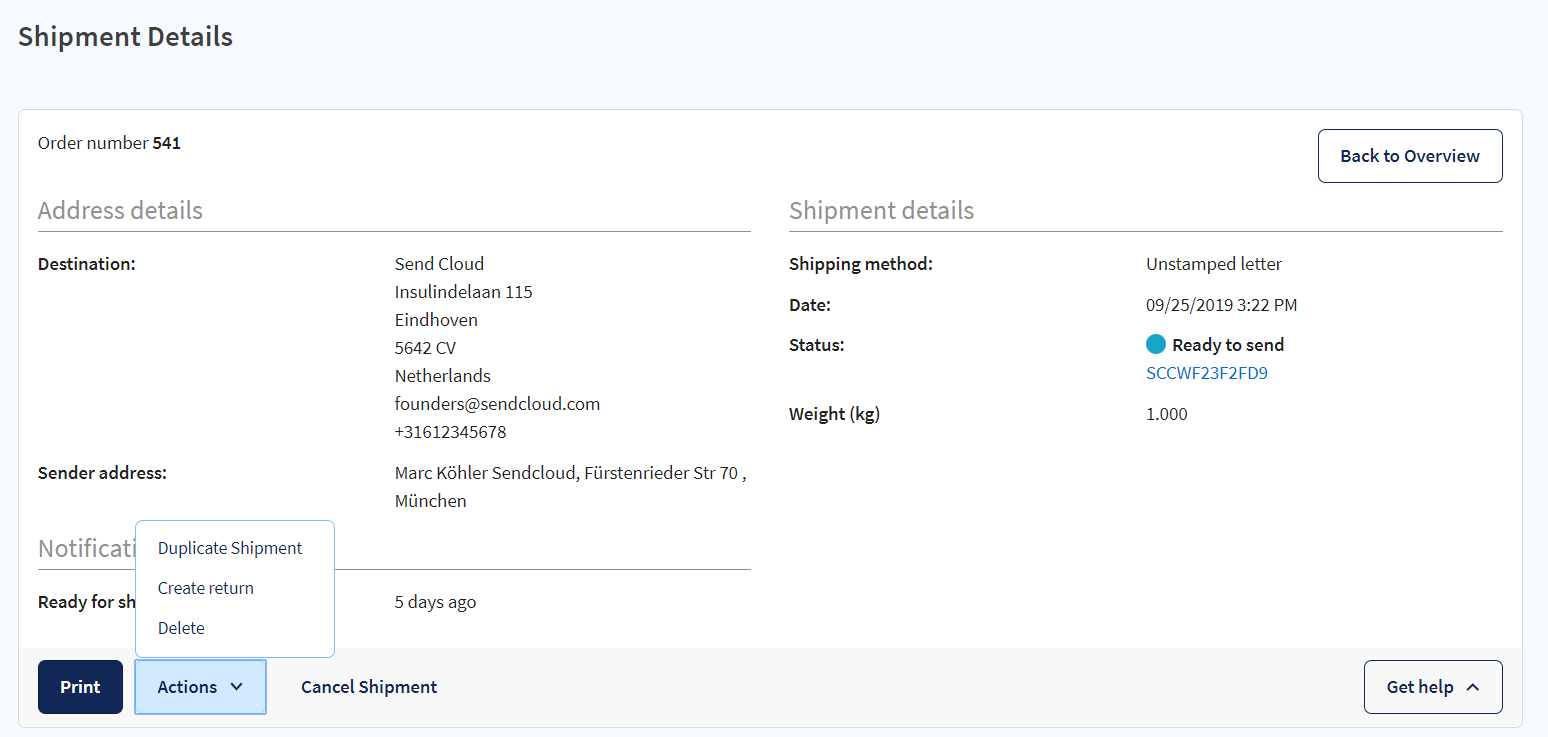 ---
FAQ
Q: Am I charged for cancelling a label?
A: If you cancel a label but it is later scanned by a carrier, you will receive a 1 EUR charge on your invoice under the reason "Reversed cancellation".
Q: What happens when I miss the cancellation deadline?
A: Don't worry, you will still be able to cancel your shipment within 42 days after creating the shipment. The costs for this shipment will be corrected on your next invoice. If you do not manage to cancel your shipment within those 42 days the costs of the shipment can no longer be credited.
Q: I have an outstanding invoice for a label that I have already cancelled, what should I do?
A: You must pay this bill, and our system will automatically reimburse you on your next invoice.
Q: How does Sendcloud reimburse me for shipping costs?
A: If the parcel is not shipped, the cost of the label will be automatically deducted from your next invoice OR you will receive a refunded via direct debit to the bank account associated with your account. For more information on how unused labels are refunded, see this article.
Q: Why was my label for UPS not cancelled?
A: When you create a UPS label for shipping outside the EU, Sendcloud automatically sends the commercial invoice via paperless trade to UPS. UPS forwards this invoice to customs and activates the tracking of the shipment. That's why they can't be cancelled anymore. We recommend that you use extreme caution when shipping with UPS, and review the data before creating the label.