Purpose: With the help of the return portal, you can process returns easily and quickly and receive them directly in the returns overview in your Sendcloud account. In this article we will explain how you can set up and activate the portal in a few simple steps.
The Sendcloud subscription plans have been updated. If the subscriptions shown in the banner above don't match your current subscription plan and you'd like to know more, please click here
---
Please note that before your return portal can be activated, you must first have enabled your direct debit in your account. Click here to see how to set up your payment method. The return portal only works in combination with shipments that don't require customs documents. For return shipments outside of the EU, click here.
Step 1: Set up your brand
Go to '
Brands
' via the settings in your Sendcloud panel and click on the brand you want to create a return portal for. If you don't have a brand set up yet, create a new one by following the steps outlined in this
article
. By customising your brand, you will be able to give a unique customer experience throughout the entire customer journey: in the Tracking email, Tracking page and return portal.
---
Step 2: Add a return address
Now we need to add a return address, which is the address you will receive the return parcels at. You can directly Add a new return address or navigate to Settings > Addresses > Return Address and click on the Create new button.
Fill in all your return address details
You can set a label for easier recognition of your return address within the Sendcloud panel
Click on Save and your first return address is set
If you have physical shops and you would like to offer your customers to return orders in-store, check the shop addresses as store location. These addresses will be used to offer return in-store option to your customers. Read below how to offer this option.
---
Step 3: Configure your portal
To begin setting up the return portal, go to Settings
> Returns > Return portal and select the brand for which you want to create your return portal from the dropdown menu. Keep in mind that the return portal for each brand needs to be set up individually.

Setting tab configuration
Enter the return address for parcels to be returned. You can specify one return address per return portal.
If you want to receive an email notification every time one of your customers creates a return through the portal, enter your email address into the email notification field.
the maximum number of days after a shipment has been delivered in which the customer can create a return. According to EU law, this has to be a minimum of 14 days.


The countdown starts the day after the parcel receives a delivered scan. The delivery day itself counts as day 0, the following day is counted as day 1. For service point delivery, the day the parcel is scanned as "delivered" to the parcel shop (not the day it is collected by the end-customer) counts as day 0.

The return fee informs customers in the return method step of the return portal about the fee involved for the return label. This fee can be set to charge the buyer if he or she chooses to return through a drop-off point. If you specify '0', it will show the return is free. Within the details of the return, we do a quick calculation and subtract the return fee from the amount to be refunded to the customer. Read more on how to process your returns.
Payment for returns (Growth, Premium): Growth and Premium users have the option to make their clients pay for their return shipping label directly via the return portal thanks to our paid returns feature. This option is possible in collaboration with external payment service provider Mollie. Learn more about paid returns here.
Return Policy is a link to your own policy about returns, this helps customers know what they can expect during the process of a return.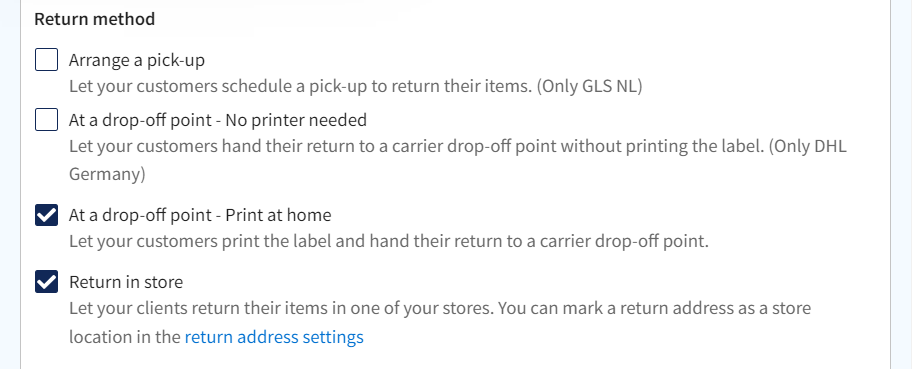 In the return method section, select the return methods you want to enable. If you want to offer in-store returns to your customers, make sure you set your return address as store location here. You can also offer pickup returns for those carriers who offer this option or let your customers drop off their return parcels at a drop-off point, whether paperless (no shipping label needed) for those who don't have a printer, or regular.
In the refund method section, you can choose to offer your customers money back, store credit or exchange as a refund. Learn more about refund methods.
Note: For scenarios where a refund is not appropriate, for example when returning packaging material or rented products, you can skip this step in the return portal by deselecting all three refund methods.
Enable certain return reasons that your customer can specify when returning an item. We recommend selecting not more than 7 reasons. The "Other" reason will be shown by default in the return portal. By choosing the "other" reason the consumer will be able to specify a personalized reason in a message field.
Add extra instructions for your customers. In the "Returns instructions" section you can add instructions about the requirements, the refund process, packaging, etc. Your customers will see this on the homepage of your return portal. You can make your text bold, italic, underlined... You can also use headings, bullet points, and include links.
Chose which carriers you allow returns for. Be aware that these carriers are country-specific. You can check prices for returns in the price calculator tab in settings. Read more about the price calculator feature.

Allow returns without a Sendcloud outbound shipment. By default, the return portal requires an outgoing parcel to have been shipped via Sendcloud before a return parcel can be created.By ticking this box, you can allow the return portal to only require an order number and postcode

instead of a tracking number. This allows you or your customers to validate and create returns

even if you don't ship orders in Sendcloud

, partially ship orders or accept returns beyond 12 months from the moment of delivery, etc. For the original order lookup to be successful, order information must be imported into the Sendcloud panel via your webshop or API integration.
Appearance configuration
Enable/disable branded header and footer. You can choose to display both, only the header/footer or none of them in your return portal. (see below number 1)

Add return instructions in the first page of the return portal for your customers. In the "Returns instructions" section you can add instructions about the requirements, the refund process, packaging, etc. You can make your text bold, italic, underlined. You can also use headings, bullet points, and include links. Example: The return will not be accepted without a return vignette. (see below number 2)
Note: the customer will see the text as you write it. Translations are not yet supported.

Select page layout. You can choose between displaying the standard layout or choosing a background for your portal. For the latter, select "background image" and upload an image for your return portal background by clicking on the background image section, or dragging your image into this section. (see below number 3)

See a live preview of how return portal looks on both mobile and desktop. Click on the mobile or desktop icon to see how your customer will see your return portal both on mobile and desktop. (see below number 4)
---
Step 4: Return emails
When a customer creates a return, you can improve their customer experience by proactively informing them about the status of the delivery, Sendcloud provides you with three different emails dedicated to return shipments. You can enable return emails during the following steps of the journey:
Label created
Handed in at drop-off point
Return received
You can customise the language and content of these messages by going to Settings > Tracking messages and following the steps in this article: Tracking notifications.
---
How to embed your Sendcloud return portal into your online store
Note: We recommend that you don't embed (iframe) your return portal if you have enabled the paid returns feature.
If you prefer to embed your Sendcloud return portal into your website instead of redirecting your clients to another page (via the link to your return portal), you can use the <iframe> element.
For an optimal experience we recommend using the following dimensions:
Default mobile width: 350

Default mobile height: 800

Default desktop width: 660

Default desktop height: 1000
Important notes about using the return portal iframe element:
Sendcloud cookie consent messages will still be active
All buttons stay where they are (including language selector and "manage cookie preferences" link)
The mention "Powered by Sendcloud" will only be hidden if you have deactivated beforehand (this is only possible for users with a Premium subscription
Your header and footer will be removed from the iframe element