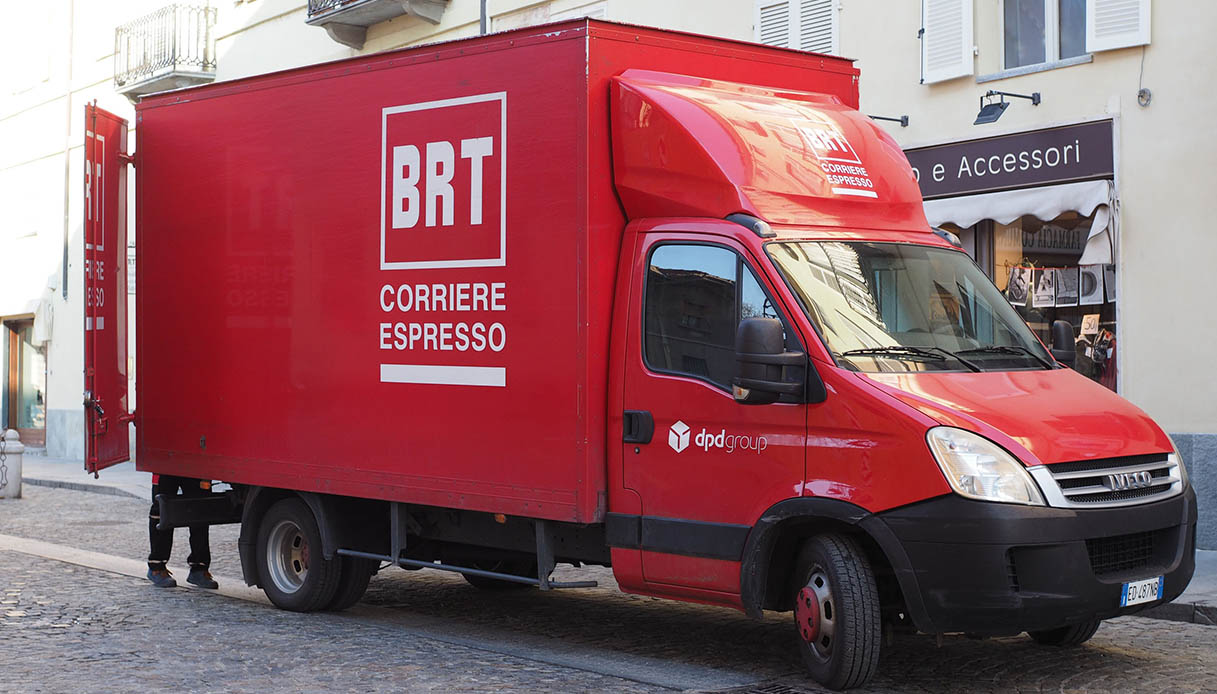 Purpose: Learn how to activate your contract with BRT in three easy steps, either by using our rates or with your own contract (only possible for Small Shop, Large Shop and Business users).
---
Sendcloud rates
Sendcloud gives you the possibility to ship with our pre-negotiated rates. Before shipping with BRT we advise you read carefully their Shipping Conditions.
BRT volume conditions
In order to ship with BRT you must ship a minimum of 100 parcels per month (est 25 parcels per week). Not complying with the volumes can cause service cancellation from BRT.
Step 1: Fill in your account
Make sure you have filled the following correctly:
Account details are filled in
Email is verified
Invoice and sender address
Payment is enabled
Webshop is connected
---
Step 2: Send your request to our support team
Fill in the following form and send it via email to support@sendcloud.com or via ticket (select 'Other questions' category).
Carrier: BRT

Company name:

Person of contact (who will be in charge of handing the parcels)

Phone number:

Email:

Avg. shipments per month:

Sender = Pickup Address House Number/Flat Number/Warehouse Number (must be the same BRT only allows 1 address per contract. Until multiple carrier activation is supported only one address can be activated per account):

Postal Code / City:

Pickup frequency: 5x week, 4x week, 3x week, 2xweek, 1xweek

Days of the week (Monday-Friday*):

Pickup time: Morning (09:00-13:00 hrs*) or Afternoon (14:00 - 20:00 hrs*)

Date to start the pickup service (must be two workdays after the date requested):

Parcels' weight in kg (avg):

Parcels' size (envelope/small/medium/large):

Avg number of parcels per pickup:

Observations (Any additional information needed for the carrier):
*Subjected to location availability, keep in mind service disruption due to holidays or peak season
IMPORTANT: BRT enables the recurring pickup service upon contract activation, this makes your shipping process smoother and reduces the risk of failed pickups.
Please keep in mind that the information provided here will be stored on BRT's system, all labels will be created with this data, regardless of info filled in on Sendcloud. Delays caused upon contract activation due to information provided wrongly is your own responsibility.
---
Step 3: Confirmation & activation
Once BRT has authorized the new activation, our support team will enable the carrier for you on our system and will contact you. To confirm everything has been set up correctly. Now you can start shipping with BRT!
Notes: This process takes between 1-3 working days (low season) / 2-5 days (peak season).
Important: Do not forget to create your pickup reports before collection with BRT, this document is mandatory for BRT to activate the tracking number on their system.
---
Enable your own BRT contract
Step 1: Activate your Sendcloud subscription
Sendcloud offers three subscriptions with which you are able to use your own transport contract: Small shop, Large shop, and the Business plan.
For more information regarding which plan is best for you and the needs of your business, you can always contact us via the support section of your Sendcloud account or click here.
---
Step 2: Enable your carrier contract
Once you have activated a Sendcloud subscription, you can connect your carrier contract.
In your Sendcloud panel navigate to Settings > Carriers & Pricing. Go to the My contracts tab and find Correos from the list. Click Add contract. Here you can add the credentials needed to validate the connection to BRT.
Note: Before proceeding keep in mind you need to ask your account manager at BRT to make sure your credentials are enabled for webservices. You may use the following template to contact your account manager at BRT:
Chiedo gentilmente l'attivazione della soluzione WebServices per il cliente (CODICE CLIENTE).
L'integrazione è di tipo REST, prevede chiamate tramite gli indirizzi IP 52.58.235.98 e 52.57.76.59 e la modalità del sistema è autoconferma.
Nel caso in cui il cliente utilizzi Easysped, chiediamo gentilmente di creare un secondo codice dove abilitare i web services.
Avrei bisogno delle credenziali di produzione e dei codici tariffa.
---
Step 3: Enter your BRT contract details
Complete the form with the information below and click "Save" when you are done.
Customer Code

FTP password

Rate Code national

Rate code international

Barcode prefix (optional, max 12 characters)

Tick the box 'Use BRT webservice'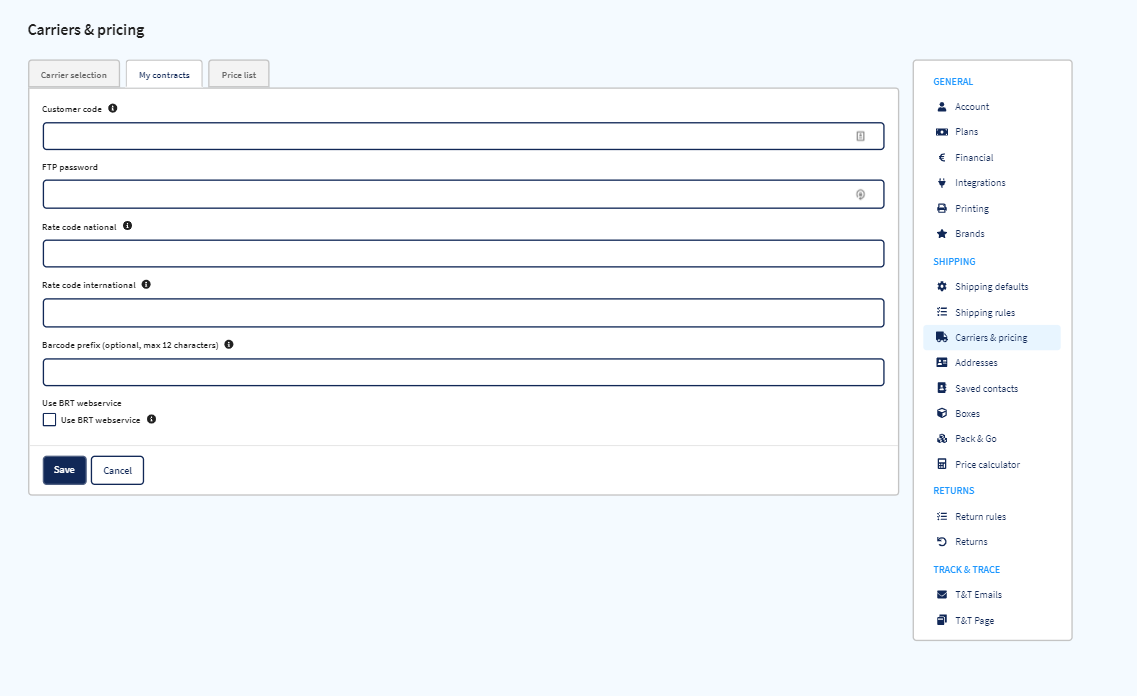 Note: when you change the identifiers and/or access codes to your BRT space, it is also necessary to change them in your Sendcloud account in order to maintain the connection between your carrier contract and your Sendcloud platform.
Done! Once you've followed the steps above, your BRT contract should now be successfully linked to your Sendcloud platform and you can begin shipping on your BRT rates. When you create a label with a Correos shipping method, the label price will now show as 0.00 EUR in your account.