Every day, carriers process a lot of packages. You can imagine that sometimes it happens that something goes wrong with one of your shipments. In this article we will explain how you can easily start an investigation if your package is delayed or cannot be traced. We will also explain in a few steps how to submit a claim in case of damage or loss!

Start an investigation in 4 steps
Step 1: Start an investigation via the Shipped menu
Open the details of the concerning shipment. To get here, go to the 'Shipped' tab in your Sendcloud panel.

Click on the concerning shipment to open the details. You will then see the following screen: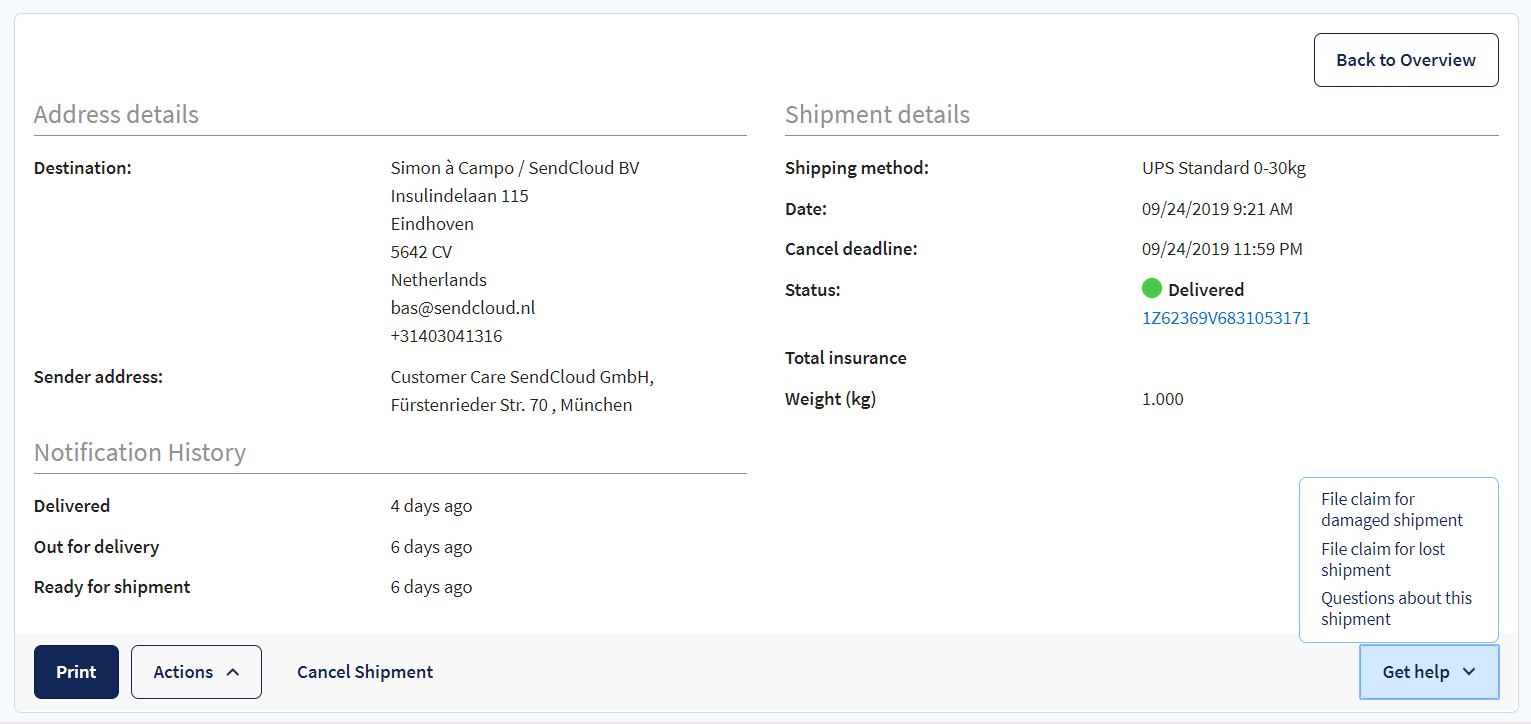 Click on Get help at the bottom right corner of your screen. Then choose Questions about this shipment.
Please note: It is only possible to start an investigation if your shipment has been created 48 hours ago. A delay of 1 or 2 days namely occurs more often. If your shipment still did not receive a scan after 48 hours, something could be wrong. From that moment an investigation can be requested.

Step 2: Open a support ticket
For all problems, questions or investigations regarding your shipments, we would like to refer you to our ticket system within your Sendcloud panel. You can find it under the Help section

In this way all data will be forwarded directly from our backend to the carrier, and your request will be submitted directly at the correct department of the carrier.

Step 3: Choose the type of problem
When submitting the ticket you will be asked to describe the problem. There are a number of topics that we have already indicated for you:
Not delivered
Delayed
Not traceable
Delivered but not received
Request a return (There is a chance that the shipment will still be delivered. Contact the recipient so that it can be refused)
Request a change of shipment (Not possible with all shipping methods and there is a chance that the change cannot be processed on time)
Another problem with a shipment
You can select one of these problems. Based on the problem, certain information is requested and you can fill in the form.

Step 4: Provide details of the problem
After selecting the problem you can add a description of the appearance of the package and in many cases you will also be asked for more information, for example the content of the shipment or the purchase invoice. Make sure you complete this form carefully. If it turns out afterwards that important information has not been provided in advance, this must still be added. This may cause an investigation to be delayed.
When everything is filled in, press Submit. At that moment a ticket will be created in our system and it is automatically transferred to the carrier.

The investigation has started, what now?
The investigation has started at the concerning depot. Most carriers strive to provide a definitive answer or update on the shipment within 5 working days.
We often receive the first update within 24 hours, depending on the type of investigation. For abroad shipments, carriers often need some more time.
We from Sendcloud do our best to provide you with an answer as quickly as possible. In the meantime you will be kept informed by us when there are developments.
This will be done through the ticket that has been submitted. The e-mail address that is set as primary in your account will be used as the reply address. In addition, it is also possible to follow up your tickets through your Sendcloud account. To do this, go to 'Support' (bottom left of the panel).

Feel free to contact us by email at support@sendcloud.com or use the contact form. Create a new ticket from the 'Support' section and select the right category.