Purpose: Learn how to connect your Amazon seller account to Sendcloud by following the guide below.
---
Step 1: Connect to Amazon's developer site
Go to Amazon Marketplace Web Service and choose 'Register as a developer' on the front page.
Log in with your professional seller account.
After login you will be directed to the user permissions screen of your Amazon Seller account. On this page, click the button 'Visit Manage Your Apps' in the section 'Third-party developer and apps'.
You will be directed to a new page where you can manage your apps. Click the button 'Authorise new developer'.

This button will open a new screen where you can enter the Developer's name and developer ID. On this page fill in the following:
- Developer's Name: SendCloud
- Developer ID: 3244-7764-4129
Check all the following boxes:
'I have read and and accepted the Amazon MWS Licence Agreement.'
'I understand that I take complete responsibility for the acts and omissions of Sendcloud regarding my Amazon selling account and hereby direct Amazon to allow Sendcloud to access my Amazon selling account.'
---
Step 2: Connect your marketplace to Sendcloud
The next page will display all the information and keys you need to copy to Sendcloud.
Seller account identifiers for Seller Account Name
Seller-Developer Authtorisation
Please note: The marketplace ID is standard for every country, so you will only have to select the country of your marketplace on your Sendcloud panel. Make sure to select the right country.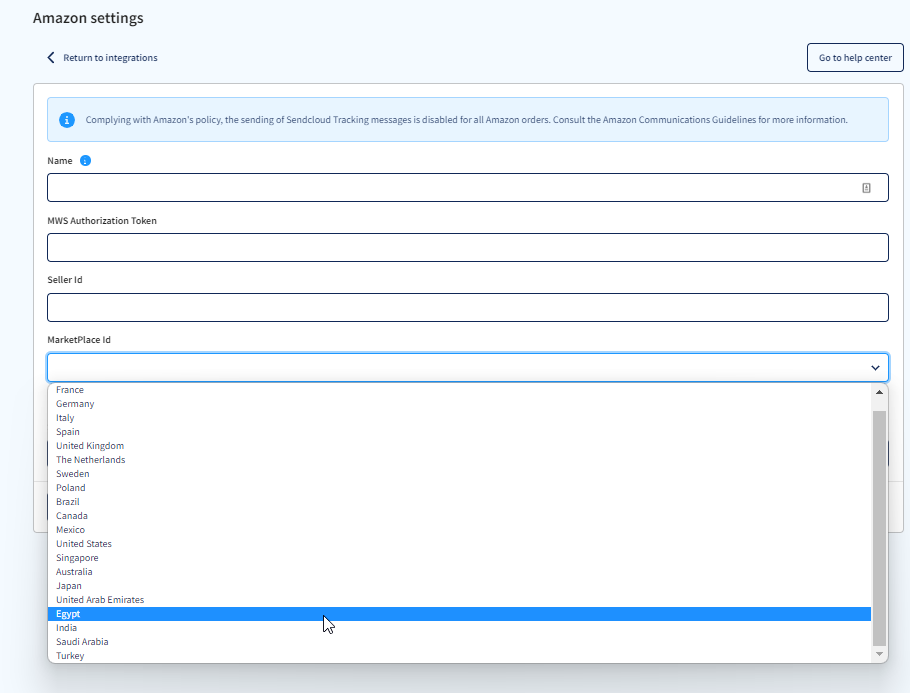 To enter the above information in to Sendcloud to complete the connection, do as follows:
Settings > Integrations.
Locate the Amazon module to configure the integration.
Copy all necessary keys from your Amazon MWS page to the following page.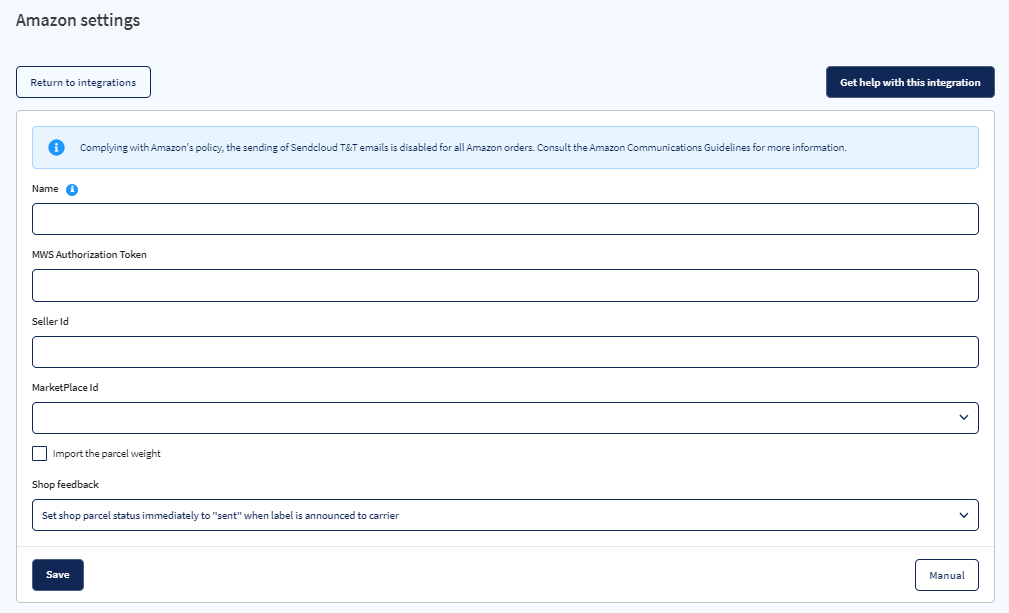 In the field "Name", enter the name of your Amazon store. On this page, you can choose whether to import the weight of the package or not from your shop. You can also define when the status of your orders should be updated in your shop; either when the "parcel is announced to carrier" or when the parcel is "processed at carrier".
Once you are done you can Save the settings.

Important!If your Amazon Marketplace is available for different countries e.g. Italy, Germany and UK you have to do the integration for each country. You will need a new Marketplace ID and you will need to create a new integration in Sendcloud. In that case, you will have three Amazon integrations in Sendcloud.
---
Step 3: Add shipping weights to products
To import your orders to Sendcloud you will need to add the "Shipping Weight" to the Amazon listing:
1. Go to enable "Advanced View" and click on "More Details".
2. Go to the "Shipping Weight" and enter in how much your package weighs.
Please note: The "Shipping Weight" is not marked as a mandatory field on Amazon, however, you will receive an error in the Sendcloud panel if you do not configure this field.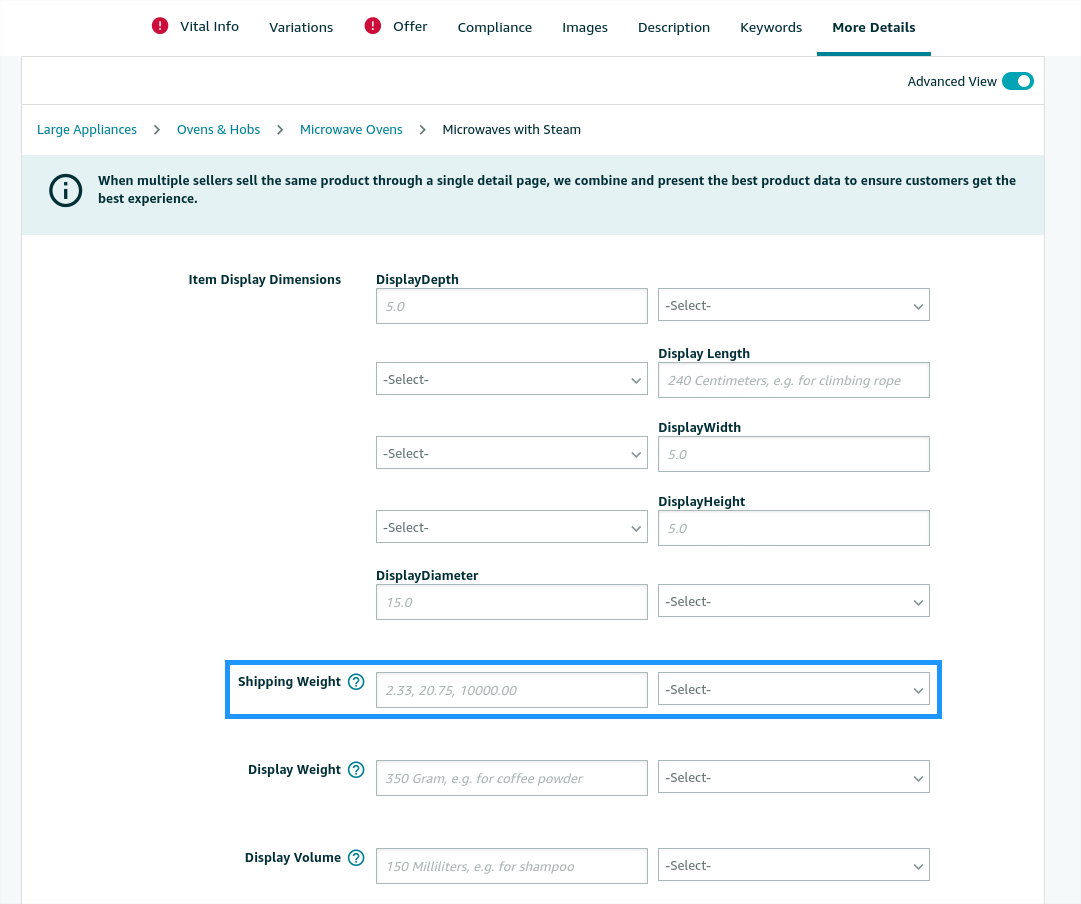 ---
Policies for integrating with Amazon
Track & Trace emails are disabled for the Amazon integration due to the updated communication rules brought in on the 6 November 2020. You can read more about Amazon's communication guidelines here.
As of January 1 2020 Amazon is changing their data protection policy. Currently, the data for fulfilled orders (PPI) is stored for a period of 1 year. As of this date, we will retain PII for no longer than 30 days after the order delivery and only for the purpose of, and as long as is necessary to fulfill orders (no longer than 30 days after order shipment), or to, (ii) calculate/ and remit taxes, and (iii) produce tax invoices. If we are required by law to retain archival copies of PII for tax or similar regulatory purposes, PII must be stored as a "cold" or offline encrypted backup (e.g., not available for immediate or interactive use) backup stored in a physically secure facility).