Purpose: Tracking notifications are an effective way to increase customer satisfaction, this will increase your chances of getting repeat sales. Even more important: because the customer feels informed, you will receive fewer questions and higher customer satisfaction. How do you handle this? In this article, we give you a number of tips to automate your Tracking process.

---
Tracking emails
As a webshop owner, you want to reduce the time spent on answering shipping status questions. By activating your personalised Tracking page in your Sendcloud panel and sending email notifications with every step of the shipping process, your customers are informed and confident that their shipment is on the way.
Tracking SMS notifications
Go the extra mile for your customers by enabling SMS tracking notifications. Your customer will receive a text message whenever their parcel reaches a delivery milestone. You can decide which milestones trigger a message to be sent, so you can customize your customer's shipping experience from beginning to end.
---
When will you give your customers a heads-up?
With the help of our Tracking emails, it is possible to send notifications to your customers at different times. In the overview below you will find the 4 most common moments to give your customers a status update.
Ready to send: This message will be sent when the label is printed within the Sendcloud panel.
En route: This message will be sent when the shipment receives the first physical scan from the carrier (most chosen option).
Ready for pick-up: This (optional) message is sent when the package is ready for collection at the service point.
Delivered: This message will be sent when the shipment has been successfully delivered.
Tracking messages for returns will only be sent if you have set up the return portal for returns. These messages can also be personalised.
Label created: This message is sent when the label is created within the Sendcloud panel.
Handed in at Drop-Off: This message is sent out when the package has been returned to the selected service point.
Return received: This message is sent out when the package has been returned to you (the webshop owner).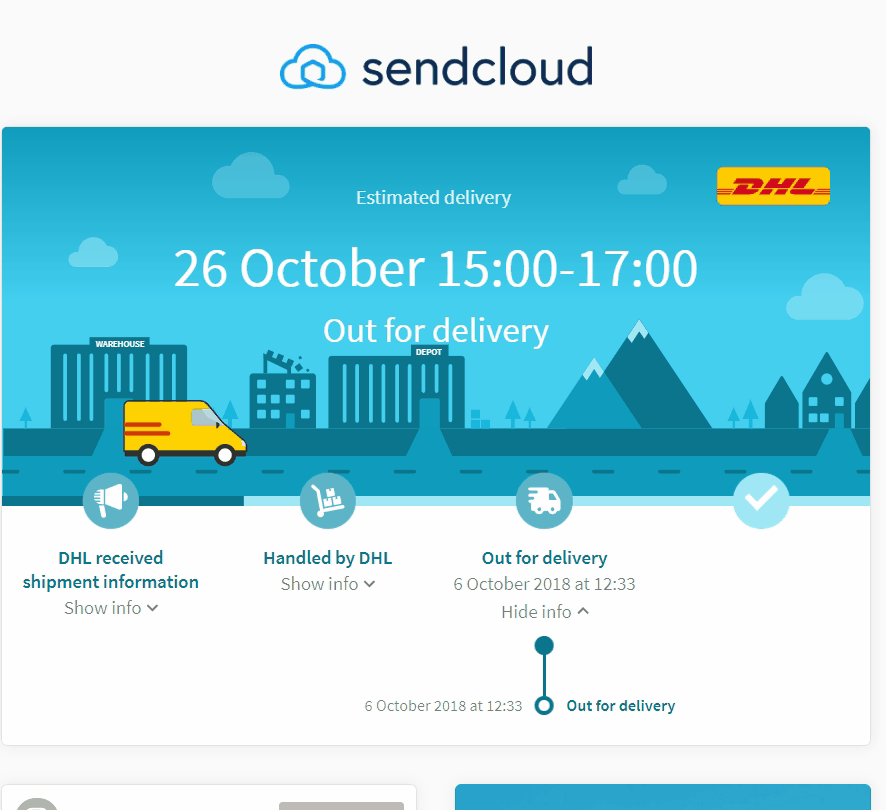 Find out how to set up and customize your Tracking emails in this article!
---
Tracking emails as a marketing tool
We will give you some tips to get the most out of personalizing your tracking emails.
Make sure you add your logos to the emails to stay top of mind with your customers. But there's more:
Add a personal note to your tracking emails or tracking page
Increase repeat sales by adding a discount code
Add your social media links to stay connected with your customers
Customer reviews are essential for any online shop. Add a button in your last tracking e-mail asking if your customers want to leave a review
When the shipment has been delivered, send some additional product information by email or set up a nice personal promotion for a possible upsell
---
Create a personalized tracking page
Extend the shopping experience by customizing your tracking page. Customers will visit the tracking page multiple times to check the status of their shipment. This creates the perfect opportunity to use your personalized tracking page to stay top of mind and increase the number of repeat purchases.
Find out more about setting up your own tracking page here.