Purpose: You can now share access to your Sendcloud account with your employees, and limit their usage to only the parts of the platform which are relevant to their function. In this article we explain how you can add and manage new users to your account with the user management feature.
---

This feature is currently only available to beta users. Over time we expect to roll out full functionality for this feature.
---
User management
You might have multiple employees who need access to Sendcloud features so they can process orders, but you may not necessarily want them to also have access to private information or account settings. That's why we've developed this beta version of the user management feature.
This feature allows you to add multiple users to a single Sendcloud account and assign them the role "Packer".
What is a packer user?
Packer users automatically have access to a predefined view of the Sendcloud platform. They'll still have access to all the tools they need to continue efficiently processing, picking and packing orders, but they won't have access to the following:
Settings

Including financial & invoice information

Analytics

Export data
If a packer user tries to access these areas of the platform, a pop up window will inform them that their access is restricted and to contact the main account holder for assistance.
In the future, based on your feedback, we will explore offering additional role functionalities or the option to customize the view of each individual user.
---
How to add users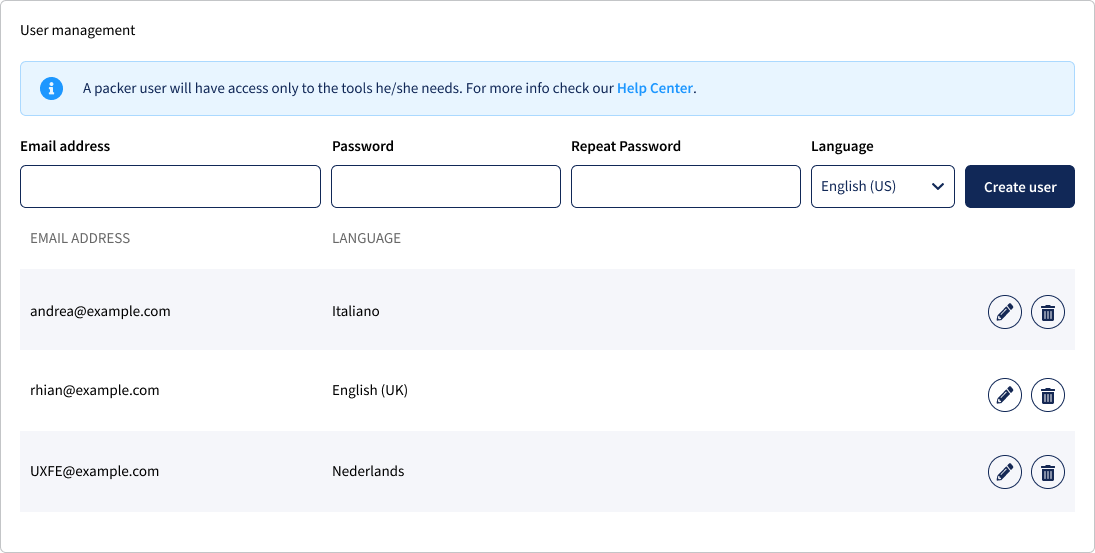 In your Sendcloud account, go to Settings > Account
At the bottom of the page you will find the User management section
Enter the email address of the user
Enter a password for them to use to access their account, and repeat for confirmation
Set their preferred language (from any of the 7 currently supported languages)
Click Create user when you're done
You can delete or edit existing users by clicking the pen or trashcan icon next to their names