Purpose: In this article we explain how to create and publish a configuration for the Sendcloud Checkout feature.
---

Previous articles:
→ Offer nominated day deliveries through your checkout
→ How to install the checkout feature for WooCommerce
→ How to install the checkout feature for Magento v2.4
---
Create a checkout configuration
It's time to configure your checkout by creating delivery zones. Delivery zones allow you to offer a number of flexible, nominated day shipping options to your customers during the checkout process.
Step 1: Delivery zones
For every country where you have an active sender address saved in your Sendcloud settings, you can create a delivery zone specific to that location.
Within each delivery zone you can add multiple delivery methods. For example, if you create a delivery zone for the Netherlands and include both a next-day and a same-day shipping option, when your customer enters a Dutch delivery address at checkout, they will be able to choose from either option depending on what suits them best.
How to set up a delivery zone:
Login to your Sendcloud panel

Navigate to the

Checkout

tab

Your

integration should appear under the section

Not configured

Click the

Configure

button

Click the New delivery zone button

Choose the

country of delivery*

for which you want to set up a delivery zone from the dropdown menu

Click Save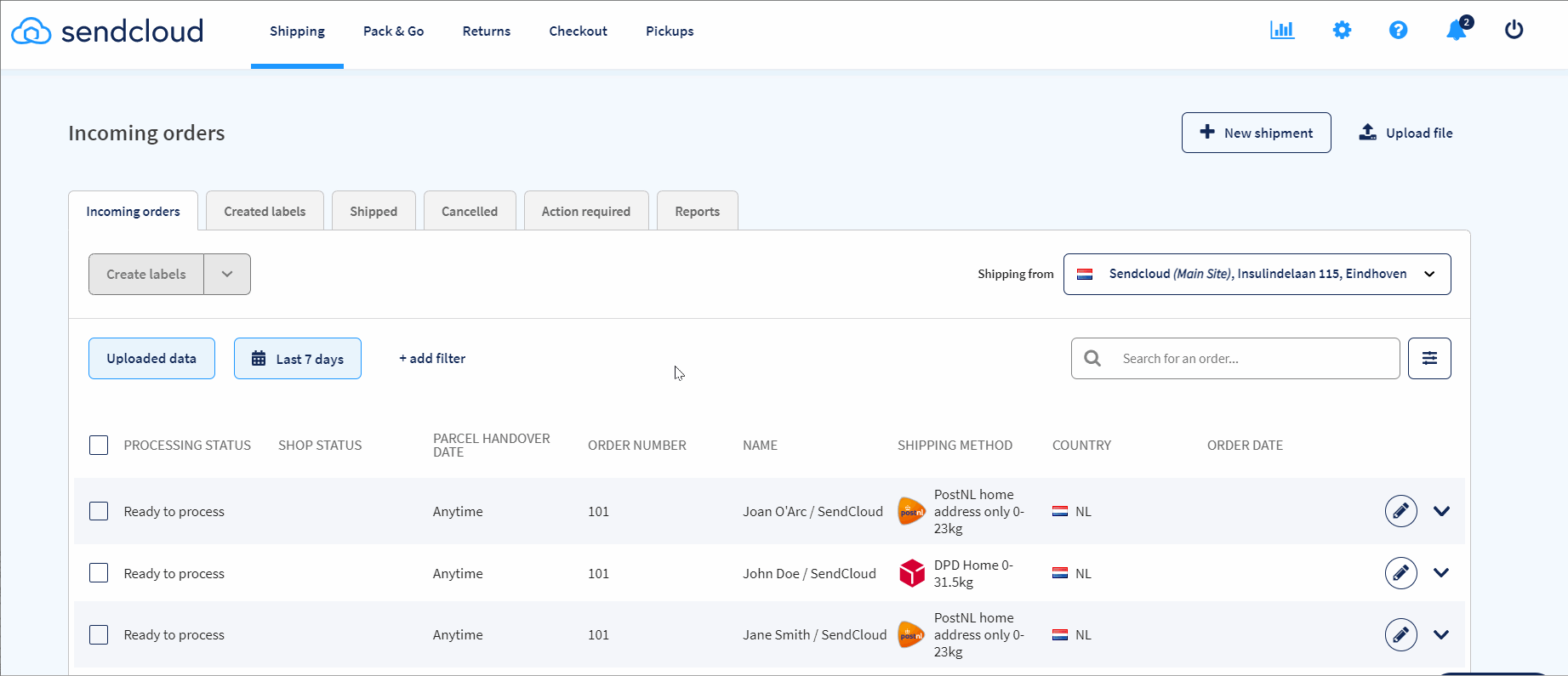 Q: Why can't I add a certain country as a delivery zone?

A: Delivery zones are based on your sender address(s). That's because nominated day shipping is only available for domestic (national) deliveries. You must have an active sender address enabled for this country in your Sendcloud account.

Not sure how sender addresses work, or how to add multiple addresses? Follow the steps in the following article: Getting started - basic account set up.

As we add more and more shipping options to the checkout feature, we expect to be able to offer international shipping through the checkout in the near future.
Q: Why can I only offer nominated delivery for domestic (national) shipments?

We have decided to limit the nominated day delivery option to only domestic orders to ensure reliable delivery times. We are working on extending this functionality to non-domestic orders in the near future.
---
Step 2: Adding delivery methods
Once you've completed step 1, it's time to add some delivery methods to the delivery zone you just created.
To begin configuring, click New delivery method

next to the delivery zone you just created in the

Checkout

tab.

Tip
: While you're editing your delivery zone, all of your changes will be automatically saved. You can continue making changes or return at a later time without losing your progress. The checkout status will appear as
draft
until you're ready to publish your checkout.

---
Step 3: Add your sender address
Select your sender address for deliveries in this zone by selecting it from the drop-down menu ▼.

If you have multiple sender addresses in one country, please be aware that the address you choose here is the one that will be associated with all of your orders for this delivery zone. This will also override any
shipping rules
related to sender addresses for this 'ship from/to' country.
---
Step 4: Select your shipping product
This section of the configuration menu allows you to select which carrier and options you want to offer on your checkout page.
What is a shipping product?
A shipping product is a group of similar shipping methods offered by a carrier. The specific shipping method will be chosen automatically based on the weight of the products, the chosen delivery day and the additional options you want to offer (e.g. signature required, age check).
For example, the shipping product PostNL Standard includes several shipping methods, such as:
PostNLStandard 0-23kg

PostNL Standard 23-31.5kg

PostNL Standard with signature 0-23kg

PostNL evening delivery + home address only 0-23kg

...etc.
Sendcloud will automatically apply the correct shipping method based on the additional options you want to offer (such as evening delivery, or signature required) and the weight of the parcel.
By default, all of the carriers which you've enabled in your Sendcloud account, and which have a delivery lead time of 1 day, will be shown here for you to choose from.
How to select your shipping product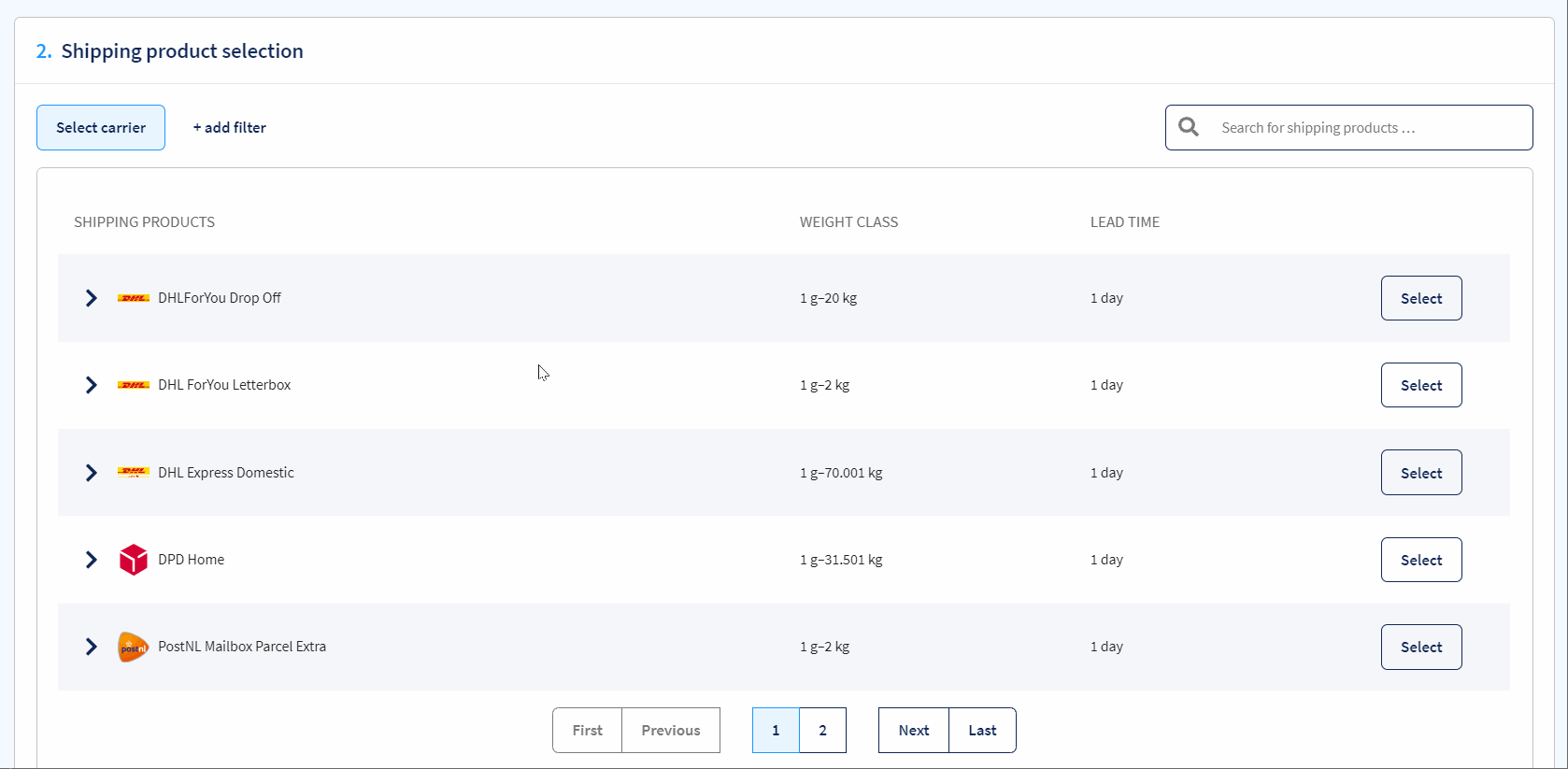 Clicking the

Select carrier

button allows you to filter the list based on your preferred carrier

A number of shipping products are shown per page. ClickNext

to see more shipping products.

Click

>

next to a shipping product name to see the shipping methods which are included as part of this product

You can use the +add filter

button

to filter the list based on which additional shipping options are available*.

For example, you can filter the list by Signature required> Yes

if you want your shipping product to support obtaining a signature on receipt of the parcel.

Click the Select

button next to your preferred choice

Continue to

Step 5

to further refine your shipping product
*You can filter based on the following shipping options:

Age check

B2B

Dangerous goods

Form factor (e.g. letter, mailbox, long, pallet)

Fragile goods

Fresh goods

Insurance

Multicollo

Neighbor delivery

Registered delivery

Signature required

Size
---
Step 5: Choose your shipping options
Once you've selected your shipping product, it's time to add on the extra delivery options you want to offer. During this stage you can further refine the type of delivery experience your customers will receive.
How to choose your shipping options:
Make your choices based on the available options

. For example, under

Signature required you can select Yes

or

No

depending on your preference.

Options which are not configurable for this shipping method can be seen in the

Unavailable shipping methods menu by clicking > to see the expanded list.

The options you choose will then be used to calculate which shipping methods will be applied to your incoming orders. The applicable shipping methods will be listed under

Shipping methods used to process orders.

Now that you've chosen your shipping options, it's time to select your nominated delivery day properties.
Q: Why can't I choose a shipping functionality?

If the shipping product you choose only contains one shipping method, it could be that this method does not offer any additional functionalities such as Age Check, Signature Required, etc. You will therefore not be able to select any shipping functionalities for this shipping product.
---
Step 6: Nominated day properties
The days and the cut-off time you enter in this section will determine which nominated delivery days are displayed to your customer at checkout. For example, if you do not hand your parcels over on Wednesdays, then customers will not be able to select Thursday as a delivery day at the checkout.
This is to ensure that they can only select delivery days which you are able to fulfill, and so your customers always receive their orders on the day of their choosing.
In the section Nominated day properties, complete these two steps:

Select the days you hand over your parcels for delivery


This can either mean the days you drop your parcels off at a service point, or the days when a delivery driver performs a

pickup directly from your store or warehouse

Enter the cut-off time for handing over your parcels
Your cut-off time is the time of day from which point on you are no longer able to prepare and handover parcels to the carrier. For example, if you have your parcels picked up on or before 15:00, or you drop them at a service point for delivery on or before 15:00, this will be your cut-off time.
Any orders which come in from 15:01 onwards will therefore not be processed until the following day. We will not offer next day delivery for orders which are placed after your cut-off time for this reason.


---
Step 7: Name your shipping product
This is the final step before publishing your checkout.
In the

External title

field, enter a name for the shipping product which your customers will see, e.g.

"PostNL - Signed for delivery"

In the

Internal title

field, enter the name which will be visible only to you in the back end of your integration and in Sendcloud, e.g.

"PostNL + signature"

---
Step 8. Preview and save your checkout configuration
You're almost there - now it's time to review and publish your checkout. Remember, your configuration is saved automatically, so you can come back at any time to finish choosing your shipping options.
Once you've completed the above steps, your shipping options and cut-off time will be summarized in the

Summary

section

In the

Preview

section, you can see how your checkout will appear for your customers based on the nominated day properties you selected

If you're happy with your configuration, click the Save delivery method

button at the bottom of the page to save your changes

---
Step 9: Publish, edit or delete a configuration
You can edit, delete and publish your checkout configurations directly from the Checkout tab in your Sendcloud panel.
Please note that the changes you make to your configuration will not be sent to your webshop integration until it's published.
To edit or delete your delivery methods:
In the configuration page, click >next to your delivery zone to see your delivery methods

Next to the delivery method, you want to

edit

or

delete, click

⋮

to open the menu
To publish your checkout
When you're ready to publish your checkout, click thePublish

button at the top of the page. Don't forget that you'll still need to

add pricing

to the delivery methods you just created.

If you have published your checkout but it's not appearing correctly, or at all, in your checkout environment, check the checkout feature troubleshooting article for your integration type.
---
Next steps
Repeat this process to configure a delivery zone for all of the countries where you have an active sender address. For example, if you have a sender address in both the Netherlands and Belgium, create a new delivery zone for Belgium and repeat the steps above.
Follow the steps in this guide to add pricing and complete the checkout setup:
---
Related articles:
→ How to install the checkout feature for Magento v2.4
→ How to add nominated day checkout pricing in Magento v2.4
→ How to install the checkout feature for WooCommerce
→ How to add nominated day checkout pricing in WooCommerce
→ How to process nominated day deliveries using the checkout feature