When you connect your SEUR contract with Sendcloud you can benefit from our all-in-one shipping solution which enables you continue shipping on your pre-negotiated rates. In this article we will talk you through how to connect your SEUR contract to your Sendcloud account.
Don't have a contract with SEUR? Contact your Sendcloud sales representative so that they can help you set it up.
---
Step 1: Activate your Sendcloud subscription
You must be subscribed to the Small Shop plan and upwards to connect your own carrier contract. You will receive a 14-day free trial when you subscribe to one of our subscription plans, from which point on our pricing is simple and transparent. You can compare our pricing options here. If you already have a subscription, skip to Step 2.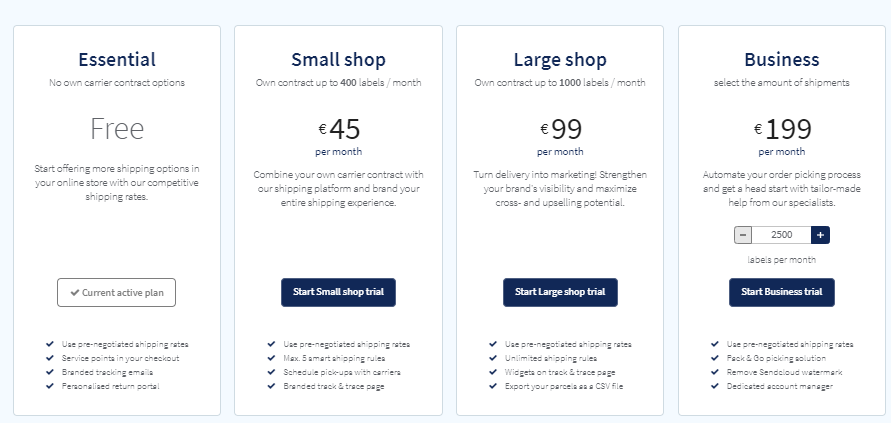 ---
Step 2: Enable your carrier contract
Once your subscription is active, go to Settings > Carriers & pricing > My contracts and click on 'Add your own contract.' Look for the SEUR logo in the list of available carriers and click 'Add a Contract'.
---
Step 3: Enter your contract details
Enter the details for your SEUR account and don't forget to click Save.
You will need the following information:
Username and password from SEUR
VAT Number
Business Unit
Flow code for National Shipments
Flow code for International Shipments
Customer Identification Code
Username tracking web-service
Password tracking web-service
If you don't have the above information or are not sure where to find it, contact your account manage at SEUR.
Note: when you change the identifiers and/or access codes to your SEUR space, it is also necessary to change them in your Sendcloud account in order to maintain the connection between your carrier contract and your Sendcloud platform.
---
Congratulations! You're account is successfully linked with your SEUR contract. If you have followed the instructions in this article and are still having issues connecting your contract, contact our customer service department by creating a support ticket from your Sendcloud account.
Happy shipping with Sendcloud!