Purpose: Learn how to connect your own GLS carrier contract with your Sendcloud account in three easy steps.
---
You must have a contract with GLS Italy in order to ship with GLS through Sendcloud. Contact GLS via the website or by email to create an account, then proceed with the steps below when your account is activated.
Step 1: Activate your Sendcloud subscription
Sendcloud offers three subscriptions with which you are able to use your own transport contract: Small shop, Large shop and the Business plan.
A confirmation message will tell you that your subscription is activated. Make sure that you have activated direct debit beforehand - click here for help setting up payment via direct debit in your account.
---
Step 2: Connect your GLS contract
Once you have activated a Sendcloud subscription, you can connect your carrier contract.
In your Sendcloud panel navigate to Settings > Carriers & Pricing. Find GLS in the list of carriers and press enable. Then go to the My contracts tab and find GLS from the list. click Add contract. Here you can add the credentials needed to validate the connection to GLS.
---
Step 3: Enter your GLS account details
Complete the form with the information below and click "Save" when you are done.
Username:

Password:
Customer Number:
Contact ID: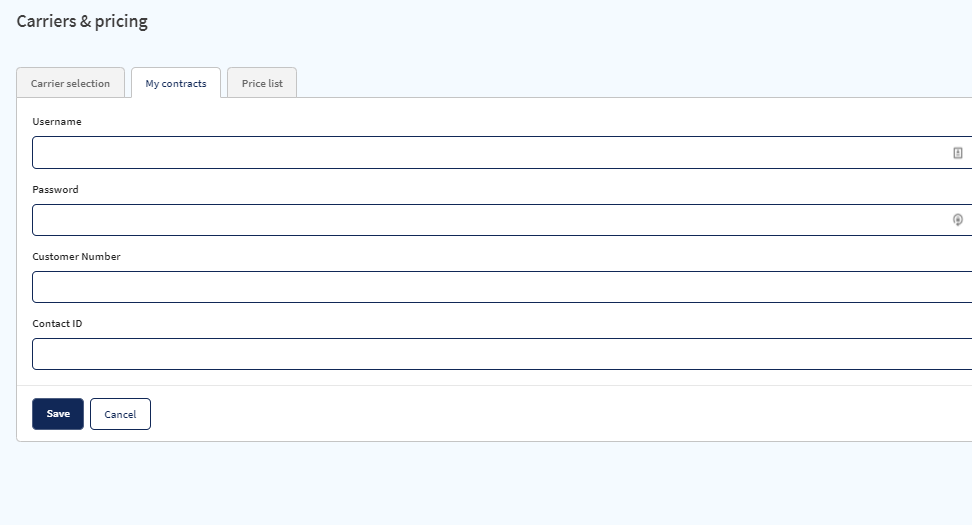 Note:
It is important to ask your GLS sales advisor to create a web-API identifier specific to your account so that you can connect your contract to your Sendcloud account. Contact GLS to retrieve the information above if you do not have it to hand.
---
Done! Once you've followed the steps above, your GLS contract should now be successfully linked to your Sendcloud platform and you can begin shipping on your GLS rates. When you create a label with a GLS shipping method, the label price will now show as 0.00 EUR in your account.
---

GLS General Shipping Conditions (Italy)
GLS National Express (National)
Weight & Dimensions
Max weight: 70kg
Max length: 200cm
Max dimensions*: 200cm x 150cm x 130cm
GLS Parcel (International)
Weight & Dimensions
Max weight: 40kg
Max length: 200cm
Max dimensions*: length + height x2 + breadth x2 = max 300 cm

GLS Exchange service
Service Presentation
When you need to deliver and pickup a shipment simultaneously, you can use the GLS Exchange service. Two labels (the ingoing and outgoing shipment label) will be generated at the same time.
Weight & Dimensions
Max weight: 70kg
Max length: 200cm
Max dimensions*: 200cm x 150cm x 130cm
*The Sendcloud user agrees to send packages in which the dimensions and weights comply with the conditions included in their own GLS contract. A surcharge may be levied for parcels which exceed these dimensions. Read here for more information on GLS surcharges.
Restricted contents
When shipping a parcel with GLS via Sendcloud, you agree not to send any goods prohibited by law or subject to a national/international transport ban.
The shipments of goods considered/classified as "dangerous" is strictly prohibited.
UPS can refuse to transport goods considered to be dangerous or which pose human/material risk.
The shipment of the following goods is prohibited:

War material or equivalent, weapons, precious metals, currency, precious stones and jewels, stamps, human beings or animals, living insects, funeral ashes and relics, organs , food and frozen products, antiques, art, paintings and all the other products listed in the European Agreement concerning the international carriage of dangerous goods by road.
---
We advise you to also read the general GLS Terms and Conditions for more information and to avoid unwanted surcharges.