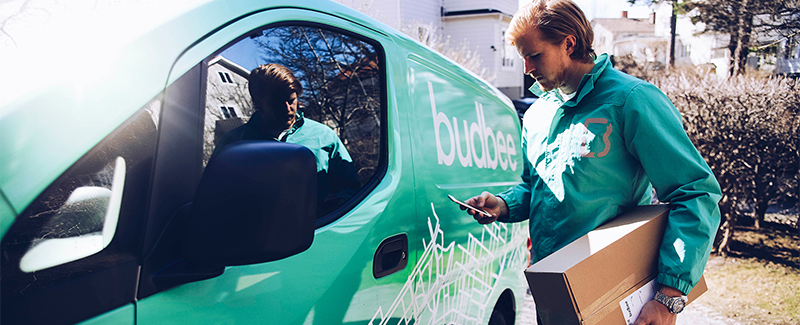 Purpose: view the conditions of shipping carrier Budbee, catering to delivery locations in the Netherlands and Sweden, Denmark and Finland.
---
To start shipping you must first have a Budbee contract and connect it to your Sendcloud account. You can find information about shipping with Budbee here.
Budbee Flex
Service presentation:
Budbee Flex is a next day delivery service which offers flexible delivery slots during evening hours, making it a convenient and practical solution for your e-commerce customers who may be unavailable to accept packages during standard work hours.
Additional services:
When creating your label in Sendcloud, you will have the option to choose the following additional services:
Budbee Flex - Signature Required
The driver will require a signature from the recipient named on the label before handing over the parcel. Only the intended recipient will be able to receive the parcel - family members are not able to sign on their behalf.
Budbee Flex - ID Check
By selecting this service, the driver will perform a minimum age and identity check before handing over the parcel to the recipient.
Note: If no signature or ID check is required, the driver will leave the parcel outside of the door. The recipient will be able to change this to indicate that the parcel should not be left outside via the tracking link they will receive when the parcel is picked up by the delivery driver. They can also download the Budbee app to change their delivery preferences.
Shipping method features:
Next day delivery service
Evening delivery between 5-10pm on weekdays
Weekend delivery available between 4-10pm in certain cities
Delivery to pick up point not available
If recipient is unavailable at the time of delivery, the parcel can be left outside the door
If the delivery is missed, the recipient can schedule a new delivery time
Text message notification with estimated delivery time
Characteristics of the parcel:
Maximum weight: 20kg
Maximum volume weight: 280 kg/m3
Maximum length: 120cm
Maximum dimensions: longest side + circumference cannot exceed 300cm
Shipping locations:
The Netherlands (all cities)

Sweden (

Stockholm, Gothenburg, Örebro, Uppsala, Västerås, Norrköping, Jönköping, Södertälje, Eskilstuna, Borås

and Trelleborg)

Denmark (Copenhagen)

Finland (Helsinki, Vantaa and Espoo)
---
Do you have questions about shipping with Budbee? You can visit the FAQ section on their website to see more information regarding their shipping criteria and flexible delivery times.