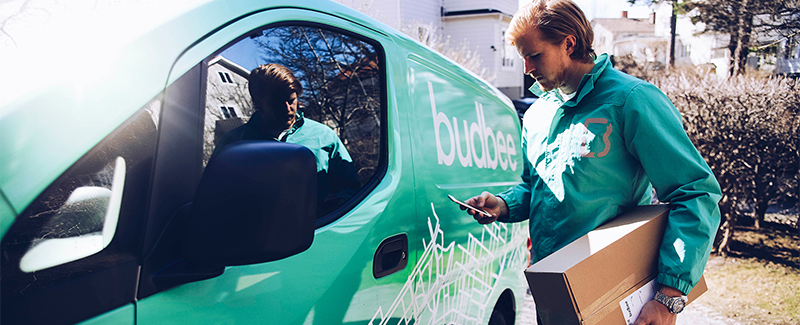 Purpose: view the conditions of shipping carrier Budbee, catering to delivery locations in the Netherlands, Belgium, Sweden, Denmark and Finland.

---
Shipping with Budbee
You don't need a direct carrier contract to ship with Budbee through Sendcloud. You can take advantage of Sendcloud shipping rates by activating Budbee as a carrier in your Sendcloud account. To do so, please contact our customer service department to request activation. Please note that billing is based on a minimum of 20 packages per pickup.
Connect your own carrier contract
Do you already have your own direct carrier contract with Budbee? If so, you can connect your Budbee account with Sendcloud to continue shipping on your own negotiated shipping rates. To connect your Budbee account:
Log in to your Sendcloud account
Navigate to Settings > Carriers & pricing
Find Budbee in the list of carriers and click Enable own contract
Enter your API Key, API Secret and Collection ID* and click Save
*You can find this information in your Budbee account information, or contact your Budbee sales advisor for assistance. Information about shipping with Budbee can be found here.
Please note:
Budbee uses collection IDs to determine the sender address. If you have both a Dutch and a Belgian collection ID, only one of these will be visible. You must create two seperate Sendcloud accounts in order to manage both your
Dutch and Belgian collection IDs and thus have Dutch and Belgian sender addresses appear on the label respectively.
---
Budbee Flex
Service presentation:
Budbee Flex is a next day delivery service which offers flexible delivery slots during evening hours, making it a convenient and practical solution for your e-commerce customers who may be unavailable to accept packages during standard work hours.
In order to ship with Budbee Flex you must have a direct contract with this carrier enabled in your account as per the above instructions.
Additional services:
When creating your label in Sendcloud, you will have the option to choose the following additional services:
Budbee Flex - Signature Required
The driver will require a signature from the recipient named on the label before handing over the parcel. Only the intended recipient will be able to receive the parcel - family members are not able to sign on their behalf.
Budbee Flex - ID Check
By selecting this service, the driver will perform a minimum age and identity check before handing over the parcel to the recipient.
Note: If no signature or ID check is required, the driver will leave the parcel outside of the door. The recipient will be able to change this to indicate that the parcel should not be left outside via the tracking link they will receive when the parcel is picked up by the delivery driver. They can also download the Budbee app to change their delivery preferences.
Shipping method features:
Next day delivery service
Evening delivery between 5-10pm on weekdays
Weekend delivery available between 4-10pm in certain cities
Delivery to pick up point not available
If recipient is unavailable at the time of delivery, the parcel can be left outside the door
If the delivery is missed, the recipient can schedule a new delivery time
Text message notification with estimated delivery time
Characteristics of the parcel:
Maximum weight: 20kg
Maximum volume weight: 280 kg/m3
Maximum length: 120cm
Maximum width: 120cm
Maximum dimensions

(L+2W+2H): C

annot exceed 300cm
Shipping locations:
From NL to NL, BE, DK, SE, FI

From BE to BE, NL, DK, SE, FI
Shipping cities:
The Netherlands (all cities)

Belgium (Brussels and Flanders)

Sweden (

Stockholm, Gothenburg, Örebro, Uppsala, Västerås, Norrköping, Jönköping, Södertälje, Eskilstuna, Borås

and Trelleborg)

Denmark (Copenhagen)

Finland (Helsinki, Vantaa and Espoo)
---
Do you have questions about shipping with Budbee? You can visit the FAQ section on their website to see more information regarding their shipping criteria and flexible delivery times.