Make sure your printer is recognized by your computer.
Go to the 'Printer & Devices' or 'Printer & Scanner' menu of your computer and search for your printer in the list.
If your printer is not found, there is an issue with your device:
Unplug your printer

(Re)Install the last driver version of your printer

Restart your computer
Please contact your printer supplier if the problem persists.

My printer is not recognized by the Print Client app.
Make sure your printer name doesn't have

non alpha-numeric characters

like é è & - etc. You can give your printer a friendly name like 'Printer for labels' in your computer settings.

Your browser version is outdated. We recommend to use SendCloud and the Print Client app on Chrome.

How to uninstall the Print Client app?
Close the Print Client app (right click the tray icon -> Quit)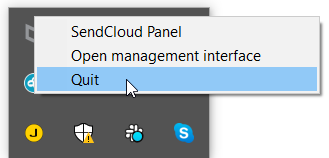 How can I get the last version of the app?
First you need to uninstall the old version of the application if you have one.
In your SendCloud account, go to 'Settings' > 'Printing' and click on 'Download the Print Client'

My picking lists and/or packing slips are also printed on my printer for labels.
In your SendCloud account you need to select a different printer for these documents.
To do so, go to 'Settings' > 'Printing' and select a different printer for your picking lists and packing slips.
*Picking lists and packing slips are only available with the Pack & Go. This option is a part of your Business plan.

Red blocks are printed instead of bar codes
You are probably using a Canon printer. Please download and install the latest printer drivers from the Canon website.

Tips:
After installing a driver or the last version of the Print Client app we recommend you to log out from your SendCloud account, unplug your printer and restart your computer.

By default with some printers, the last version of the driver isn't installed when you plug them for the first time on your computer. We recommend you to visit your printer supplier website to download the last driver version.
If you are experiencing any issue with the size of the printed label, please check our article Printer settings for Windows.
Feel free to contact us by email at support@sendcloud.com or use the contact form. Create a new ticket from the 'Support' section and select the right categorie.
Enjoy shipping with SendCloud!