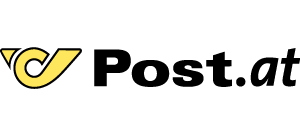 Purpose: Learn how to connect your Österreichische Post carrier contract with your Sendcloud account in three easy steps.
The Sendcloud subscription plans have been updated. If the subscriptions shown in the banner above don't match your current subscription plan and you'd like to know more, please click here
---
Step 1: Activate your Sendcloud subscription
Sendcloud offers three subscriptions with which you are able to use your own transport contract: Lite, Growth and the Premium plan.
For more information regarding which plan is best for you and the needs of your business, you can always contact us via the support section of your Sendcloud account or click here.
---
Step 2: Gather your credentials and information 
Go to 

plc.post.at


Login with your PostAT account



Go to Geratekonfiguration


Choose Organisation: Abteilungen > API Daten.

Find following credentials:

Client ID
Organisation Unit GUID
Organisation Unit ID
PostAT tracking username
PostAT tracking password
---
Step 3: Enable your carrier contract 
In your Sendcloud panel navigate to Settings > Carriers & Pricing. Go to the My contracts tab and find PostAT from the list. Click on Add contract and enter the details found in Step 2 into the relevant fields. 
Important: Since your contract and the relevant shipping methods are individual, please make sure that the shipping methods you have agreed upon are activated with us. Please note that this does not happen automatically. If you do not see the shipping methods, please contact our support / Live Chat.
---
Overview of the available shipping methods
Some PostAT shipping methods can be found in Sendcloud under a different name. 
To help you identify these shipping methods quickly, you can find a small overview here:


| | | |
| --- | --- | --- |
| PostAT code | PostAT name | Sendcloud name |
| 10 | Paket Österreich | PostAT Home |
| 45 | Paket Premium International | PostAT Premium Paket International Outbound B2B |
| 31 | Paket Premium Österreich B2B | PostAT Paket Premium Österreich B2B |
| 70 | Paket Plus Int. Outbound | PostAT Paket Plus International |
| 69 | Paket Light Int. non boxable Outbound | PostAT Paket Light International non boxable Outbound |
| 1 | Post Express Österreich | PostAT EMS AUstria |
| 46 | Post Express International | PostAT EMS International |
| 30 | Premium Select | PostAT Paket Premium Select 0-2kg |
| 28 | Retourpaket | PostAT Easy Return Domestic |
| 63 | Retourpaket International | PostAT Easy Return International |

If you have any further questions, feel free to contact our support team at any time!