Do you want to use Sendcloud as your all-in-one parcel shipping solution, but don't want to lose your rates via your current contract with your chosen carrier? In this article we will talk you through how you can connect your UPS (France) contract to your Sendcloud account.

Note: It is only possible to send packages with UPS France if you have your own contract enabled in your account. To acquire a UPS contract, contact UPS via their website.
---
Step 1: Activate your Sendcloud subscription
You must be subscribed to the Small Shop plan and upwards to connect your own carrier contract. You will receive a 14-day free trial when you subscribe to one of our subscription plans, from which point on our pricing is simple and transparent. You can compare our pricing options here.

---
Step 2: Enable your carrier contract
Once your subscription is active, go to Settings > Carriers & pricing > My contracts and click on "Add your own contract." Look for the UPS logo in the list of available carriers and click "Add a Contract".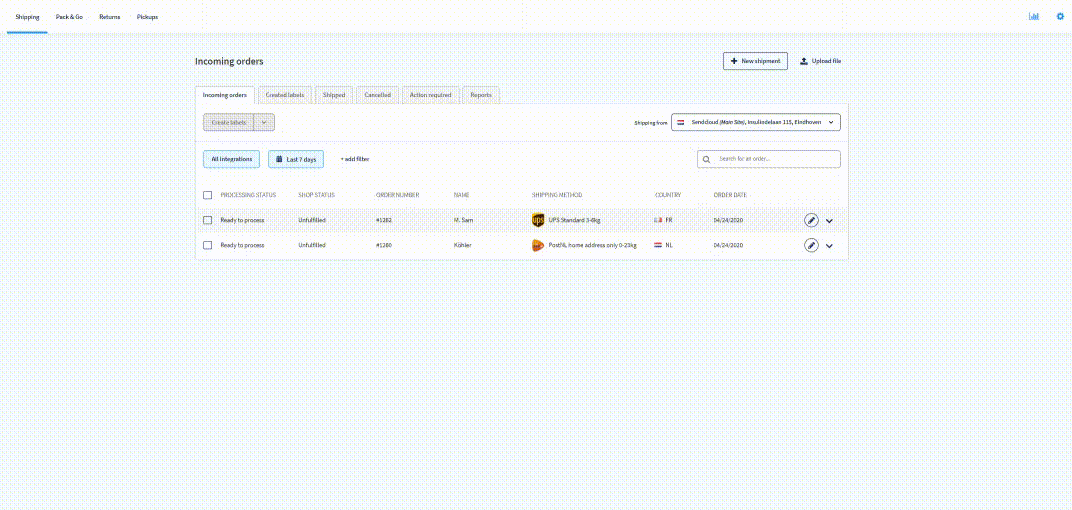 ---
Step 3: Enter your UPS account details
Complete the form with the information below and click "Save" when you are done. You can find this information in myUPS or by contacting your account manager.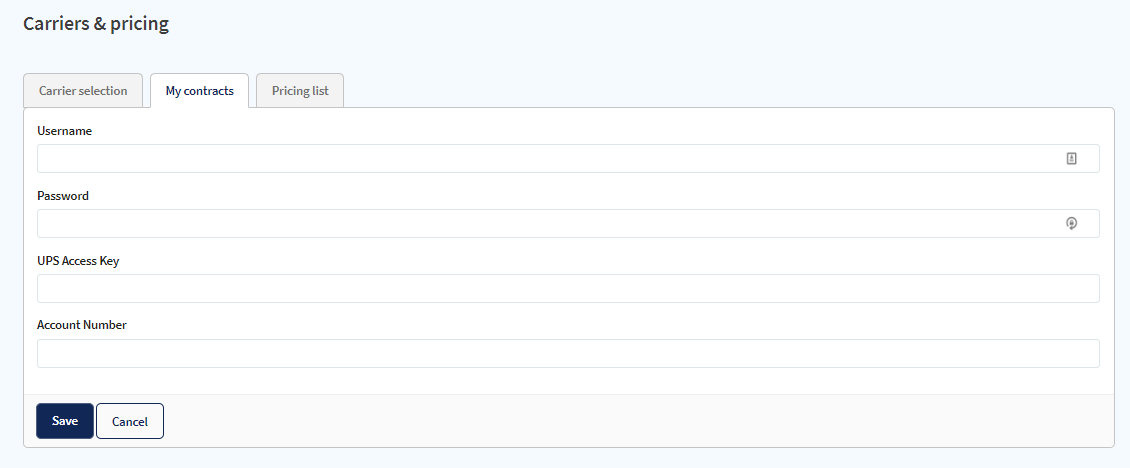 Username: "myUPS ID" (for example: "SENDC_UPS"). Where can you find your myUPS ID? Login to UPS with your e-mail address and enter the password. Your account must be linked to a UPS customer number. This requires a current UPS invoice and/or an active account.
Password: myUPS password
UPS Access Key: "UPS Developer Key" (16 characters ex: "1234ABCD1234ABCD"). Once logged into your UPS account, you will need to integrate UPS Technology, download the shipping APIs and request an Access Key. You can do this by accessing the UPS Developer Kit. For the access key, click "Request an access key" . The "Secondary Contact Information" section must be completed. You can access UPS developer documentation by clicking here (FR) or here (EN).
Account Number: "UPS account reference" (6 characters e.g. "12A3B4")
You can find this information in myUPS or by contacting your account manager/sales representative. If you have not received your login/access information, please contact your UPS sales representative and provide him/her with the information requested above. They will be able to provide you with access to your UPS contract.
Note: When you modify the username and / or access key in myUPS, it is also necessary to modify them in your Sendcloud account in order to maintain the connection between your carrier contract and your Sendcloud space.
---
UPS General Shipping Conditions (France)
Weight & Dimensions
The Sendcloud user agrees to send packages in which the dimensions and weights comply with the conditions included in their own UPS contract. A surcharge may be levied for parcels which exceed these dimensions. Read here for more information on UPS surcharges.
Maximum weight: 70kg
Maximum length: 274cm
Length x width x height: the combined dimensions, divided by 5000, must not exceed 419cm
Restricted contents
When shipping a parcel with UPS via Sendcloud, you agree not to send any goods prohibited by law or subject to a national/international transport ban.
The shipments of goods considered/classified as "dangerous" is strictly prohibited.
UPS can refuse to transport goods considered to be dangerous or which pose human/material risk.
The shipment of the following goods is prohibited:

War material or equivalent, weapons, precious metals, currency, precious stones and jewels, stamps, human beings or animals, living insects, funeral ashes and relics, organs , food and frozen products, antiques, art, paintings and all the other products listed in the European Agreement concerning the international carriage of dangerous goods by road.
We advise you to familiarise your self with the general UPS Terms and Conditions for more information and to avoid unwanted surcharges.
---
Congratulations! You can now benefit from your regular UPS rates while shipping with Sendcloud!
If you still need help setting up your contract or with your account, contact us at support@sendcloud.fr by creating a support ticket from your Sendcloud platform. For parcel disputes, the case will be dealt with directly by your UPS account manager or customer service representative.