Topic: Learn how you can create and include pre-printed return labels in your boxes. Pre-printed return labels allow you to comply with the selling regulations of online selling platforms such as Zalando, Otto, and La Redoute, and help you to provide a seamless return process for your customers. 
---
You can print return labels at the same time as you print your shipping labels, directly from the incoming order overview.
Step 1: Create a default return shipping method
Go to Settings > Return defaults and select your preferred return shipping method from the dropdown menu. To set a default return shipping method for the pre-printed return labels, set up a preferred return shipping method for incoming orders.
Manual returns: This is the method that will be automatically used to create your return labels when you print your orders. This is also the method that will be pre-selected when you want to create a return using the manual return form. Select "None" if you do not want to preselect any return shipping method.

Incoming orders

: This method will be pre-selected as the return shipping method on the incoming orders page. This feature is only available to users with a direct carrier contract.
ℹ Good to know: Return defaults do not affect return method selection via the return portal.
---
Step 2: Print return labels with shipping labels
From the IOV, enable the types of documents you want to print from the dropdown menu next to the Create labels button, and click Apply selection: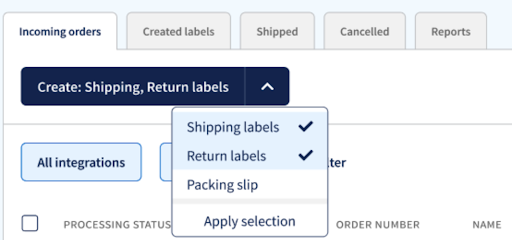 Tip: You can choose to print return labels, shipping labels and/or packing slips for all of your orders in a single click. 
Successful return announcements will appear in the Returns tab under the incoming returns overview. 
---
Step 3: Change the return method
If the preferred method you set as your return default (Step 1) is not applicable for an order, you will see the error message contains error. This can occur if your default return method does not support the selected destination country, or if the parcel exceeds the maximum weight/dimensions of the method.
You can manually select a new return method directly from the incoming order overview, by either:
Clicking the expand menu arrow:


Or, by clicking the stylus icon to edit the order:


---
How can I print a return label for an order I already created? 
Once you've printed a shipping label for an order, it will disappear from the incoming order overview, but you will still be able to create a return for it at any point.
Returns can be created from an outgoing shipment directly from the Created labels tab. See: How to create a return for an outgoing shipment
You can also create a return directly from the Returns tab, by selecting a specific return from the incoming return overview and clicking Print return label
---
How am I charged for return labels?
Some return labels are charged when you create the label, and others upon the first scan. This depends on the carrier that you use. 
To make sure that you know what applies to your specific return, we have added this information to the Price breakdown section. You can find this overview by following the steps below:
Open the order details by clicking on the pencil icon behind your order
Make sure the correct return method is selected at Return
Go to Indicative total prices on the right of your order
Click on View prices breakdown


This breakdown shows whether your return shipment is charged upon creation or upon first scan. In the example below, you can see that in this case, the return label is charged upon creation:
Carriers charged upon first scan:

| | |
| --- | --- |
|   | Carriers |
| Netherlands | DHL, PostNL, DPD |
| Belgium | PostNL, DPD, Bpost |
| Germany | DPD |
| Austria | GLS, PostAT |
| France | DPD, Colissimo |
| Italy | Inpost |
For return labels that are charged upon creation, it's important to cancel the labels if they end up not being used. Read this article if you want to learn more about cancelling return labels:
How to cancel a return shipment
Own carrier contract: If you have your own carrier contract connected to your Sendcloud account, the amount you are charged for used labels and the way you are reimbursed for unused labels is on the terms and conditions of your specific carrier contract.