Purpose: Once you've configured Dynamic Checkout, you can offer Same-day delivery to your customers on your checkout page. Follow the steps below to create your Same-day shipping methods and learn how Sendcloud helps you process them in time for delivery the very same day.

---

Same-day deliveries through Dynamic Checkout
A Same-day delivery is an order which is placed and delivered on the same day. It's an ideal solution for urgent packages which require special attention, or for when you go that bit further for your customers and offer exceptionally flexible shipping options.
Due to the time-conscious nature of Same-day shipments, this feature is currently only available for domestic (national) shipments through select carriers.
Q: Which carriers offer same day shipping?

At this moment, we support the following carriers which have a same-day delivery option. For all the below carriers (except DHL), a direct carrier contract is required:
Step 1: Set up Same-day delivery
First, make sure you've installed Dynamic Checkout for your integration and configured your delivery zones. Then proceed as follows:
In the Dynamic Checkout tab, next to your integration click Edit
Next, click on New delivery method next to the delivery zone where you want to offer Same-day delivery. Please note: you must have an active sender address in this country.


Select Same-day delivery from the list of delivery methods
---
Step 2: Select your shipping product
This section of the configuration menu allows you to select which carrier and options you want to offer on your checkout page.
Q: What is a shipping product?

A shipping product is a group of similar shipping methods offered by a carrier. The specific shipping method will be chosen automatically (when the order is imported) based on the weight of the products, the chosen delivery day and the additional options you want to offer (e.g. signature required, age check).

For example, the shipping product PostNL Standard includes several shipping methods, such as:

PostNLStandard 0-23 kg

PostNL Standard 23-31.5 kg

PostNL Standard with signature 0-23kg

PostNL evening delivery + home address only 0-23 kg

...etc.

Sendcloud will automatically apply the correct shipping method based on the additional options you want to offer (such as evening delivery, or signature required) and the weight of the order.
The shipping products displayed for you to select from are based on the carriers which you have enabled in your account, or for which you have a direct carrier contract, and which offer a shipping method which has a transit time of 24 hours or less.
Q: Why can't I see any carriers to select as a shipping product?

If you don't see any shipping products to select from, it's most likely because you don't have a direct contract with any of the carriers which offer Same-day delivery, or because they're not enabled in your account. At the end of this article, we list the available Same-day shipping methods.
How to select your shipping product
Click Select next to the shipping product you want to offer.
You can use the +add filter

button

to filter the list based on which additional shipping options are available*.

Continue to

Step 3
---
Step 3: Choose your shipping options
Once you've selected your shipping product, it's time to add on the extra delivery options you want to offer.
Make your choices based on the available options

. For example, under

Signature required you can select Yes

or

No depending on your preference.



The options you choose will then be used to calculate which shipping methods will be applied to your incoming orders. The applicable shipping methods will be listed under

Shipping methods used to process orders.
Q: Why can't I see any shipping functionalities?

This is because the shipping product you selected doesn't support any additional functionalities, such as Age Check, Signature Required, etc.

Alternatively, if the shipping method you select always includes a specific functionality (for example, UPS Express Saver always requires a signature) then this option will already be selected. You can click the dropdown menu ▼View applied functionalities to check which options are already included.
---
Step 4: Configure shipping rates
Before your delivery method can be displayed, you need to add pricing.
Click on Use shipping rates to add pricing for your shipping method. Find out more about shipping rates and how to enable free shipping and discount coupons in this article.
If you decide not to use shipping rates, you can still set up manual pricing in WooCommerce by following this guide.

---
Step 5: Holidays
In this section, you can enter the days during the year in which you or the carrier won't be processing or delivering parcels. For example, you can create a holiday for national holidays, workshops, training events, etc. You can select a range of days or a single day, and mark it as recurring yearly or as a one time event.
For same day shipping methods, any holidays you add here will mean that this specific shipping method won't be available to customers on these days, as same day orders are shipped out on the day they are created.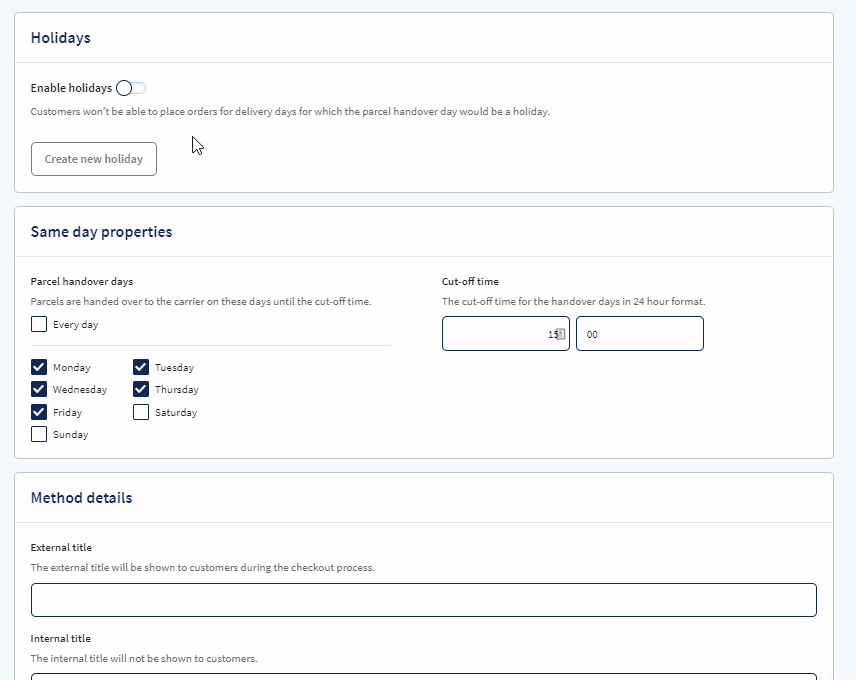 ---
Step 6: Parcel handover
days & cut-off times

Parcel handover days
Select the days you hand your parcels over for delivery, either directly to a service point or via a carrier collection. Leave the days you don't hand your parcels over unselected.
Cut-off time
Enter the time from which this shipping method will no longer be available in your checkout for your customers to select. For example, if you don't plan to process, pack and handover parcels from 15:00 onwards, this would be your cut-off time. From 15:00 onwards, this method won't appear in your checkout. Don't forget to include the time it takes to process orders and hand them over to the carrier when calculating your cut-off time for next day deliveries.

---
Step 7: Save and publish
Under the section Method details, give your shipping method an external and internal title, e.g.

"PostNL - Signed for delivery"

Click the Save delivery method button at the bottom of the page to save.



To publish your delivery method to your webshop, click the Publish button in the Dynamic Checkout configuration

---
Step 8: Process your same day deliveries in time
Orders will be imported into your incoming order overview in the Sendcloud panel as normal, however you will now be able to see an additional column in your overview called Parcel handover date. This column tells you when to process your orders, so they reach your customer on time.

Orders which must be processed and handed over to the carrier today will appear with this icon:


Orders which are overdue will appear with this icon:


Filter by parcel handover date
You can also filter your orders using the +add filter button. For example, you can filter your view to show all the orders which must be processed today:

Q: I don't want to see the Parcel handover date because I'm not using Dynamic Checkout. What do I do?

A:

You can filter your

column view by clicking the column selector button

≡

, located next to the search bar in the incoming order overview. For more information about filtering your orders, see the following article: How to use the +add filter function.

Q: Can I change the shipping method for a same day order using shipping rules?

Some shipping actions do not apply to Dynamic Checkout orders, since you've already configured the correct sender address, shipping product and shipping method that should be used for these orders in the Dynamic Checkout tab.

The following shipping rules actions don't apply to Dynamic Checkout orders:

Ship with address
Ship with shipping method

You can still manually change the shipping method and sender address for a Dynamic Checkout order from the Edit Order View.