Purpose: Find out how to easily connect your WooCommerce shop with Sendcloud and how to set your shipping methods. You don't need any coding skills and you can do it in less than 5 minutes by following these easy steps.
---
Watch the video
Connect your shop
First of all, go to your WooCommerce back-end, which is your Wordpress dashboard. Click on the tab Plugins > Add New and type Sendcloud in the search bar.
Click on Install now and make sure to activate the plugin after installation.
Go to WooCommerce 

> 

Sendcloud 

and click on

Connect with Sendcloud.

Congratulations! Now your WooCommerce shop is connected to Sendcloud and the orders can be processed via Incoming orders. 

If you are experiencing problems connecting your webshop to Sendcloud, you can check our basic troubleshooting guide for help. 
---
Set up your shipping zones
To be able to use Sendcloud, it is important to have shipping zones configured (or to create them if you do not have them yet).
1. Create your shipping zone, go to WooCommerce > Sendcloud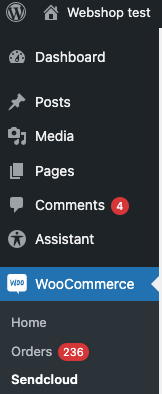 Shipping zones allow you to differentiate between, for example, domestic shipments and international shipments, allowing you to apply a different pricing policy per zone. They also allow a customer to choose between different shipping options.
Note: You decide the shipping zones, the shipping methods, and how much your customer pays for the options you offer. Shipping zones do not influence the pricing on the Sendcloud platform.
2. When adding a new shipping method, you have to select one type of method:
Fixed rate: Set a unique delivery fee
Free delivery: Grant a free delivery for your customers
Local pickup: Customers will pick up the order themselves
In the event of a Fixed rate method, you will see the form below.
You can set a delivery fee, which will be charged to your customer.
Offer a weight-based price is not possible by default on WooCommerce: You will need to install an additional plug-in from the Plug-in/Extensions tab (Table Rate, Flexible Shipping or Weight-based Shipping for instance).
You also have the possibility to set a fee for a "delivery class" (for instance light products or heavy products). You first need to have the related delivery classes created in the tab WooCommerce > Settings > Shipping > Delivery Class. You can then set the price in the last field below.
---
Now that you have set up your account and shipping zones, you can offer your customers the option to have their parcels delivered to a local service point click here to learn more.