Purpose: This is a guide on how you can process your orders using the Pack&Go feature available on our Large Shop and Business subscription plans.
---
Pack & Go is designed to facilitate easier picking and packing when you have a warehouse, stock room, or packing location. It's available to users on our Business or Large Shop subscription plan and allows you to print packing slips and/or picking lists to process your orders faster, either in conjunction with a barcode scanner (Scanner mode) or without (Automatic mode). In this article, we will explain how Pack & Go Scanner mode can streamline your workflow for an efficient picking and packing process.
---
Automatic or Scanner mode?
If you have a wide range of products, a medium to large warehouse and multiple packing stations equipped with bar-code scanners, Pack & Go Scanner mode is the tool for you. It's designed to be used with either individual packing slips which show one order per page and the items included in that order, or with a picking list which details multiple orders and their associated items.
Your dedicated picker/packer can print their packing slips/picking list and use them to collect the products needed to fulfill each order. Then, when they have completed the picking aspect of the process, they can return to the packing station. By scanning the bar code on either of the two documents in Pack & Go, the relevant order will appear on screen. Scanning the bar code a second time will process the label/packing slip which can be attached to the box.
---
Step 1: Select Scanner mode
Pack & Go offers the possibility to process orders with or without a scanner. To set-up processing without a scanner, visit "Settings" > "Pack & Go". Next, select the "Scanner mode".

---
Step 2: Install the Print App
If you have not already configured your print settings, now's the time to do so by downloading our Print Client. This will allow you to automatically print labels and packing slips/picking lists as you process them within Pack & Go. Click on the Pack & Go tab, and you will be prompted to download the app and configure your printing defaults. For more help setting up your printer, click here.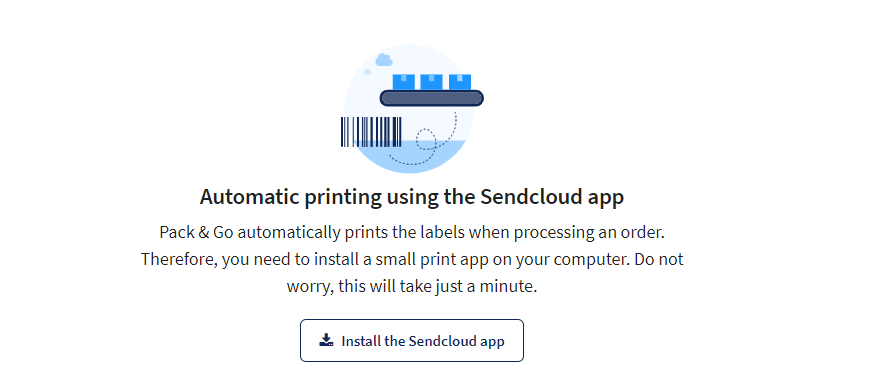 ---
Step 3: Set up smart Shipping Rules
Once your printer settings are configured, we recommend you set some Shipping Rules to fully automate your packing process. Click here for a guide on how you can use Shipping Rules to automatically allocate specific shipping methods to certain types of orders, or insure parcels of a certain value by a set amount, and many more options.

Setting up shipping rules reduces or removes completely the need to individually edit orders as they appear in the queue. This saves you valuable picking and packing time and creates the ideal workflow to maximize your time saving and cost efficiency!
---
Step 4: Print your packing slip/picking list
Whether you prefer to work with a single picking list or individual packing slips is up to you.
Click here to see how to download and use packing slips and picking lists.
Once you have your packing slips/picking list, you're ready to pick your products and process your orders.
---
Step 5: Print your labels
Once you've picked your orders and returned to your packing station, scan the bar code on the packing slip/picking list once. The order will be shown, including the sender address and shipping method. If any corrections need to be made to the address details, you can edit the order in this page.

When an order looks correct, scan the bar code again to confirm. The label will be processed and the label will automatically print based on the printer settings you already defined. Package your order, and on to the next one!
---
Want to use Pack & Go without a scanner? Click here to see how to use Automatic mode.